10:** The Giants host the Seahawks on Sunday in search of their 10th win of the series, which dates back to the first meeting in 1976. They are 9-6 against Seattle and have won by a combined score of 374-259. The two teams have never met in the postseason.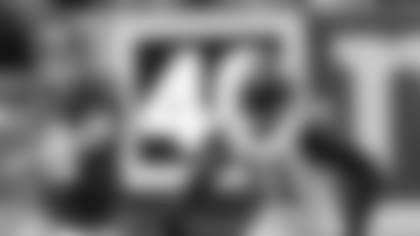 Gameday Photo Timeline 9: The Giants amassed 523 total yards of offense in a 2008 victory over Seattle in 2008, the ninth-most in franchise history (including postseason). The Giants collected 269 yards through the air and 254 on the ground, adding up to a 44-6 rout of the Seahawks.
8: The number of catches Victor Cruz had in the last meeting with Seattle. In the 2011 contest, he hauled in a 68-yard touchdown en route to 161 receiving yards, both of which are highs in the series history.
7: The Giants have averaged seven yards per carry in a game (minimum 25 attempts) seven times under head coach Tom Coughlin, including a 2008 victory over the Seahawks. Led by Brandon Jacobs' 136 yards, the Giants racked up 254 yards on 36 rushes (7.1 average) in a 44-6 victory at Giants Stadium.
6: Kicker Joe Danelo made six field goals in a 32-0 victory over the Seahawks at the Kingdome in 1981, the most by a Giant in franchise history.
5: Eli Manning has faced Seattle five times as the starting quarterback. He is 2-3 against the Seahawks (1-1 at home), completing 63.2 percent of his passes for 13 touchdowns, seven interceptions, and a passer rating of 98.4.
4: The number of times Eli Manning has thrown at least 50 passes in a regular-season game, including a 2005 loss to the Seahawks. Manning's 53 attempts in that game are tied for a career-high (2007 vs. Washington).
3: The record for most interceptions by the Giants against Seattle is three, done in 1976 and again 2006. In 1976, John Mendenhall, Clyde Powers, and Rick Volk each grabbed one. Thirty years later, Corey Webster, Fred Robbins, and R.W. McQuarters did the same.
2: Seattle has just two wins when they travel to East Rutherford to face the Giants (1983 and 2011). Big Blue is 6-2 at home against the Seahawks historically but lost its only matchup in MetLife Stadium 36-25 in 2011, the second season in the Giants' new home.
1: The Giants have one shutout against the Seahawks in series history, coming in a 32-0 victory in 1981. Big Blue held Seattle to just 127 net yards – 29 rushing and 98 passing.