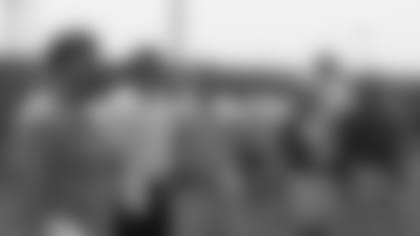 Participating high school coaches observe an actual Giants practice as part of the Giants/Gatorade High School Coach Training Camp.
On Thursday, June 9, 2005, the Giants hosted their first annual Giants/Gatorade High School Coach Training Camp at Giants Stadium. The program was designed to provide high school football coaches valuable insights into the advanced training, skills, techniques and safety methods applied by the New York Giants. It was also an opportunity to learn from the Giants staff about the importance of sports nutrition and how to keep athletes properly hydrated so they can perform at their best.

Over 125 high school football coaches from the tri-state area arrived in the morning to view Giants practice on the practice field. Former Giants great and Super Bowl XXV MVP Ottis Anderson hosted the group and provided inside perspective while they viewed the Giants as they train for the upcoming season.

After practice, the group enjoyed lunch in the Stadium Club, followed by a welcome from Giants Head Coach Tom Coughlin and presentations from his coaching staff. Coaches included Defensive Coordinator Tim Lewis, Special Teams Coordinator Mike Sweatman, Assistant Special Teams Coach Mike Priefer, and Offensive Line Coach Pat Flaherty. Ronnie Barnes, the Giants Vice President of Medical Services, finished the day with a discussion on proper hydration and nutrition information for athletes.

The Giants /Gatorade High School Coach Training Camp proved to be a truly one-of-a-kind experience to learn and interact directly with the Giants Coaching and Training staff.