Read this story from your BlackBerry, phone or other wireless device at http://giants.com/wireless*
ALBANY, N.Y. – Are you still feeling the pain from the Giants' postseason loss to the Carolina Panthers last January? Are you hoping the 2006 Giants use that disappointing season-ender as motivation when they report to training camp this week?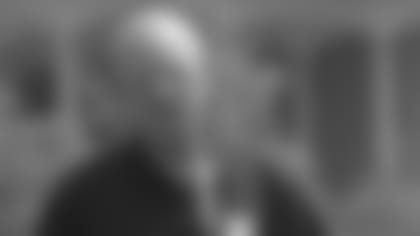 Coach Tom Coughlin met with reporters during his annual pre-camp press conference Wednesday.
"It has never left my thoughts from the evening of the game," head coach Tom Coughlin said today. "It's not going to change, and I don't want it to. I want to pour a little salt into the wound."

Coughlin gave that answer to a question about five minutes into his opening remarks at the University at Albany. He and his assistant coaches were at the school today, preparing for the start of camp. The players report tomorrow, with a conditioning test scheduled for 1 p.m. and a team meeting at 2:30. Twice-daily practices begin on Friday.

The coach clearly will waste no time in bringing up the defeat to Carolina.

"It will probably take me about as long as tomorrow afternoon to mention that," Coughlin said.

The 23-0 beating at the hands of the Panthers was certainly the kind of defeat that sticks with a coach – and a team. The Giants had won the NFC East championship with an 11-5 record, an achievement that enabled them to host the Panthers in Giants Stadium. But an injury-depleted defense couldn't stop the Carolina offense from rushing for 223 yards, and the Giants couldn't generate enough offense to even attempt a field goal. The result was a bitter ending to what had been a sweet season.

But Coughlin does not want the players to simply forget about the game as they begin the new season.

"Putting it behind them is not the way I would phrase it," Coughlin said. "I would say learn from it, understand it, know what took place and never let it happen again."

The players are convinced there's no chance of that happening. In fact, their aim is much higher: a better record, a longer postseason run and, as several players such as Tiki Barber and Michael Strahan have said, a Super Bowl victory. The Giants believe they have the talent to win a championship this season. Coughlin doesn't want to temper anyone's enthusiasm, but he's currently focused on the journey instead of the destination.

"I think that if you're going to talk about the world championship or the Super Bowl or whatever, what has to accompany that is the idea that our thinking, our maturity, our team unity, our singleness of purpose and the way in which we go about our business, our practices, etc. have to all be at the championship level," said Coughlin. "And I think, again, if the effort, the preparation, the skill and the performance level parallels talking about the world championship, then I think that's a good thing."

One of the largest obstacles in front of the Giants is a schedule that could be the NFL's most difficult. They open at home against Peyton Manning and an Indianapolis Colts team that was 13-3 last year. The next two games are at Philadelphia and Seattle, the last two NFC champions. After a bye there's a home game vs. Washington, trips to Atlanta and Dallas (a Monday night affair) and a Giants Stadium matchup with Tampa Bay.

"It's without a doubt a very difficult schedule, it's a very difficult start," Coughlin said. "But if you're going to want to be the best, you've got to beat the best. I think that's the way you look at it. You look at it as a challenge, you look at it for what it is. It is most difficult, but on the other hand, you've earned the right to play that kind of schedule. Again, if you're going to be the best, you have to beat the best."

Coughlin spoke about a number of other issues in a Q&A with reporters:

* • On whether the most obvious job opening entering camp is at defensive tackle, where William Joseph and Fred Robbins will duel on one side and Damane Duckett, Jonas Seawright and rookie Barry Cofield will battle for the starting nose position.*

"Well, that's the one most talked about as being open," Coughlin said. "I think we have some outstanding competition at that spot and hopefully that competitiveness is going to create a situation that turns into a positive – from an unknown to being a positive. We have guys who have played in there. We've had guys who have slid in there before. It was just planting a man to a position last year, and now it's open. We have some guys that are coming along and we have some people we drafted and some guys who have played in there in the past. I think it's going to be a very competitive spot, to be honest with you."

* • On whether he will work on developing a player behind Barber, the record-setting back who turned 31 in April:*

"I don't think so," Coughlin said. "We've had players who have been here, even if you go as far as Brandon (Jacobs) being in his second year. Their development – Derrick Ward's and Brandon's – should be an interesting thing. Tiki, we're talking about this year, period, and our expectations, obviously, for him are very, very high and rightfully so."

* • On whether he expects all the rookies to report tomorrow:*

"I think so," Coughlin said. "I think now that everything isn't done (signing the draft choices) at this point in time, but hopefully we'll have those that are left signed this evening, and they'll all be here tomorrow."

* • On whether some players will be restricted physically early in camp:*

"There will be a few at the beginning," Coughlin said. "I think we may have to restrict those guys that are coming off knee surgeries (including safety Will Demps). Lewis Kelly had the sprained foot right at the end of our spring work, so he's going to be limited. I think (Tim) Carter may have some patella tendonitis that we may have to be concerned about right away. LaVar Arrington has some tendonitis and an Achilles, so we may have to make sure he's ready to go twice."

Wide receivers coach Mike Sullivan said, "We're hoping he is back as quickly as possible. We just have to make sure that we're keeping him in a groove. From his standpoint all that he can do is get treatment and rehab and listen to the training people and get ready to get back in the mix of things."

* • Defensive coordinator Tim Lewis said he is looking forward to coaching his revamped unit.*

"I'm thrilled about working with the guys that we've got," Lewis said. "We've got a nice group of guys. They're great competitors. We've got a lot of competitors. We've got a lot of talent. We've got a great young group. We've got a good mixture of youth and experience. So I'm excited about working with them."

* • The Giants' 40th annual Kickoff Luncheon will be held on Wednesday, Aug. 30, at the Sheraton New York Hotel. This luncheon benefits the John V. Mara Cancer Research Unit, St. Vincent's Hospital Catholic Medical Centers of New York, and the John V. Mara CYO Camp.*

For more information, please call (212) 356-4939.