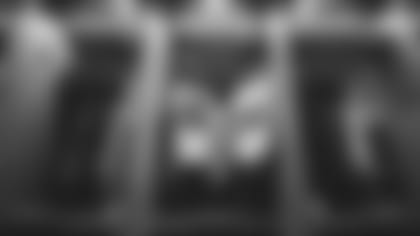 The 2018 draft class along with a host of undrafted free agents arrive on Thursday for rookie minicamp:
Scouts scour the country all year to get to this week.
In the wake of the 2018 NFL Draft, the Giants' six newest selections, along with a host of undrafted free agents and tryout players, report Thursday for rookie minicamp at the Quest Diagnostics Training Center.
After orientation, which includes everything from equipment fitting to headshots and physicals, they hit the field for the first time together. They do so not as Nittany Lions, Miners, Bulldogs, members of the Wolfpack, Spiders or Hurricanes -- but as New York Football Giants.
Lockers have been set up for the newcomers. Here are the numbers of the six draft picks:
Round 1: RB Saquon Barkley – No. 26
Round 2: G Will Hernandez – No. 71
Round 3: LB Lorenzo Carter – No. 59
Round 3: DT B.J. Hill – No. 95
Round 4: QB Kyle Lauletta – No. 17
Round 5: DT R.J. McIntosh – No. 90
The Giants will hold rookie minicamp practices on Friday and Saturday. Both will be preceded by head coach Pat Shurmur and players meeting with the media. Stay tuned to Giants.com for complete coverage and highlights.
Meanwhile, the veterans have been moving along in their offseason workout program, which began April 9. Here is a look at upcoming dates to keep in mind:
Rookie Minicamp: May 11-12
OTA Offseason Workouts: May 21-22, May 24, May 29-31, June 4-7
Mandatory Minicamp: June 12-14
Each club's official, voluntary nine-week offseason program is conducted in three phases:
•Phase One (completed) consists of the first two weeks of the program with activities limited to strength and conditioning and physical rehabilitation only.
•Phase Two (currently underway) consists of the next three weeks of the program. On-field workouts may include individual player instruction and drills as well as team practice conducted on a "separates" basis. No live contact or team offense vs. team defense drills are permitted.
•Phase Three consists of the final four weeks of the program. Teams may conduct a total of 10 days of organized team practice activity (OTAs). No live contact is permitted, but 7-on-7, 9-on-7, and 11-on-11 drills are permitted.
View the best photos from Saquon Barkley's Draft Night