EAST RUTHERFORD, N.J. – The Giants have the kind of stability at quarterback that most teams can only envy.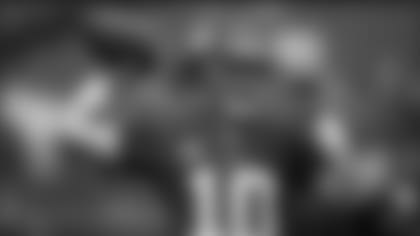 Eli Manning has made every start since the 10th game of the 2004 season – 103 in a row in the regular season, plus seven playoff games in a row. That is the sixth-longest starting streak by a quarterback in NFL history. Only his brother Peyton has a longer active streak – 208 consecutive regular season games, plus 18 in the playoffs, for the Indianapolis Colts. San Diego's Philip Rivers is the quarterback closest to Eli Manning with 80 regular season starts in a row.
In 2010, Manning was one of just 12 quarterbacks to start all 16 games. He was the only NFC East quarterback to play every game. Since Manning started his first game on Nov. 21, 2004 against Atlanta, the other three teams in the NFC East have used 20 different starting quarterbacks:
Dallas (7): Vinny Testaverde, Drew Henson, Drew Bledsoe, Tony Romo, Brad Johnson, Jon Kitna, Stephen McGee
Philadelphia (7): Donovan McNabb, Jeff Garcia, Mike McMahon, A.J. Feeley, Koy Detmer, Kevin Kolb, Michael Vick.
Washington (6): Patrick Ramsey, Mark Brunell, Jason Campbell, Todd Collins, Donovan McNabb, Rex Grossman
Manning is secure as the Giants' quarterback because he is successful and productive as well as durable. His record in the regular season is 60-43 (.583), plus 4-3 (.571) in the playoffs. He has led the Giants to four postseason berths, two NFC East titles and a victory in Super Bowl XLII.
Manning ranks second in Giants history (behind Phil Simms) in pass attempts (3,332), completions (1,932) and yards (22,646). Manning and Simms (33,462) are the only Giants quarterbacks to pass for 20,000 yards. Manning is the first quarterback in franchise history to reach 3,000 passing yards in six consecutive seasons. He is third (behind Simms and Charlie Conerly) with 156 touchdown passes.
Last year, Manning set Giants single-season franchise records with 339 completions and a 62.9 completion percentage. The previous marks were 335 completions by Kerry Collins in 2002 and the 62.8 completion percentages by Jeff Hostetler in 1991 and Kurt Warner in 2004.
Manning's 539 passes in 2010 were the second-highest total of his career (he threw 557 passes in 2005) and was the fourth-highest total in Giants history (Collins threw 568 passes in 2001 and 545 in 2002).
His 31 touchdown passes were the third-highest total in Giants history and the most by a Giants quarterback in 47 years. Y.A. Tittle threw 36 in 1963 and 33 in 1962.
Manning passed for 4,002 yards last year to become the first Giants quarterback with two 4,000-yard seasons. He threw for 4,021 yards in 2009. Collins (4,073 in 2002) and Simms (4,044 in 1984) are the only other Giants to pass for more than 4,000 yards.
Manning's 4,002 yards were the fifth-highest total in the NFL. He was one of a record 22 quarterbacks to throw for more than 3,000 yards in 2010.
As usual, Manning's durability turned his backup into little more than a spectator when the Giants had the ball. Sage Rosenfels saw action behind center in one only game and did not throw a pass the entire season.
Jim Sorgi, who was signed to back up Manning, spent the entire season on injured reserve after suffering a shoulder injury in the preseason opener that required surgery. 
Also on the roster is Ryan Perrilloux, the former LSU quarterback who concluded his college career at Jacksonville State. He was signed to a reserve/future on Jan. 13.