EAST RUTHERFORD - Tom Coughlin is bullish on the Giants' defense and the man he has hired to lead it.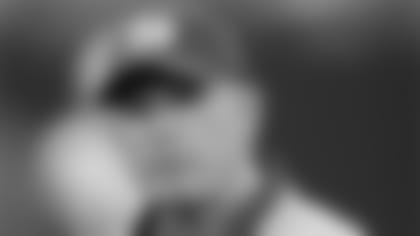 Coach Tom Coughlin, preparing for his seventh season as the team's head coach, brought in Perry Fewell as the Giants' new defensive coordinator after the unit sputtered through a forgettable 2009 season.


Coughlin, preparing for his seventh season as the team's head coach, brought in Perry Fewell as the Giants' new defensive coordinator after the unit sputtered through a forgettable 2009 season. Fewell, who did a five-year stint on Coughlin's staff in Jacksonville, spent the last four seasons in the same position with the Buffalo Bills (for whom he was 3-4 as the interim head coach last year). He is charged with revitalizing a defense that surrendered 427 points, the second-highest total in franchise history, under former coordinator Bill Sheridan.
"I expect us to return to being the kind of defensive football team the New York Giants have always been," Coughlin said Friday at the annual NFL Scouting Combine in Indianapolis. "We play the game a certain way. We play the game with great balance and with team in mind, with the way we talk about the non-turnover game, running the ball, defending the run. That's how we play. The defensive coordinator change … Bill Sheridan was there during the Super Bowl year and did an outstanding job for us. It just didn't work (last season). We were not a very good football team last year on defense, we had our issues – not all coaching, not all coaching. We all share the blame, starting with me. But the simple fact of the matter is I felt we needed to make a change and we did. I wish Bill well in his new job (as inside linebackers coach) with the Miami Dolphins.
"Perry Fewell is a young man I brought into the National Football League when we were in Jacksonville. I followed his career very closely. He worked as the defensive coordinator for a very good friend of mine and our first coordinator in Jacksonville, Dick Jauron. Dick has great things to say about Perry. Perry's a dynamic, energetic, passionate young guy and I think that's something we need right now. We're looking forward to the kind of leadership Perry can bring and the way he will work with our players and the kind of energy he brings to the task."
Fewell's relationship with one of those players, defensive end Osi Umenyiora, will be closely scrutinized. Umenyiora, a two-time Pro Bowler, led the Giants with seven sacks in 2009. But he was removed from the starting lineup and played as a situational pass rusher for the season's final five games. Since then, Umenyiora has said to anyone who will listen that he considers himself a starter. In one interview, he even suggested retirement was an option if he did not line up with the first team in 2010.
Umenyiora has met with general manager Jerry Reese, Coughlin and Fewell. Coughlin understands Umenyiora's desires, but he would never promote an individual player's wishes over team goals.
"I just reassured Osi our expectations for him were very high," Coughlin said. "He's an integral part of our plans and of our defensive football team. He met with Perry. Osi is a big part of our team and the word 'team' is critical to me. I mentioned some things about how our identity had slipped a little bit last year as the New York Giant football team. One of the things I believe in is team. I think that facet has to be brought back together before we go isolating offense, defense and special teams. We succeed as one. Osi's a big part of our team and we expect he'll come back, work as hard as he can and be a big part of our defensive rejuvenation, if you will. Competition is a very good thing. We've been able to, over the course of the last few years, have a very good system whereby we waved our defensive linemen in. It helped us in our Super Bowl year and we continue to do that. But Osi's a big part of our plans."
Coughlin called Umenyiora "a gifted, gifted football player." But what about those assurances Umenyiora seeks about starting?
"I don't know how you do that," Coughlin said. "Our field is a field, and competition is good. It's like we tell everybody: go earn it."
One former defensive stalwart who will not play in a Giants uniform this year is Antonio Pierce. The team's middle linebacker for five seasons, and defensive captain for three, Pierce was released earlier this month. He missed the final seven games of the 2009 season with a bulging disc in his neck. Coughlin, however, said the Pierce transaction was not made because of the injury.
"Those decisions are made at the highest level," Coughlin said. "I'm really not going to shed a whole lot of light on it. Antonio, again, was a great player for the New York Giants. He was a wonderful acquisition for us. We played against him when he was in Washington. He was the kind of player I really looked forward to having with us because he had the qualities of leadership and was able to inspire other guys around him. He certainly was a huge part of our Super Bowl team and continued to be a leader on the field. The decision was made we were going to part ways. But as I told him when he left, I said, 'I love ya. You're a part of the New York Giant history and you always will be.'"
Coughlin, of course, is not going to anoint a successor to Pierce in the middle of the defense – certainly not before the free agency signing period and the draft. Chase Blackburn and Jonathan Goff each started games there after Pierce went down. And Coughlin suggested other unnamed candidates are currently on the roster.
"There are, but let's just stay with (Blackburn and Goff)," Coughlin said. "You know Chase (is) the guy who gives you everything he's got. He's always been, from a reputation standpoint, outstanding as a special teamer. He's played well in roles when we've asked him to step into that job. He was disappointed when Jon Goff got an opportunity to play last year. Jon had some good games and some games that weren't quite as good, which a young player is prone to do. We just think improvement has got to come."
It will certainly come at safety if Kenny Phillips continues to progress. Phillips played two outstanding games last year before an arthritic condition required surgery and forced him to miss the rest of the season. Phillips has been working out and while he hasn't run yet, is optimistic he will return for the spring drills and be at the top of his game when the season begins.
"We have to go step-by-step here and he's in the early stages of coming back from a serious issue," Coughlin said. "Everyone is very positive and upbeat. All of the reports have been good and that's basically what we have to go on. But until he puts it to the test, of course, the questions are going to be there. I don't think I'm out of place by saying he was having an outstanding preseason, an outstanding first couple of games into the season. His return to our football team as the quality young player he was developing into is very important. He would be a great addition and a great ingredient as a part of our team, but there are other things we have to put together as well."
Coughlin discussed several other issues in his annual meeting with the media at the combine. They included…
*Whether the Giants' running backs can stay healthy for an entire season (Brandon Jacobs and Ahmad Bradshaw both underwent surgery after the season):
"There's great concern from the standpoint of the surgical procedures that have been done," Coughlin said. "Again, everything is stated to us as being on schedule. I think you go all the way back to Andre Brown (the rookie who ruptured his Achilles tendon in training camp). He's on schedule, too. Hopefully, they're going to be (healthy); they're going to have to be. Danny Ware's improvement is going to have to be as well."
*Whether improving the running game is a component in re-establishing the Giants' identity:
"Sure. But it's like I say – it's a team thing," Coughlin said. "If you play real hard-nosed, tough football on both sides of the ball, you have a chance to show the type of personality you have as a team. Running the ball is a big part of that. The offensive line, the tight ends, the fullback are all part of that. Hopefully, these guys will come back and be healthy and ready to go."
*On the disappointing end to the 2009 season and the beginning of the offseason conditioning program on March 15:
"We've been, as I mentioned right at the end of the year, evaluating everything," Coughlin said. "We've tried to talk to all of our players. I don't really want to go backward. Everyone knows how disappointed and upset we were at the end of the season – and I think rightfully so. I think our players feel the same way. Those I've been able to talk to have a real firm grip on getting back to work, back to basics, looking forward to the offseason program. I'll leave it right there."
*On the expectations for Hakeem Nicks, who had 47 receptions and scored six touchdowns as a rookie:
"Hakeem's a football player who's hungry to improve and to be better," Coughlin said. "He's a guy we see doing outstanding things. No matter what you challenge him with, he seems to be able to come through and to accept the challenge and to do better and improve. People said he wasn't a home run hitter. Well, people chase him down the field and he gets it in the end zone. That's the only thing I can comment or equate it to."
*On former Denver Broncos coach Mike Shanahan joining the Washington Redskins:
"Mike's an outstanding football coach," Coughlin said. "He's got his two Super Bowl rings. And we go back a long time competing against each other. I have great respect for Mike. This is a great division and welcome, Mike Shanahan."