EAST RUTHERFORD, N.J. – Judge's Chambers, Giants.com's weekly interview with Giants coach Joe Judge:
Q: You like to take the same approach with the players each week to ensure there is a consistency in your message. You are 0-2 as you prepare to play Atlanta this week. Do you need to do anything to convey a heightened sense of urgency, or is it important in your mind to remain consistent?
Judge: "To me, consistency is critical. The players have to understand and know what to expect when they come in on a daily basis, in terms of my approach and what I expect of them. The urgency starts back in training camp, even before that in the spring. We remain urgent in everything we do. To us, it's about the process and staying focused. The focus is on improving right now as a team. That would be our focus, regardless of what the record is. We were a better team last game than we were the first game, and we have to keep continuing on that track. We have to do things that don't limit opportunities to be successful. That's really our focus right now as a team."
Q: Some people say, "It's a must-win game." Are there must-win games in Week 3?
Judge: "I think every game is a must-win game. We get paid for production. We get paid to go out there and have results. In terms of how we approach it, we prepare every week to win games and so does the opponent as well. It's about the execution within that 60-minute frame that we have to go out there and give ourselves a chance. Look, we approach everything to win. That's the attitude we have here."
Q: There are 16 quarterbacks that have already thrown for 500 yards. Daniel Jones is the only one who has also run for at least 100 yards. Did you envision that Daniel's running would become so integral, because it has really become an important component of the offense?
Judge: "Yes, it has. I don't think it's something that we go into every game saying he has to get a certain amount of touches or mandatory runs. It's just things that organically happen based on what we're presented with and how we can play the game. I'd say it's probably different than what I initially imagined coming in, but then last year we got going and started seeing how effective he is as a runner. That's a position right there that you can be calculated on how you use those runs with quarterbacks. He can also do a good job of being productive as a runner, and then still being safe for the team as well. Quarterbacks can slide, get out of bounds, or a lot of things like that. He's learning how to be a safe runner.
"I think Daniel is very competitive. I'm going to be honest, he doesn't want to turn down the hit for the extra yard. That's just the reality of it. We're trying to do a good job coaching right there and put him in position to make the right decision for the team. But he's been very productive for us. It's definitely something that sparked the offense in a lot of different games at the right time. Every game plan is different, but it's definitely become a feature of our offense."
Q: Throughout the spring you had five young players preparing to be the starting offensive line. Now two of them (Nick Gates and Shane Lemieux) are hurt and out for the season. (Tackle) Nate (Solder) has taken over at right tackle. What are the challenges in reconstructing an offensive line on the fly?
Judge: "I think it's just the way the NFL is. Our job is to constantly be coaching and developing. The roster changes over all the time. It's very different than high school or college where you have what you have, and that's how you get through the year. The NFL is always evolving, always changing. You always have to know who's available on the street, always know who's available that could upgrade your roster, and always who's available for competition. I'm pleased with the guys who we brought in. They're all competing right now, they're all working. There were some positive things in the last game. We have to keep making sure we improve as an entire unit. No one wants to see anybody get hurt. We'd love to have Shane and Nick fully healthy. But regardless of anything that's happened, we have to keep on pushing forward, improving, and competing. We're never looking back and saying, 'If only this or that.' Of course, Nick and Shane were key parts of our team, but we're very pleased with (new center) Billy (Price), (left guard) Ben (Bredson), (center Matt) Skura, and those guys, as they're working and going forward right now."
Q: We always hear about the importance of communication and the five working as one unit. Have they been doing a good job, especially the two new players, in doing that?
Judge: "I think so. I think Billy did a really good job last week getting ready on a short week. He only had the one week with us, and then turned around on the short week. He got ready to play in the game and was very effective in that game for us. Then you turn around, you watch how these guys prepare. It really starts in meetings with these guys. They've got to watch the tape together. They have to express to each other how they see it through their lens, so they're all playing on the same page. It's very important to make sure there's chemistry within that unit. Then, it's always not just those five guys. I say it all the time, it's seven-to-eight in the game. You have to make sure all those guys are on the same page. You saw last week, obviously Nick got hurt, Ben came in, and that chemistry that Ben and Billy were able to build through some limited reps, but also good meeting time, carried on to the field."
Q: Nick Gates, like Saquon Barkley last year, is a team captain who suffered a season-ending injury in Week 2. Was Saquon able to be a presence with the other players at some point in the meeting rooms and the locker room? If so, do you hope to see Nick do the same thing?
Judge: "I'd say yes to both. Saquon was a presence for us last year. I'm very big on the leaders staying involved. I'm very big on having those guys involved. We don't always have a lot of extra guys on our sideline, but there's certain key veteran players on our team that when the time comes, I think it's good to have them down there with the team. When Nick gets back and as he's healing up, we're definitely going to keep him involved with the team mentally, from a leadership standpoint, and involved within the culture here."
Q: Azeez (Ojulari) has two of the team's three sacks. Sacks always stand out, but how is he doing with the other requirements of his position (outside linebacker), like playing the run and setting the edge?
Judge: "To me, sacks are a byproduct of a lot of peoples' work. It's the coverage on the back end, it's the other people's rush that kind of frees it up, and it's obviously the technique, effort and finish by the player who gets the sack. I think they're important stats, but they're also sometimes the most overblown stats. The thing you referenced a second ago, in terms of the edge setting, playing the run, getting pressure when he's not going to get to the quarterback. There are times we may drop him out in places we might need coverage. He's making progress on all those things. I think being a young player at an impact position like that, there's a microscope on you every week.
"I think Azeez does a very good job of focusing on the game plan and what he has to do. He's really improving every week. There's just some learning curves that come with that position. I think you look at some of the standout guys on the edge over the last few years in this league, and it takes some time to really get going. That's not a knock on any of the players being young. It's just the reality of what it is. You've got to learn the differences in the game, the difference in the skillsets, the difference in the body types you've seen from the rest of your career. But he's definitely working hard and progressing right away."
Q: I don't want to jinx him, but (kicker) Graham (Gano) has an impressive streak (35 consecutive successful field goal attempts). Does that change how you think sometimes in terms of game management and play calling? For instance, if you're in four-down territory but know you're essentially guaranteed three points, would you take a shot on third down? Or do you not think about what your kicker can do when you make those decisions?
Judge: "That's definitely a factor. You've got to account for what your specialists can do, and that's your kicker and your punter as well, based on what the field position is, what you can kind of lock in, and what you may have. That definitely allows you to free up some different things, as you reference, on third down. There's other points where you may be outside of field goal range and think we're in four down territory here. That gives you that same freedom on third down to go ahead and be a little more aggressive, throw down the field, or whatever it may be.
"But look, we're very pleased with Graham. The guy comes prepared every day. We have a lot of confidence in him. You have confidence in him because of how he prepares on a daily basis. This guy was elected captain by his teammates for a reason, because of how he works, prepares and puts the team first. It gives everyone a lot of confidence when he goes on the field."
Q: There's been a lot of talk about the taunting penalties being called. Is that something you like to see, and is that something you have to remind the players that it's being called closely?
Judge: "We talk about the rules and penalties that are being called around the league on a weekly basis. We always show clips to our players and remind them that this is the penalty, this is the emphasis, and this is what they're looking for. In terms of whatever the rule is, like taunting, it doesn't matter what the deal is, we don't make the rules, we've got to play by them. It's our emphasis that we're within the rules all the time. We just ask the officials, however they're officiating it, to be consistent and to clarify what they're looking for, so we know how to go ahead and teach our players and make sure that we're within the construct of the rules. That's how we're going to play the game. Whatever the rules are, they are, and that's how we're going to play it."
Q: Penalties are up. There were 221 penalties called last week. Last year, there were no 200-penalty weeks. Again, is that something the players must be alerted to?
Judge: "We just keep stressing what they're calling, what they're looking for, and stressing our fundamentals and technique throughout the play to make sure we avoid those. Penalties really come from either a lack of focus pre-snap or poor technique and fundamentals post-snap. So, what we're always talking to our players about is just in terms of playing clean football and not putting ourselves behind the eight-ball with penalties, turnovers and mental errors. In terms of if there's a certain crew calling it a certain way, or if penalties up or down, we're going to do business they way business is being done. So, however they are calling it, that's how we're going to play."
Q: Eli Manning is being honored Sunday. Have you gotten a chance to know him since you got here?
Judge: "I have a world of respect for him. I think everybody in the league has a world of respect for this guy. He's accomplished, but also how he's handled himself. I haven't gotten a chance to listen to the Monday Night Football broadcast with his brother. I hear it's great. We're normally working at that time, but I've heard it's phenomenal. I should probably start putting it on in the background just listen to it. I think the significance he's had for this organization, it's important for our players when any player is getting their number retired, not to mention someone who a lot of these guys have played with and shared a locker room with, it's important to recognize that not what they accomplished but how they worked to get to where they are. The things they did on a daily basis and commitment to the team. That's why I think it's great that our players have the opportunity to see this happen at the game and be out there with the guy who used to wear the uniform in that locker room. I love when Eli is around. He definitely gives a great perspective. He gives a lot of insight. He can definitely change the mood. He's got, as everyone is seeing, a very quick humor. I love having him around."
Q: A little bit about the Falcons. What kind of problems does (rookie tight end) Kyle Pitts present with the speed of a wide receiver and size of a tight end? I read he has an 80-something inch wingspan.
Judge: "On top of that, he's got phenomenal hands. He's got a great catch radius and great hands. With those guys, the ball doesn't have to be on pinpoint accuracy. Although Matt Ryan is a very accurate quarterback, they've got that ability of snatching, grabbing and continuing to run without breaking stride, just because of their catch range. This guy's got phenomenal speed. He's a very, very good athlete. You watch him coming out of college, everyone obviously knew about him going in the draft. I don't think anyone's been shocked by what they're seeing right now. He's really building on it. It's early in his career, two games in, but you can see from Week 1 to Week 2 how they use him more and how he's gotten more comfortable within the role. I'm sure he's going to be one of the top guys in this league for a long time. This guy is extremely athletic. He's very polished. He's got a rare skillset. It's not just the fact that he's big and fast, it's the type of athleticism he has. It's the ability of changing direction and having that fluid movement in and out of cuts. That's what's really so rare about him. You can find a lot of big guys that can build speed and run fast straight line. The ability he has to truly run routes like a receiver, and there's a lot of receivers who can't run routes like that, but his fluid movement in and out of cuts is very tough to match. He is big. He has good strength. He runs very aggressive and physical. He's tough to tackle in open space. He can outrun you. He can run through you. He can juke you and make you miss. This guy is definitely a problem."
Q: Defensively, (lineman) Grady Jarrett has been an anchor in there for a long time. Then, (linebacker) Foyesade Oluokun, he's their Blake (Martinez), but his stats aren't as gaudy.
Judge: "Those linebackers (Oluokun and Deion Jones) both have very good speed and aggressiveness. When you watch those guys, they both flow over top and run down plays sideline to sideline, but they come in and they plug very aggressively as well. (Oluokun) is definitely the signal caller, and he gets them all lined up. I think Deion Jones is very capable of being the signal caller. He has done it in the past as well. They kind of free him up in this scheme to play a little more to his athleticism and range. Both guys will blitz. Both guys will plug. Both guys can play in coverage, zone or man. So, you've got to account for where these guys are at all times. They are definitely a key point of this defense. There are some similarities to our defense and construct. It's not carbon copy, but it comes from a very similar tree. A lot of background is very similar, so some of the ways you see Blake get plugged in on a linebacker run through, they'll do that with their linebackers as well. They're definitely capable of making plays."
Q: Lastly, (running back) Cordarrelle (Patterson). He entered the league as a wide receiver, but he runs, he catches, he returns kickoffs. You had him for a year in New England (in 2018). Does he look like the same guy?
Judge: "He looks phenomenal. He looks great. There's no lost tread on the tires with this guy. I think he's keeping his body in great shape. He's playing fast and aggressive. He's really developed within that role. Playing him as a running back right now, that was something we kind of fell into, to be honest with you, in 2018 with him out of necessity. He was a guy that was on the team doing a lot of things for us, and it was a way to give him the ball more. We had some injuries, and it wasn't like he went in there and was just plugged into the game. He went in there and made an impact and it was instantly recognizable, like, 'Okay, this is something different. How do we use this guy? How do you keep building on this package?' Then, obviously, that carried over in Chicago and now to Atlanta. He's continued to get more comfortable in that role and really does a good job with it.
"I think when you look at him now, there's a lot of things he does that when he first started learning the position weren't natural to him because he hadn't played that position. The way he sees it inside-out, his stretch and cut, his blitz pickup in protection, his receiving out of the backfield, this guy is a great player, he really is. People don't realize how big he is until you stand next to him. I didn't until I was coaching him. He's a big, big man. You don't realize how fast he is until you feel that speed come up on you. I can tell you from personal experience, I just know guys don't want to tackle him head-on. He's a big, fast-moving man who is coming downhill at your heart, whether it's a kick return, it's a run, it's a catch, whatever it may be. He's an issue in space and you've got to really account for this guy. He's done a really good job being a productive player in this league. I think they're using him very inventively. I think (head coach) Arthur (Smith) and (offensive coordinator) Dave (Ragone) have done a really, really good job. Obviously, Dave has experience in Chicago with him. But, C.P. now, he's fun to coach, he's fun to watch play. He's definitely a guy when you coach against him, you have to account for him."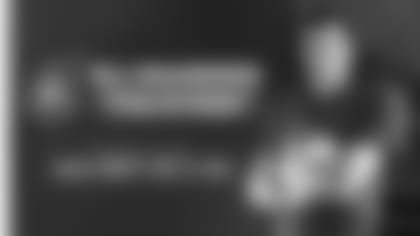 Limited Tickets Available for Eli Manning Ceremony
Limited tickets are available for Eli Manning's jersey retirement and Ring of Honor induction game