EAST RUTHERFORD, NJ - In the months prior to the 2010 season, the Giants spoke frequently about being a team with a reliably productive rushing attack and a punishing and stingy defense, attributes they have demonstrated more often than not in fashioning a 9-6 record. With their season on the line as they head to Washington for Sunday's encounter with the Redskins, they need to re-establish those attributes if they are to win and have any chance of making the playoffs.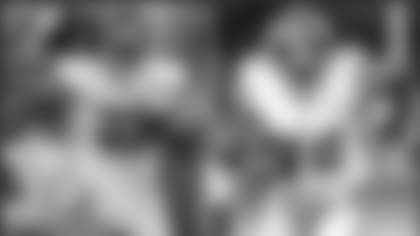 The Giants have put themselves in a precarious position largely because of their inability to run the ball or play to their defensive capabilities in losses to Philadelphia and Green Bay the previous two weeks. They ran for 100 yards against the Eagles and 90 in Lambeau Field, far below their season average of 141 rushing yards per game.
"You're playing against good teams, teams that are committed to stopping the run and do a good job with their blitz package, got some outstanding defensive players over there – a combination of a lot of different things," offensive coordinator Kevin Gilbride said.
Defensively, the Giants have had a bad 4½ quarters, allowing 66 points (plus seven by the special teams) since midway through the fourth quarter of the Dec. 19 loss to Philadelphia. The score last week was 45-17, Packers.
Running the ball has been a Giant strength for most of the season. They are fifth in the NFL in rushing yards and Ahmad Bradshaw and Brandon Jacobs have combined for 1,987 yards and 16 touchdowns. But in the last two weeks, the Giants posted two of their three lowest rushing totals of the season.
When they defeated the Redskins, 31-7, on Dec. 5, the Giants ran for 197 yards and each running back scored two touchdowns. Coach Tom Coughlin would like to see production on the ground this week, but knows the Giants must take charge up front to get it.
"For us to play the way we are built and the way we are capable of playing, we have to win the line of scrimmage," Coughlin said.
That did not happen the last two weeks. 
"I just see us getting knocked back," Coughlin said. "You have to penetrate. You have to drive people back off the ball. Your leverage people on the outside have got to knock people back off the ball. You have to have a place to run. You have got to feel like you are in control of the line of scrimmage – whether it be the front seven, whether it be the front eight. I don't care how many we have got down there – just be more physical."
The Giants will face similar circumstances to those they encountered in the first Redskins game. They will likely be without their two best wide receivers, Hakeem Nicks and Steve Smith. Nicks hasn't practiced this week because of a broken toe and Smith is on injured reserve, recuperating from knee surgery. In addition, the offensive line probably won't be at full strength because Shaun O'Hara is again sidelined with an Achilles injury.
Those absences didn't hamper the Giants earlier this month. Jacobs ran for 103 yards on only eight carries, Bradshaw added 97 more and they averaged a combined 6.1 yards a carry. The Giants also had a season-best plus-five turnover differential in that game.
"We ran the ball, we protected the football, we played smart, the defense played well, so we know we can win in those games," quarterback Eli Manning said.
"It (the rushing attack) has to be the strength to the offense, to open up things," offensive lineman David Diehl said. "Regardless of what the situation is, you have to make it work and you have to make it happen. This is going to be one of those games that the run game is going to be crucial. It's a division rival, and a team that is familiar with our schemes and what we do."
"We actually had a lot of big passes in the Washington game last time to Derek Hagan, which set up the run and enabled us to run," Gilbride said. "I think that you look at both of those and even Philly, where we threw four touchdown passes, a lot of those things work hand in hand. I think that the opportunities are going to be there for us to run, we just have to do as good of a job as I think we're capable of and I anticipate us responding to the challenge of losing a few more guys and the importance of being consistent in the run game."
Defensive coordinator Perry Fewell is similarly confident his unit will improve. Last week, the Packers gained 515 yards, the highest total allowed by the Giants in 30 years. Since the Giants led Philly, 31-10, in the fourth quarter two weeks ago, the defense has struggled to slow down both the Eagles and Packers.
"We just haven't played well for whatever reason," Fewell said. "Last week, we thought we prepared well, I thought we were ready to play, I thought we would perform well. We got a hold of a hot quarterback (Aaron Rodgers), he was extremely accurate, which we thought he would be, and he was good that day and we've been knocking out quarterbacks and he knocked us out. We just didn't finish against Philly, so we're trying to redeem ourselves, we're trying to come back, we want to put a win on the board, we want to play much better than how we've played. When I look at the tape I think it's some of the little things that get away from you a little bit. We weren't as physical as I would like for us to play last week and we need to get back to being a more physical football team. We pride ourselves on punishing and being physical and we weren't as physical as I thought we should be."
"I can't answer that question because if I could, it wouldn't happen," Fewell said. "You don't know what happens in the psyche of a player or what have you, but we just weren't as physical in that physical battle. We battled, don't get me wrong, we battled, but when I say physical I mean we've been dominating and we didn't dominate. They dominated."
"It's attitude," cornerback Terrell Thomas said. "I think we're one of the most physical defenses out there, and I think our play over the year has shown that. Maybe we've been a little bit inconsistent, but we've definitely been physical at different parts of the game. The main thing is we want to be physical the whole game. We don't want to let the team run the ball and it's not about just tackles or hits, it's about their running the ball and setting the edge. It goes a long way. We were physical in that game, just not enough, and that could've been the difference in the game."
Now the Giants must play the kind of dominating and physical defense that had the unit ranked among the NFL statistical leaders most of the season. The defensive players said it doesn't require a complicated formula or magic for the defense to play to its capability.
"I think we just collectively have to focus, understanding how our jobs work together and don't try to do anybody else's job," tackle Chris Canty said. "Just do your part and take care of your piece of the puzzle. Ultimately, that will lead to success for us. Look at us on the defensive side of the ball. We have an abundance of talent, we just have to focus and harness that ability collectively to be successful on the field. I'm sure you guys see it, it's not in sync like it was. We have to all collectively focus on our jobs and how to best execute it versus our opponent."
"It's just being disciplined and everybody doing their job," Thomas said. "I think a lot of people started to panic a little bit and started to do too much. We played a good quarterback last week who was on fire. They hit us where it hurt, and we couldn't stop them. We need to get back to the fundamentals. Coach Fewell comes with a great game plan every week, and we just have to go out there and execute to our abilities."
The Giants believe it will work this week and give them a chance to reach the playoffs.
*In addition to Nicks and O'Hara, cornerback Corey Webster (ribs), defensive end Dave Tollefson (knee) and safety Brian Jackson (knee) did not practice. Coughlin believes Webster will play Sunday.
"I think he will make it," Coughlin said. "I wish he would have practiced today. Hopefully he will practice tomorrow."
O'Hara didn't sound particularly hopeful he will be able to play.
"I'm just hoping that it feels better by tomorrow," he said. "The pain is there and has been there all year. Now, it's to the point where I'm limited and I'm struggling to run or even push off. The pain is manageable and I was able to deal with that. Now, it got to the point with the swelling that I was ineffective."
Bradshaw (ankle), Canty (neck), defensive ends Justin Tuck (chest) and Osi Umenyiora (knee) and safety Antrel Rolle (ankle) were limited.