EAST RUTHERFORD, NJ - Last week, the Giants' offense responded impressively to the challenge of facing a unit that was ranked first in the NFL. This week, the team's defense will be asked to do the same.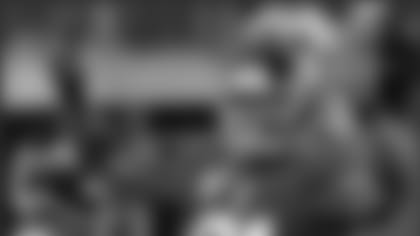 The Chicago Bears arrived at the New Meadowlands Stadium Sunday night with the league's No. 1 run defense, having allowed 119 yards on the ground in the first three games. The Giants took care of business, running for 189 yards (129 by Ahmad Bradshaw, who was named NFC Offensive Player of the Week) in a 17-3 victory. That dropped the Bears' run defense to sixth in the NFL.
In three days, the Giants will take on the 3-1 Houston Texans in Reliant Stadium. The Texans' rushing attack averages 172.0 yards a game and 5.5 yards per carry, both league-leading figures. Arian Foster tops the NFL with 537 yards rushing and 689 yards from scrimmage.
So now the defense will look to duplicate the offense and shut down a unit that has been the NFL's best in the first quarter of the season.
"(They have an) outstanding zone scheme, play action pass off of the run game," Coach Tom Coughlin said. "Last week, they stuck exactly to what they wanted to do against Oakland (in a 31-24 victory) – running the ball and throwing play action. They didn't (take) any sacks, they didn't have any turnovers, so they played a very good football game."
"It's really a good scheme and you have to be disciplined defensively," defensive coordinator Perry Fewell said. "If you're not, they can crease you, and then (Foster) is good – he has good vision, and when he sees the hole, he can plant his foot and turn up in the hole, and he has enough speed that he can accelerate through that hole and gain 10, 12, 14 (and) sometimes take it the distance. He's got good vision plus they have a good scheme and it's a tough scheme to defend against."
Foster is a second-year pro who was signed by the Texans after he was undrafted coming out of the University of Tennessee in 2009. He has quickly put himself in some pretty exclusive company. Foster is just the third back in NFL history to surpass 500 rushing yards and 100 receiving yards in the first four games of a season. The others are Hall of Famer Emmitt Smith and Billy Sims. In a season-opening victory against Indianapolis, Foster set franchise records with Foster 33 carries for 231 yards and tied a mark with three rushing touchdowns. Last week, he set a franchise record for the longest run from scrimmage with a 74-yard touchdown. Foster was the AFC Offensive Player of the Month for September.
"They have a zone running scheme which allows the runner to play with vision, and his vision has been excellent," safety Antrel Rolle said. "He makes the cut that he knows he needs to make, and he's a very upfield runner. He doesn't play around in the backfield. He's always going forward. So in my eyes, he's doing a great job."
"He's a patient runner," defensive end Justin Tuck said. "In that scheme, you have to be. He's powerful, too. I didn't know he was as powerful as he is. He's broken a lot of tackles. He's run through a lot of tackles, and he's fast. So I don't know if I can compare him to one specific guy, but he's having a great year. I think he's leading the league in rushing. So maybe he's in a class of his own right now."
That might be true, but Foster still has some impressive classmates. Steve Slaton, Houston's leading rusher each of the last two seasons, is averaging 5.5 yards on 17 carries. And Derrick Ward's average is 6.0 yards per rushing attempt and he scored on a 33-yard run last week in Oakland.
Just two years ago, Ward teamed with Brandon Jacobs and Bradshaw to help the Giants set a franchise rushing record with 2,518 yards. After a disappointing season in Tampa Bay, Ward signed with the Texans on Sept. 4.
"Their running backs, they've got to see the cut and hit it," Tuck said. "Once they eye an opening, they make some guys miss and that's what I've seen from their running backs. Their scheme is great, but they have a great tandem down there. It kind of reminds me of the backs we've had with D. Ward, Brandon and Bradshaw. They have Ward, Foster and Slaton. They're all different types of backs but very effective in their scheme."
The Giants will almost certainly face this-top ranked ground game without linebacker Keith Bulluck, who missed practice again today with a toe injury. Fewell said there's "no question" Bulluck would have played a lot in Houston.
Bulluck didn't play last week, but his spot in the lineup was manned most often by safety Deon Grant, because the Bears are more of a passing team. Because the Texans focus more on the run, second-year linebacker Clint Sintim is expected to get the call.
"(Sintim is) going to play a lot in this football game," Fewell said.
Sintim and all the Giants defenders must adhere to some basic principles to shut down the hard-running Texans.
"You have to tackle well against these guys," Fewell said. "You must knock them off schedule. We want to create third and long situations for them and they don't have a lot of third-and-long situations. If you look at them statistically, they're a third-and-three team, third- and-four team and they can throw the quick game out there to those receivers and then it's first down again. It's going to be a big challenge for us to play first down very well against this football team."
The Giants can't commit all their defensive resources to stopping the run, because Houston, as Fewell said, "is definitely the most balanced team we've faced."
The Texans are second in the NFL in total yardage, averaging 415.5 yards a game. Matt Schaub has thrown for 1,037 yards and seven touchdowns, despite playing last week without four-time Pro Bowl receiver Andre Johnson, who missed the 31-24 victory in Oakland with an ankle injury. The Giants are preparing as if Johnson will play.
The Giants' defense enters the game with its own momentum. The unit held the Bears to 110 yards and six first downs, did not allow a successful third down conversion and registered 10 sacks, including nine in the first half of besieged starter Jay Cutler. Now the defense has an opportunity to go against an offense that has been among the NFL's very best in the season's first month.
"They've done a lot of things right this year," Tuck said. "So we've got a great challenge ahead of us, and we're looking forward to it."
"I think we're just trying to build upon what happened last week," said defensive end Osi Umenyiora. "It doesn't matter what their rank is. We just need to play the way we played last week."
Does that mean we can expect another 10-sack performance?
"I can guarantee you that's not going to happen," Umenyiora said. "But we just need to play with that same type of intensity and emotional fire, and I think we'll be alright."
*Bradshaw missed practice again because of a sore ankle. But Tom Coughlin said Bradshaw is feeling better and he thinks the team's leading rusher will practice tomorrow.
Asked about Bulluck, Coughlin said, "I don't know about this week, but we'll see if we can get him for next week."
Bulluck didn't miss a game for eight years before suffering a torn ACL in the 14th game last year with Tennessee. He sat out last week's game against Chicago game.
"I'm just in an odd place - someone that hasn't really missed too many practices and now it's falling into missing games," Bulluck said. "I just battled back from my knee, and now it's something as simple as a toe that's keeping me out and not my knee. So it's very frustrating from my standpoint.
"It hasn't gotten worse, but it hasn't gotten better. I think that's where we're at with it. It hasn't gotten worse at all. It just hasn't gotten better, and I just have to make sure I stay on top of everything as far as with my toe and with my football studies, with my knee. It's just a lot. It's early in the season. It's a frustrating situation for me and I'm sure for the powers that be. I wasn't brought here to rehab all season, so I need to hurry up and speed up my recovery."
*Adam Koets (knee), who is playing for injured center Shaun O'Hara, returned to practice on a limited basis. Also limited were Umenyiora (knee) and safety Kenny Phillips (knee).
*Cornerback Terrell Thomas was added to the injury report and did not practice because of a sore hamstring. Also sitting out were fullback Madison Hedgecock (hamstring) and defensive end Mathias Kiwanuka (neck).
*For Houston, Johnson, who did not practice yesterday with the ankle injury, worked today on a limited basis. Defensive end Mario Williams was added to the Texans' injury report with a groin injury. He practiced on a limited basis today.