EAST RUTHERFORD, NJ - Tight ends who check in at 6-5 and 251 pounds are so common in the NFL they generally don't elicit nicknames. But when McKenna Pascoe of Porterville, Calif. was being mistaken for someone twice his age as a second grader, his given name just wasn't cutting it.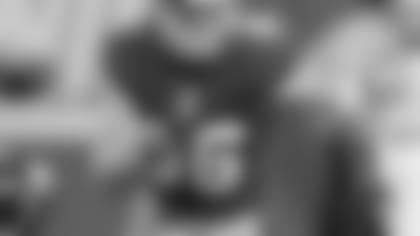 You can now find him on your Giants roster under 'Bear' Pascoe, No. 86.
"It's just a nickname that stuck ever since I was a little kid…I was always bigger than everybody else," said Pascoe, whom the Giants signed to their practice squad a year ago and onto their active roster last Dec. 4. "All my friends were normal size and I was always abnormally large."
Tonight, Pascoe will be in uniform for his fifth career game when the 1-0 Giants face the Indianapolis Colts in Lucas Oil Stadium.
Pascoe was one of the stars in training camp, particularly when he was the only one of the team's five tight ends practicing. But he was waived in the final cutdown and re-signed to the practice squad. This week, he was given another promotion to the roster after Kevin Boss suffered a concussion in the victory over Carolina that will sideline him tonight.
Boss was hurt early in the first quarter on a hit from safety Sherrod Martin that did not draw a penalty, but did get Martin fined $5,000 by the NFL. Pascoe watched the play from the sidelines in street clothes, expecting he might be suiting up sometime soon.
"At some point, you've got to expect it because it's a physical game," said Pascoe, who originally went to Fresno State as a quarterback. "Whether it was going to Boss or Travis (Beckum) or whoever, somebody is going to get hit. So I mean you've just got to prepare yourself to be ready when you get that call, and I was. I've been ready, and I think I had a decent week of practice."
Pascoe gained attention up in Albany during training camp last month, carrying the workload of five tight ends. At one point, he was the only healthy tight end, sometimes forcing coaches to plug in offensive linemen at the position.
"I just showed to coaches how hard I can work and that I'm durable," Pascoe said. "I can take that kind of beating and most of the work load. So it was rough, but I like that. I like being the one guy that you can depend on and can go out there and do everything. I might not do it great, but I'll get the job done."
Originally drafted by the San Francisco 49ers, Pascoe was cut before last season but found a new home on the other side of the country with the Giants' practice squad. He was activated in the beginning of December 2009 and recorded his first (and only) career catch in Week 15at Washington.
By the end of this year's training camp, Pascoe felt confident he would make the team after all he had done. So when his name wasn't on the 53-man roster, Pascoe was shocked but understood it came down to a numbers game.
"I kind of had a feeling that day that I was probably pretty solid, Pascoe said. "I thought I was going to stay on the team, but I got that call in the morning. You got to understand the business. It is what it is. I felt that I did everything I could. I played my heart out and came up short. So I had nothing to hang my head about."
Asked where he gets his work ethic from, Bear is quick to respond "the ranch."
Pascoe's dad, Sean, who played at Colorado State in the mid-1970s, was the foreman on a 12,000-acre cattle ranch back in California where Bear was put to work as soon as he could walk. For the better part of his life, Bear was up at 4:30 a.m. and saddled by five, out brushing trails, fixing fences, digging ditches—whatever was asked of him.
"It's a hard life, and that's most definitely where I got my work ethic," said Pascoe, who was a two-time all-Western Athletic Conference selection. "That was instilled in me when I was five years old out on the ranch. My mom and dad, working with them every day…I was doing a man's job."
When Pascoe wasn't herding cattle and competing in rodeos, he used his size running the option offense at Granite Hills High School, gaining the attention of colleges. Pascoe ultimately decided on Fresno State, where he was recruited as an athlete more than a quarterback. After redshirting his freshman year, he was given the choice to sit maybe two more seasons to play quarterback, or move to tight end and play right away. It took some time to decide, but Pascoe knew he would make the team better by filling the void at tight end.
This "team first" mentality is evidenced throughout Pascoe's life whether he's wearing a football helmet or a ten-gallon hat. And it's no different with the Giants. Because of his size, Pascoe will mostly be assigned to blocking duties while filling in on special teams for punt returns and kickoffs (linebacker and special teams player Bryan Kehl was waived to make room for Pascoe).
How long Pascoe will be activated remains uncertain and might depend on injuries, but the cattle rancher-turned-tight end will be flying around on Sunday night, helping out the only way he knows how.
"Evidently, I'm starting so I must have done something right," Pascoe said. "I'll just keep working at it every day trying to get better."