The Giants' first six plays on offense in Washington started as well as their first six games of the season.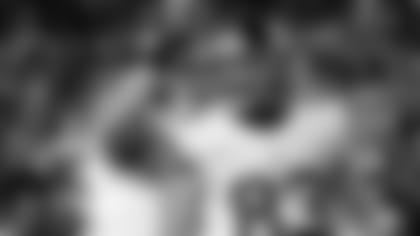 View Gameday Photo Gallery The half-dozen snaps yielded just five yards, two punts, and a time of possession severely against them as the Redskins took a 14-0 lead. But the Giants, starting with the run game, picked themselves up and tied the game before halftime.
After Andre Brown put the Giants on the board with a 23-yard touchdown run, tight end Brandon Myers hauled in a 22-yard score from Eli Manning two drives later to give Big Blue new life heading into the locker room.
"They kind of bit up on the run there," Myers said of the touchdown, his third of the season and second in back-to-back games. "And [Eli] put a good ball on me.
"It was big. Obviously we knew we were going to get the ball there to start the second half. So to get the score and kind of get the momentum a little bit, it was huge."
While they wouldn't score again until the fourth quarter, the defense seized that momentum and held Washington to just three points the rest of the way.
The Giants posted 10 points in the fourth quarter as Manning finished 22 of 28 for 235 yards with a touchdown and an interception. He also had completions of 15 yards or longer to three different receivers: Myers, Victor Cruz, and Hakeem Nicks.
"We just kept pounding," Myers said. "We knew sooner or later that we're going to be able to make some big plays, and it showed. Guys stepped up and made a lot of plays. We ran the ball, and it opened up down the field."
Meanwhile, the Giants held on for a 24-17 victory, their fifth in six games after beginning the season 0-6.
"It just kind of shows you who this team is," Myers said. "We started off the season the way we did. We kind of battled back, had a disappointing loss last week, and then came out and we were down early. It just shows you the resiliency of this team. It starts with the top – Coach [Tom] Coughlin never gets down. He keeps coming to work and the guys on this team just keep coming to work. No matter what the score is, keep playing, and eventually good things will happen."