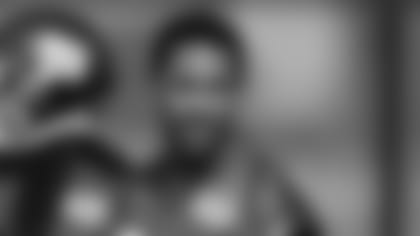 EAST RUTHERFORD, N.J. –** While the Giants have practiced at their minicamp this week, Terrell Thomas has been off to the side, doing drills with one of the team's athletic trainers. Thomas isn't ready to participate in all activities after undergoing surgery each of the previous two years to repair a torn right ACL. But he remains confident of soon returning to the Giants' secondary.
"I'm able to do everything," Thomas said. "It's more just about getting comfortable and trusting myself without hesitating, without thinking, and just reacting, and I'm almost there. Physically, I haven't swelled up in the last four months and I've been progressing every week. Each week I get better and faster and stronger, so it's just a progression. I have to be realistic with myself knowing that I had two ACLs in one year and it's a long journey. But I'll be back and I'm going to shock a lot of people."
He will do that simply by returning to the field, because his most recent knee operation was his third, counting one during his collegiate career at USC.
Thomas was drafted in the second round in 2008 and has played all 44 of his career games at cornerback. But speculation has persisted that he will move to safety. Thomas isn't concerned about which position he plays.
"I'm whatever they need me to be," he said. "I just want to play football. At this point in my career, it's all about getting healthy and getting on the field and contributing in any way and if that's a leadership role, that's a safety role, nickel, corner, kickoff, whatever; I'll do whatever I've got to do."
*Everyone on the practice field became silent as Coughlin admonished the players after two scuffles broke out. The first was between defensive end Damontre Moore, the team's third round draft choice, and first-year offensive lineman Bryant Browning. Moments later, Browning cleaned up a scrum that first involved wide receiver Jeremy Horne and defensive back Charles James.
"They got a little frisky - a couple of the young guys," Coughlin said. "There's no place for that."
*Hakeem Nicks took more snaps today than he did yesterday and Coughlin indicated the receiver's workload might increase further in the camp's final practice tomorrow.
"We knew exactly how much yardage he had and so we bumped it up a little bit today, but not too much," Coughlin said. "He had a good opportunity here again today and so we'll see. Maybe a little more tomorrow."
*Coughlin said running back Ryan Torain has not participated in minicamp because of a hamstring injury.