EAST RUTHERFORD, NJ -  The Giants' offensive line showed some uncharacteristic cracks in 2010, but thanks to reinforcements, the front wall proved to be as sturdy as ever.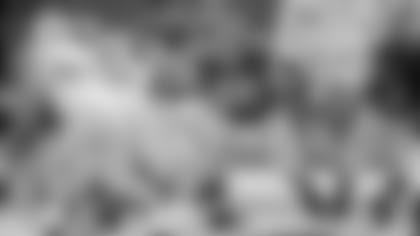 The group that once started the same five players for 32 consecutive games – the longest such streak since the 1970 merger - last year used six different starting combinations because of injuries. The Giants started three left tackles (David Diehl, Shawn Andrews and Will Beatty), three left guards (Rich Seubert, Diehl and Kevin Boothe) and three centers (Shaun O'Hara, Adam Koets and Seubert).
The shuffling on the line did nothing to stunt the team's offensive productivity. The Giants gained a franchise-record 6,085 yards, the first 6,000-yard season in their history. They were fifth in the NFL in offense with an average of 380.3 yards and they scored 48 touchdowns, which was tied for the third-highest total in team history. The Giants' 3,885 net passing yards were the third-highest total in team history and they tied the Indianapolis Colts by allowing an NFL-low 16 sacks. That was easily the fewest sacks allowed by the Giants since the 16-game season was instituted in 1978.
The Giants were able to post those impressive numbers in part because they received contributions from many different offensive linemen.
Right guard Chris Snee and right tackle Kareem McKenzie started all 16 games at the same position. Seubert also started 16 games – nine at left guard and seven at center.
Diehl suffered hamstring and hip injuries at Seattle on Nov. 7. When he did not play the following week vs. Dallas, it ended his streak of 120 consecutive regular season starts, the longest streak by a Giants player to start a career since the advent of the 16-game schedule. Diehl, who missed four games, was the only Giant other than Eli Manning to start at least 100 consecutive games since 1978.
Adam Koets got the first extended playing time of his career and started four games for O'Hara at center, but suffered a season-ending torn ACL at Seattle.
Andrews, the former two-time Pro Bowler signed on the final day of training camp, played in 13 games and started six, despite recurrent back issues.
Seubert suffered a dislocated kneecap in the season finale at Washington, forcing Boothe to play center for the first time in his career.
Snee and O'Hara (who played in only six games) were each selected to their third consecutive Pro Bowl. O'Hara was unable to play in the game after undergoing surgery.