EAST RUTHERFORD, NJ - A five-game winning streak hasn't protected the Giants from the injury bug.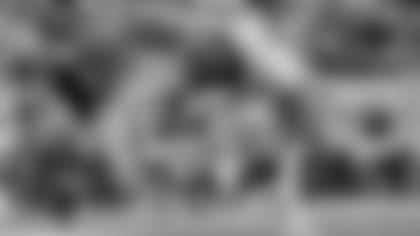 Shaun O'Hara sprained his foot on Oct. 25 in Dallas. David Diehl injured his hamstring and hip in the rout of the Seahawks last Sunday in Seattle. Today, wide receiver Steve Smith left practice with a strained pectoral muscle he suffered in practice. His availability is unknown for the rematch against the Cowboys on Sunday in New Meadowlands Stadium.
Tom Coughlin said Smith, the Giants' second-leading receiver, was reaching for a ball thrown over the middle when he was injured.
"Steve Smith went for a ball today and strained – what they are calling it right now – is a strained pec," Coughlin said. "He had trouble driving his arm after the injury so he couldn't continue.  I don't have anything to tell you about him until they do all of the tests."
Coughlin didn't see how the injury occurred.
"It was kind of a blur for me, because I didn't even realize he had done anything," Coughlin said. "And then word was that he was out of practice. He tried, I guess, to move his arms and that type of thing. And he did have some, I guess, pain up in his pec area.  So we will have to wait and see."
What is clear is that if Smith can't play the Giants will be challenged to compensate for his loss. He is second on the team with 47 catches (four fewer than Hakeem Nicks) for 653 yards and three touchdowns. Last season, Smith was the first Giants receiver selected to the Pro Bowl in 41 years after setting a franchise record with 107 catches (25 more than the previous mark) for 1,220 yards and seven touchdowns.
Smith has at least one reception in each of the last 41 regular season games in which he's played, the longest active streak on the Giants.
"He's the most polished receiver we have," offensive coordinator Kevin Gilbride said. "He's a guy who has really earned the respect of the defense to such a point that so many of the things they do are designed to stop him. That's what has helped open up opportunities elsewhere. Whether it's a double-team, or last time we played them, they were playing two zone but manning him up inside the zone and bringing the free safety over in case it's a double move on his part. I think people basically have said it's hard to cover him one-on-one inside, so people have committed other people and additional resources, whether it's another person or a schematic adjustment, so that either opens up running opportunities for us or passing opportunities for other people. It's a huge loss, but we'll make do."
If Smith isn't in uniform Sunday, Mario Manningham will likely start in his place and second-year pro Ramses Barden and rookie free agent Duke Calhoun would be called on to play larger roles in the offense. Barden has two catches this season, Calhoun none.
So what happens if Smith doesn't play?
"We'll rotate and move guys so we're not pigeon holed with one guy," Gilbride said. "Depending what the route is and what we're asking with the play, we can move different people in there. Whether it is Mario, Hakeem, Ramses Barden, Duke Calhoun, it can be any of them."
"Just different formations, different people running different things," Manningham said. "I mean that's all, just putting people in certain places. The biggest thing is executing, winning, winning, winning, winning, winning, no matter who's in there. That's all we care about."
Barden has had few opportunities to contribute since joining the Giants as a third-round draft choice in 2009. He has only three career catches. But he is confident he can be productive lining up in the slot, where Smith has been one of Eli Manning's most reliable and consistent targets.
"I've played the slot more than I play outside," Barden said. "So I mean I probably know that better. Slot's not easy. It's a challenge, but there are ways to win. You can always win in the slot, and that's what's great about it.
"Week in and week out I try to prepare like I'm an integral part of the offense. And that's something I learned from him, something I learned from Domenik (Hixon), Hakeem, Mario - these are guys who are professionals. They approach the game in the most professional manner, and they're going to carry the weight. Everybody is going to have to step up. We'll fill in because we've learned a lot from him, and we've got those kinds of guys who can make plays."
Calhoun is even more of an unknown commodity than Barden. He has played in five games on special teams, where he has four tackles (three solo).
"They (Barden and Calhoun) have worked hard, practiced hard," Coughlin said. "A lot of their work has been scout team oriented.  But nevertheless, out of 10, they may get two or three with the first offense and they have taken advantage of that.  But obviously, this will be a whole different story."
Without Smith on the field, the Cowboys would presumably shift more of their coverage toward Nicks, whose nine touchdown receptions lead all the NFL wide receivers. Nicks has scored at least two touchdowns in a game three times this season.
"Personally, I don't change my game," Nicks said. "I still do what I have to do, but I'm pretty sure coaches and guys will do a good job of stepping up."
That doesn't mean Smith won't be missed if he isn't in uniform.
"He's always open," Manningham said. "I don't think anybody can cover him, that's how I feel. I don't think anybody can cover him. He's always open. He runs consistent good routes, catches the ball."
"Steve is a key part of the offense," Nicks said. "Things happen, situations happen, and guys just have to step up."
*The Cowboys will face the Giants less than a week after offensive coordinator Jason Garrett was named the interim head coach, replacing the fired Wade Phillips. Few people can understand the challenges Garrett faces as well as Giants defensive coordinator Perry Fewell. Last year, Fewell held the same position in Buffalo when he was named the Bill's interim head coach. He replaced Dick Jauron after the team's 3-6 start. Fewell led the Bills to a 3-4 record in the seven games he was in charge.
Garrett inherits a 1-7 team, so Fewell knows exactly what he's dealing with.
"A lot of sleepless nights," Fewell said. "Because when you take over something like that, normally you're worried just about the defense – in Jason's case he was worried just about the offense – but now you're worried about offense, defense and special teams. You impact more people. You interact with all of the players as a coordinator, but as a head coach you really interact with all of the players. The media demands are much more on your time. Your staff has to wait a little bit for you. Jason is still going to call the game. You have to be very good at time management when you take on that challenge. I used to think that the head coach didn't do very much (laughs), just stood around yelling at the assistants, but when I got the job I found out that he does a lot more than I thought."
Fewell was asked what kind of expectations Garrett should have.
"Number one, it's the chance of a lifetime for him and he's expecting his team to win," Fewell said. "He's expecting his team to play hard. He wants to see if his team is going to come out and if they're going to give the type of effort that he's looking for and that he expects of the Cowboys and so he's going to evaluate that on a daily basis – not only his players, but his coaches, also."
Fewell said the players don't have to look at Garrett differently because he is now calling the shots for the entire team.
"When you're the head coach, there is a certain amount of power or respect or whatever that comes with that, but you have to earn that respect from your players," Fewell said. "I think that's important, that you have to earn that respect from your players. It's the communication process. It's how you address that team in that first team meeting. Do you capture their attention? Do you earn their respect? Because normally you're only talking to the offense, in Jason's case; in my case I was only talking to the defense as a group, so when you talk to them as a whole, that's when you have to capture their attention and get their attention."
According to research done by Rick Gosselin, the renowned pro football writer for the Dallas Morning News, there have been 72 in-season coaching changes in the game's modern era (since 1960). Only 13 of those 72 interim coaches managed to win more games than they lost, and three others broke even. In the other 56 cases, the interim coach inherited a losing team – and that team kept right on losing.
Only six times has a team finished the season with a winning record under an interim coach – and in half of those situations, the interim coach inherited a team with a winning record.
Interim coaches are only 20-51-1 in their debut games.
*Four players did not practice today: offensive linemen O'Hara (foot) and Diehl (hamstring/hip), fullback Madison Hedgecock (hamstring) and return specialist Darius Reynaud (hamstring). Defensive end Osi Umenyiora (knee) and tackle Will Beatty (foot) worked on a limited basis. Brandon Jacobs, who didn't practice yesterday because of illness, and linebacker Gerris Wilkinson (hand) practiced fully.
Beatty has not played since fracturing his foot in the season opener, but could be close to returning.
"He did a couple of snaps for each period and then we upped it today to a few more," Coughlin said. "He has done well. He doesn't seem to be real sore, which is a good sign."
*Coughlin said he hasn't decided whether Kevin Boothe or rookie Mitch Petrus will start at left guard.
*To commemorate Veterans Day, the Giants invited approximately two dozen Wounded Warriors to watch their practice at the Timex Performance Center. After practice, Coughlin, his assistant coaches and all the players lined up and shook hands with every veteran. The Wounded Warriors then ate lunch with the team in the team's dining hall.