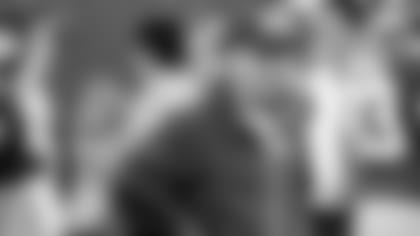 ---
You're known for your resolve, mental toughness and focus, so how difficult is it for you to prepare your team for a football game the week you unexpectedly lose your only brother?
"It's an emotional tug of war is probably the best way to say it. You drift back and forth between your family and your brother and even my wife (Judy) was very close to John and is close to all my sisters. So you're not there for anybody, to be honest with you. But that's understood, they all understand that. Monday was a day in which the initial shock for me was at about five in the morning, going over to the hospital and seeing John and then listening to the doctors and their options and then going back in the afternoon and having my sisters there. We all were in there together. Then the doctors came by, the neurosurgeons, and they went further with the explanation and then we went back Monday night to say goodbye. It was that, and then you're trying to get as much information as you can about the next opponent and you're trying to go ahead and take care of things that you do. My parents are gone, I'm the oldest, so you understand where the responsibility goes. So I do that and do the best I can here with the guys. Fortunately, I have a veteran staff that's been with me for a long time and they were told very early in the week what was going on and they've gone ahead and forged out and done the best they can with it."
When we spoke at the end of last season one of the things you said to me was, "Why aren't we on an ascending line?" Do you have the same feeling now about the team?
"No, to be honest with you. I think we are. As I looked at (Wednesday's) practice and I talked to our captains last night after practice, there is a feeling that we are getting a little bit better. Is it drastic, do you see it in huge leaps and bounds? No, that's not how it works. It works in small increments. But I do feel like last Thursday we had a very good practice. Then this week, (Wednesday) was a good practice and I'm looking forward to a very good practice (Thursday), so I do feel like we are getting better. I'm also very much aware of the opposition week in and week out and the teams that we play. In this league, anybody can beat anybody. So that's where we find ourselves. Do I feel like we are ascending, do I feel like we are getting better? I do feel like we're getting better."
It seems many issues need to be addressed, including the rushing attack, turnovers and the pass rush. Do you prioritize with the coaches on what you have to fix first or do you address them across the board?
"It's the obvious. The phrase that I use is, 'First you have to stop beating yourself before you expect to go out and beat the opponent.' So when you look at that aspect of it alone, then you can put your hands around a number of things. Yes, one is the turnovers, yes, two is the lack of the running game, three is our special teams weren't very good last week and our punt team wasn't very good at all (in the 41-23 loss to Denver). And then our defense was playing so well against the run for so long and giving up two really cheap touchdowns outside. Where were we? Where was the leverage? Where was the contain? Where were the people knifing in? That type of thing. It's 17-16, the ball's rolling around on the ground and we don't get that ball. For 15 yards we kicked the ball around the field and didn't get the ball. The running back that was in pass protection comes out of the backfield and recovers the ball. We continue to strive for that. There have been seven balls on the ground this year in two games and we got one of them. That's not a good stat. We attack everything, we talk about everything. There's a segment of practice during the week that's devoted to just that. Like (Thursday), our core drill on defense will be turnovers. We call it the turnover circuit. You'll see a ball on the ground, you'll see a ball in the air, you'll see tipped balls, that is the core drill today on that side of the ball. The core drills yesterday for the offensive team were the gauntlet drill - ball security, ball security, ball security. The defense was tackling. Each segment of practice, each segment of our week has a period designated for the correction of whatever the issue might be. The officials will be here, they will be here for two days like they are every week. They will call everything they see in an attempt to help us correct whatever it is. We might not see it, but the officials will. If they're overzealous, go ahead, call the penalty so we can make a point of it."
---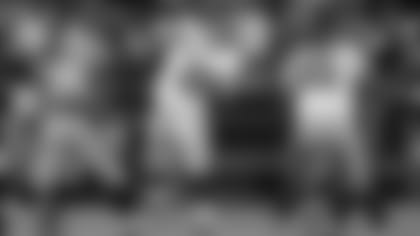 ---
You can't have Eli throwing so many interceptions (seven in two games), but you don't want him to lose his aggressiveness, either. Is there a balance between trying to make a play and making sure you don't give the ball to the other team?
"There is a balance. One of those balances is run it better so we're not throwing it 49 times a game. Let's get this thing back into a reasonable number and then let's run the ball so the play action passes allow us to have more people open. And then we have to take care of the football and realize, again, that patience is a virtue. Sometimes you're not going to get the big play, you're going to be able to get five and seven and eight yards and so on and so forth. And that's fine, that's what we want to do. We want to stay within ourselves, take what the defense gives us, have the ball in our hands for the majority of the game, which we did last week. Believe it or not, we won the time of possession last week, and then eventually score touchdowns with a drive that is time consuming. That's how we've always played here."
Denver's Trindon Holliday returned a punt 81 yards for a touchdown last week. Why is it so hard to punt the ball away from a dangerous return guy?
"We practiced it all week long and we understand that sometimes the pressure is such you can't kick a ball directionally. But when you focus on it enough and you don't get the maximum pressure, which is five out of six times in a game you don't, you certainly can punt the ball where it is supposed to go. The ball is supposed to be directionally punted, that's the name of the game. With hang time, my phrase is, 'Long and out of bounds.' How much plainer can I say it? So we kick it down the middle of the field to an exceptional return man, it is going to bite you and it does happen. We get away with it two or three times, you express yourself when they come off, 'We're going to get burned, it's going to happen.' And you have two late-game punt returns that, quite frankly, didn't have to happen."
One player who gets little attention is Larry Donnell, the tight end who caught three passes last week. When did he first catch your eye?
"When he was a free agent tight end a year ago before he got himself hurt. He's athletic and he's big. He can run, he wants to. I love 'want to's.' I want every guy to have the same passion that he did when somebody said, 'Sign this and you can be a Giant.' That's what I'm looking for. This kid's got it. He's got it. Now he's green as that grass right there, but I like that, too, to be honest with you. Every day is a new day. But he wants to, he wants to."
He hasn't let these injuries…
"What injuries?"
He's had knee and foot issues…
"Hell, he got it just as much as anybody else out here in preseason. Refused to be injured, that's what he did. He played in the game, he went back to practice. I thought, 'Well, here we go." He never missed a day. And he got rolled up on."
---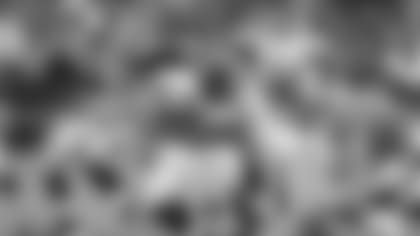 ---
Jason Pierre-Paul said, "I'm not my old self." Can he be his old self when he had back surgery in June?
"He's trying. He jumps in there and does everything. He takes scout team, everything."
This week you face Carolina and Cam Newton. Is he as much of a run-pass threat as there is among NFL quarterbacks?
"No question. What they've done is kind of gone the other way a little bit, but when the pressure's on,$ he's going to have the ball under his arm and he's going to run for the yardage if it's not there. Whether it's the dive option, the read option, a scramble, whatever. He's a tough guy to bring down. Last week, we had our hands all over the quarterback for the Denver team (Peyton Manning) about five times and couldn't get him down. This guy is one of those. You want to tackle him high? You'll never bring him down, never."
Luke Kuechly led the NFL in tackles last season and has 23 already this year. When you look at him on film, does he stand out as a guy who's got his nose in the play all the time?
"Absolutely, he runs sideline to sideline. He's in it. Last week, he had 14 tackles and an interception."