When a player gets drafted, fans at home see a gifted athlete in a nice suit walk across the stage, receive a jersey and a handshake from the commissioner, and then pose in front of a hundred cameras. The network then cuts to game highlights of the prospect showing why that team deemed him worthy of a pick.
What they don't see is the 10,000 hours of work that went into that moment. David Cutcliffe witnessed that part with Daniel Jones, the sixth overall pick by the Giants. He is Cutcliffe's latest quarterback project in a line that includes Eli and Peyton Manning. The head coach of the Duke Blue Devils sees similarities between the three, particularly in their attention to detail when they are out of the bright lights.
"When that becomes your habit, that's where 'great' lives, first and foremost," Cutcliffe said on the "Giants Huddle" podcast. "We don't choose our future; our habits choose our futures. I tell young people that all the time. Daniel Jones has got as good personal habits as anyone I know."
He is also one of the toughest players, both physically and mentally. That was a common trait everyone from general managers to pundits agreed upon during the draft process.
Cutcliffe said he never saw Jones flinch in the pocket, and when he did get hit, he was always the first one up off the ground. The epitome of his toughness came last Sept. 8 when he broke his collarbone during a victory over Northwestern. He returned Sept. 29, started and played a complete game against Virginia Tech. Less widely known, Cutcliffe said, was the year before. Jones, who posted career lows in touchdown passes and completion percentage in 2017, played with a broken – not cracked – rib. It didn't stop him from posting career highs in rushing attempts (161), rushing yards (518) and rushing touchdowns (tied, seven).
"If you want to talk about pain, anybody's that ever had a real rib injury – I have – I don't know how he did it," Cutcliffe said. "I really didn't want to (play him). The doctors said he was fine to do it if he could stand the pain. His parents were OK with it. He was determined to do it. He is a unique young man in that regard."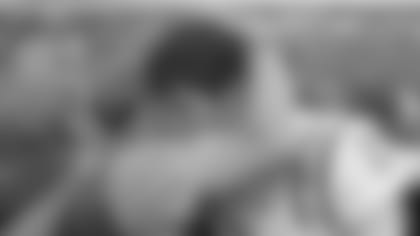 In terms of mental toughness, Jones has the Eli factor. They never waver.
"It's that thing that Eli has," said Cutcliffe, who grew up a New York sports fan, despite living in Alabama, because of Hall of Fame quarterback Y.A. Tittle. "He's not going to get too high with all of the accolades … but you're not going to get him down. He's just going to go to work. And I think that's what the great ones do. They don't focus on what people think about their work. Can you imagine a great hitter for the Yankees through the years – do you think A-Rod (Alex Rodriguez) worried about what people thought about his work? He was focused on his work."
All of that is why Cutcliffe said there was "no doubt" in his mind Jones would not have been available when the Giants picked again at No. 17 in the first round. That's based on feedback from other teams that made the pro day rounds and hosted Jones on official visits.
"The film sessions, if they happened first, just blew them away," Cutcliffe said. "They had no idea that he could talk protections and coverage and fronts and best run plays. Really, we could have just turned calling offense at the line of scrimmage over to Daniel. It was pretty amazing. They were blown away. They were like, 'What? Does he really understand all that?' I said, 'Not only does he understand it, it's functional, and he can do it in a hurry.' That's what I mean by functional. It's not just film smart. Then the other thing is when they walk out on the field with him, all this stuff about arm strength, everybody I talked to: 'Good gosh, man, he's powerful. He's bigger than I thought when you're right beside him.'"
At 6-foot-5 and 221 pounds, Jones, who was also a basketball star at Charlotte Latin High School in North Carolina, raised a lot of scouts' eyebrows during his workouts. Having coached football since the '70s, Cutcliffe knew what they were thinking. They were impressed by his "phenomenal" hand speed as he made every throw on the route tree.
But so much of playing quarterback is about what happens before he passes the ball. Back in 1994 at Tennessee, where he was the assistant head coach and offensive coordinator, Cutcliffe and Peyton, then a freshman, coined the term "anticipatory throws."
In a Cutcliffe offense, the quarterback is solely in charge of managing protections and changing route concepts based on them. He also wants the ball to be out in no longer than 2.5 seconds, making the pre-snap reads paramount.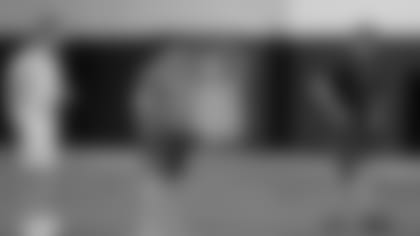 "He knows what's getting ready to happen," Cutcliffe said of Jones. "Those guys amaze me. So they will hold it and move, knowing that a completion exists – boom, just like that. That all happens from a combination of knowing in your mind pre-snap what to expect and then that requires hours of pristine practice that everybody on that field is doing what you expect them to do as a quarterback."
The latter is why Eli and Peyton would gather their receivers in the offseason, often taking them to the Duke campus. That is how Jones first met Eli in 2016. Whenever the baton does get passed from the two-time Super Bowl MVP to the Duke grad with a degree in economics, it's not hard to imagine there still being a Giants South facility in Durham.
In the meantime, Cutcliffe said the biggest transition for Jones will be the normal growing pains that come with learning a new scheme and different language. For that, Cutcliffe is comfortable handing him off to Giants head coach and offensive architect Pat Shurmur.
"I think Pat does as good a job as anybody coaching quarterbacks and offense," Cutcliffe said. "Just knowing that you're going to get the ball out, it's going to be on time, you're going to be disciplined, you're going to be structured, I think that's Pat's way and it's won a lot of football games for him. I think it's a great fit and it's a great pair."