EAST RUTHERFORD, N.J. – Daniel Jones knows if the Giants had found their offense, Jason Garrett would not have lost his job.
"I feel responsible for our lack of production as an offense," Jones said today, 24 hours after Garrett was dismissed as the team's offensive coordinator. "I feel that. I think we all should feel that, and I don't think that's changed today. I still feel like that. Coach (Joe) Judge is going to make the decisions as the head coach, that's his job, but I don't think that should change how we feel about how we've played, the points we've scored, how we've done at times. I think we know we've got to do better. That falls on each one of us, on players and certainly me."
Jones perhaps took Garrett's departure harder than any of his teammates, simply because a quarterback and his coordinator are symbolically attached, and success or failure is largely dependent on their working relationship. The two men spent long hours together in meetings and on the practice field, where they engaged in daily post-workout passing contests. During games, they would sit together on the Giants' bench after each possession, reviewing the last series and planning for the next one.
But Jones stressed he is not alone in lamenting Garrett's removal.
"It certainly affects all of us," Jones said. "I think he was a big part of what we were doing on offense and obviously leadership there, so I'll miss him. We'll certainly miss him, and he did a lot for us. We've got to keep moving forward and get ready to play the Eagles this week."
Garrett was let go because the Giants' 18.9 points per game are not enough to win consistently. Jones has thrown nine touchdown passes in 10 games, which place him 28th among the 34 quarterbacks in the NFL's weekly statistics.
What will change for Jones without Garrett's planning with and counseling him?
"I think from a communication aspect, a game plan aspect going in, how we planned on the field, and then off the field there was a lot of communication in terms of approaching a game and the mindset to play, and leading an offense that he certainly helped me with," Jones said. "It's about moving forward now, understanding that we've got to keep going and it's on all of us to perform better at each of our jobs. We all have to play better and produce more."
Jones spoke with Garrett yesterday.
"It was obviously a tough conversation," Jones said. "I think just him being the guy he is, just wishing the best for us, wishing the best for me. I think that was most of that."
The Giants, who lost Monday night in Tampa Bay, 30-10, will host NFC rival Philadelphia on Sunday. Despite the short week, Judge was convinced the time was right to make a change at offensive coordinator.
Asked today about Garrett, Judge repeated many of the points he raised when announcing the move yesterday.
"My responsibility is to make the best decisions for this team at all times," Judge said. "I've made it clear that I expect more out of our offense, I expect more out of our players and production. It's the coach's job to put our players in a position to be successful. Coaches coach, players play. Players have to go out there and execute. At this time, I felt the best move for the team was to make a change."
The great unknown is what exactly it means for the offense. Judge again declined to say who will call the plays against Philadelphia, though widespread speculation has senior offensive assistant Freddie Kitchens assuming that role.
"I have an idea, but we'll talk about it later," Judge said. "We've got a lot of things that may be a little bit up our sleeve. Any competitive advantage you want to have, you want to keep to yourselves." Later, he joked that "Maybe we just draw names, I'm not sure."
Jones said he expects no dramatic changes to the Giants' offense.
"I think it'll be our system and our verbiage," he said. "I think there will be different aspects to it, but we'll go through the week, find what works, what we like going into Sunday. We'll see how that progresses."
But inevitably, differences will surface simply because a different coach will call the plays.
"There are a number of things that could change," Judge said. "Changing a play-caller is one aspect of it and maybe the approach we take as an offense is another aspect of it. In a short week, you're not going to go ahead and completely blow up an offense and redo things, but you are going to look to use things a little bit differently. Maybe that's personnel, maybe that's scheme, maybe that's situation calls, whatever it may be. As we build through the game plan this week, that's what we're focusing on.
"In terms of how the game gets called, we'll talk about it as we build on through the week, what we think is best in the game plan, what our adjustments will be, and when we get into the game situationally, what ends up being best for us to call."
In one very important respect, nothing will change for Jones and, by extension, the offense.
"My focus is on preparing to play the best I can," he said. "That's what it always is regardless of the circumstances.
"I think that Coach Judge has got to make decisions for the team and how he sees it and how he sees the team going forward. It's our job to execute and play our best, so that's what I'm focused on and that's where this team is."
*Judge said safety Logan Ryan remains on the Reserve/COVID-19 list. Ryan did not play in Tampa.
"There's really nothing that has changed on his status," Judge said. "Hasn't really moved any closer on the testing as far as getting back in. Still has a window of time, so we'll see where that goes."
*The Giants had two walk-throughs today, so their injury report was a projection of participation. Had they held a full practice, the following players would not have worked: wide receivers Sterling Shepard (quad) and Kadarius Toney (quad), tight ends Kyle Rudolph (ankle) and Kaden Smith (knee), fullback Cullen Gillaspia (calf) and defensive back Nate Ebner (knee).
Those who would have been limited include running back Saquon Barkley (ankle), wide receiver John Ross (quad), cornerback Adoree' Jackson (quad) and linebacker Lorenzo Carter (ankle).
*The Giants signed tight end Jake Hausmann to their practice squad for the third time this season.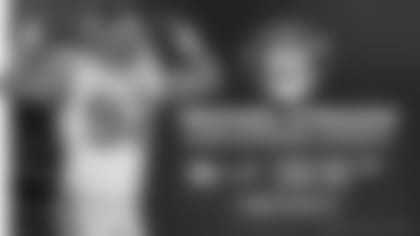 Tickets for Michael Strahan Ceremony
Limited tickets are available for Michael Strahan's jersey retirement game on November 28th