EAST RUTHERFORD, N.J. –** David Diehl considered retiring after the 2012 season. A knee injury pained him throughout the year, he had put in 10 good seasons and no one was going to take away his two Super Bowl rings.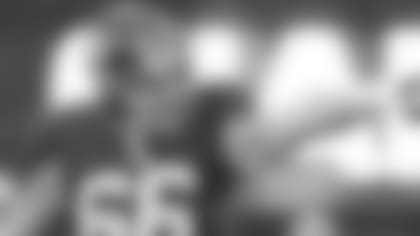 David Diehl's Career in Photos But three of the great loves of Diehl's life – the game of football, the Giants and, most of all, Addison, his now seven-year-old daughter – prompted him to play in 2013.
"She wants me to play forever," Diehl said.
That dream expired today when Diehl announced his retirement, ending a distinguished 11-year career spent entirely with the Giants. The decision was clinched when he agreed to Addison's plan to accompany him to the Quest Diagnostics Training Center to tell team president John Mara that she had "allowed" her dad to retire.
"It's not very easy for my daughter to talk about me retiring and not playing football," Diehl said. "The Giants are just as much family to her as they are to me. She's been going to the games and at seven years old, she understands everything. She understands the game and the players and how important it is to play in the NFL. For her, my stepping away from something she loves as much as I do is not an easy thing."
It's also difficult for Diehl. Few players worked harder, played with more enthusiasm or were more popular among teammates. He is arguably the most accomplished fifth-round draft choice in Giants history. The 160th overall selection of the 2003 NFL Draft, Diehl missed only 12 games in 11 years. He started at four different offensive line positions, helped the Giants win Super Bowls XLII and XLVI, was selected to the 2009 Pro Bowl and personified the term "team player."
"I love football," Diehl said. "I love being in the game, I love watching film, I love doing all of that and I'm going to miss that aspect of it. But I know I'm ready to start the new and next chapter of my life. I'm ready to not only be a bigger part of my daughter's life, but I'm ready to spread my knowledge and help other people with the game and continue to do stuff throughout our community and charity work and be involved with the New York Giants in any way possible.
"I've accomplished everything I could possibly dream of as a football player. If in 2003, anyone would have said that Dave Diehl, a fifth-round draft pick out of Illinois, would win two Super Bowls, play in the Pro Bowl and win every single Giant award possible, people would have said you're crazy. I have a lot to be proud of."
Diehl started the first 120 regular-season games and seven postseason games in his career, the longest such streak by a Giant since the introduction of the 16-game schedule in 1978. The streak ended on Nov. 14, 2010 vs. Dallas because of hip and hamstring injuries Diehl suffered the previous week in Seattle.
He concludes his career with 164 regular-season games played, tying Phil Simms for 12th on the franchise's all-time list. "To be able to sit here and say I tied Phil Simms for 12th all-time on the list, I mean that's crazy," Diehl said. He started 160 of those 164 games, plus all 11 postseason games in which he played.
In the regular season, Diehl started 65 games at left tackle, 42 at left guard, 26 at right tackle, and 27 at right guard. In the postseason, Diehl has 10 starts at left tackle, and one at left guard.
"When I think of David Diehl what comes to mind is his indomitable spirit," coach Tom Coughlin said. "He got the most out of his God-given ability and that's the best way that you can judge any individual. He took the talent that he had and he used it to the extreme, to the utmost of his ability. What more can you ask of the guy? And he gave great effort. He always gave great effort, there was no doubt about that. You knew exactly what you were getting."
"He played so many different positions along the offensive line and never complained and never made an excuse," quarterback Eli Manning said. "He was a guy who practiced in training camp and was prepared to play right tackle and then all of a sudden in the middle of the season, it's, 'Hey, now you have to go play left tackle.' He just went over there and did it. He never made an excuse and he's never looked for a reason not to. He just did his job and did it well for a long time. He protected me for a long time. He's one of my great buddies and just a true warrior. A guy you wanted out there. He would play injured and he wanted to be out there for every practice, for every play in every game. Just a great teammate, a guy with that type of attitude is the kind of attitude you want all your teammates to have. He was just a true professional."
Diehl was the only Giants player whose arrival predated that of Coughlin and Manning. With his retirement, the longest-tenured Giants are guard Chris Snee and Manning.
"You play for 10 years, you're going to have some great relationships and make some great friends," Manning said. "Unfortunately, you're going to see some great friends retire. Obviously, you're happy for them that they have had a great career and they can end it on their own terms, like David's doing. It's sad to have a friend that you're used to seeing every day, to no longer have that presence in the locker room. He will be missed. But I think for the other linemen and other teammates who have been fortunate to be around him, he's set a great example of how to be a professional, how to go about your business and be a true competitor. I think his presence will be felt. He's made an impact on a lot of the players on the Giants."
Diehl has long been an outsized presence on the Giants, and not just because he's 6-5 and about 300 pounds. He spent countless hours in the weight room, on the practice field, studying his opponents or dipping into the cold tub to rid his body of the aches and pains and prepare for the Sunday afternoon battles.
Vocal and enthusiastic, Diehl was always encouraging and prodding teammates and constantly instructing younger players (in 2013, he helped accelerate the development of first-round draft choice Justin Pugh). His voice was heard constantly at practice, the equipment room or wherever he happened to be. Outgoing and candid, he was a favorite of reporters, never answering a question in 25 words when 100 would suffice.
"I'm just very, very blessed and happy to have had the teammates and the guys around here and the coaches and the organization and to be able to do it for 11 years in one place - that's unheard of," Diehl said. "You never hear that any more. I'm a New York Giant through and through."
"Whatever you wanted him to do, he did," Coughlin said. "The weight room, practice, meetings, jibber and jab at guys that weren't doing what they should be doing. He was the huddle guy, he helped get things going. You always knew where he was coming from. He was a tremendous competitor and a guy you always wanted on your team, because he was so positive and so up front and he agreed with everything you did as a coach."
So what's next for Diehl? For several years, he has been involved in several broadcast ventures that he now hopes to expand. A tireless participant in civic and charitable endeavors – he received the 2012 Wellington Mara Award at the Boys Hope Girls Hope of New York annual Vision of Hope awards dinner – Diehl will remain active in the community as a representative of the Giants. As promised, he will spend more time with Addison.
But for the first time since he was a young boy, Diehl will no longer spend his late summer wearing shoulder pads and a helmet and preparing for a football season.
"At one point, it's going to be bittersweet," Diehl said. "At one point, I'm going to miss the camaraderie, being around the guys, being in the locker room, sharing stories of the summer. Most importantly, grinding and working for the season. That's where you start setting the groundwork after OTAs and mini-camp. Training camp is when you're getting ready for the season, for what we're here for and that's to win championships. So I'm going to miss being around the guys. It's tough, physically, as an offensive lineman to play as long as I have. I'm not going to miss the cold tubs and the physical part and all of that stuff, but I'm definitely going to miss being around here and being part of it. I've been here for so long, it's been such a routine and such a part of my life, so it's going to be an adjustment not being a part of it, sweating in 100 degree weather and doing all of that stuff with these guys.
"Guys like Kareem (McKenzie) and Shaun (O'Hara) and Rich (Seubert) would laugh and say once they were done, 'I'm going to come with a lawn chair' and watch practice. They never come back and watch mini-camp and sit out there in the heat. They don't want to watch training camp, they don't want to see that stuff. It's definitely going to be interesting and going to be different for me. But I'm going to be here, I'm still going to be involved with the team in any way possible with different things in the charity work that I'm always involved in. I'm never not going to be a Giant, I'm never not going to be in this area. It's just for the first time in my career it's not going to be as a player."