EAST RUTHERFORD, NJ - Safety Deon Grant finished his first year as a member of the New York Giants. A second-round draft choice in 2000 by Carolina, Grant played four years with the Panthers and three apiece with the Jacksonville Jaguars and Seattle Seahawks before joining the Giants. After sitting out his entire rookie season with a hip injury, Grant started 144 consecutive games, which was the fifth-longest streak in the NFL before it ended on opening day this season. But Grant has had plenty of action, because the Giants have frequently employed an alignment in which Grant joins fellow safeties Kenny Phillips and Antrel Rolle on the field.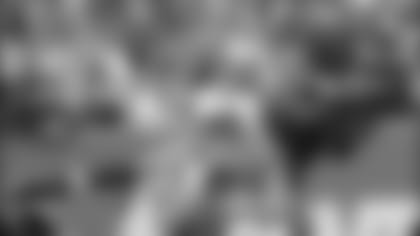 Q: Tell me a little bit about where you grew up. Do you have siblings? Just stands out about your childhood?
Grant: "I grew up in Augusta, Georgia, in the Southside projects. I was back and forth between Augusta and Atlanta. I was in a single-parent home. Also, I had two younger sisters.
Q: Do you have happy memories or was your childhood a tough time?
Grant: "I had it tough, but it was happy because I didn't know any better. It was definitely tough. I had to fight every day. I had to prove myself every day, had to compete with other kids that didn't have it, either. I had to try and dodge a lot of drugs. I came from a family that was heavy into drugs and all that other stuff. My father was one; he was on drugs pretty bad. So, yeah, it was a lot of things. I can just remember as a youngster sometimes I would leave my mom's house, my mom's building, and run to my grandmother on the next avenue and instead of walking through the alleys, I used to run as fast as I could because there wasn't telling what you might see in the alley - somebody dead, somebody shooting up drugs, somebody trying to set somebody up." 
Q: Were you ever tempted by that drug lifestyle?
Grant: "Definitely."
Q: Was it tough for you not to succumb to that?
Grant: Yes, it was. There was one point in high school where I just recognized we didn't have anything. My mom was moving from project to project to a house where they had to stop her from getting welfare, because she was in a house. We went days where we had no food in the refrigerator. I can recall one point in our life when I was in high school, she went three months - and she was working - she went three months with four people in the house and she had like $50 to $60 dollars to her name to support her and three kids. So it definitely was tempting, but I had a strong grandmother and mom and aunts that were there praying and it kept me on the right path." 
Q: When did you start playing sports?
Grant: "When I was a little. When I was growing up in the neighborhood, that's all we did. We didn't do anything else. When a lot of bad things were going on, we would go to the basketball court and the field and get into sports and all that." 
Q: Was basketball your favorite sport when you were a kid?
Grant: "Yes."
Q: When did you start playing football?
Grant: "I was too young to play Pop Warner as far as the tackling and everything. When I was coming up we didn't have the whole flag football league with the young kids. So I was young, but I still was playing with the older guys. So I was five or six, and you have to be seven or eight to play. I was still on the team playing with them." 
Q: Do you think sports helped keep you away from drugs?
Grant: "I have to say that's one of the reasons, but that's not the main reason because I had a lot of guys that played sports with me who were better than me and they still relied on the drugs and fell into the drug game."
Q: When did you start getting serious about football?
Grant: "Ever since I started playing Pop Warner we won on every level. We won the championship in Pop Warner in junior high school and I won in high school and college. So we always were good on every team I have been affiliated with. But as far as me really thinking I can make it out of my neighborhood and from my high school, I have to say it was about my sophomore year in high school. And it still was cloudy to me then. Even my junior year, when I got all the letters and was ranked as the number one defensive back in the country, I didn't know what it meant and I thought it was really just a good talk. And so they came to my mom's living room and it was like, 'We're trying to add the number one guy in the country at our school.' That's when I started to say, 'Okay, I have a chance to really make it.'"
Q: Did you play both offense and defense in high school?
Grant: "It's funny, because I started off playing quarterback and running back in high school because I played that in junior high. And then I think the end of my sophomore year I moved to receiver and safety and cornerback." 
Q: Did you prefer defense or did you want the ball in your hands?
Grant: "Both. It was funny because I used to jump out of the gym. Like that was my thing. So I used to love defense because we used to hit guys, but on that offensive side we used to make people look so stupid. When I was at the receiver, I used to just tell the quarterback to throw it up and I used to go and get it. So I used to love that part of it also." 
Q: You must have had a lot of college offers. Why did you choose Tennessee?
Grant: "I was going to Miami, but Miami was on probation when I came out. And then Georgia and Michigan were my next two. Then something happened with Georgia, and Michigan - I didn't want to go as far away as Michigan. Then something happened with Georgia where they were dropping the ball. I wanted to major in engineering, so I started considering Georgia Tech strong, and at the last minute, the guys the coaches from Tennessee recruited me. When they came and sat in my living room, they said all the right things. All the other teams were saying, 'Deon, we want you here, we want you here.' And those two guys looked at my mom and myself in the eyes and were like, 'We need him.' And that just stood out. It seemed what they were saying was very genuine and they promised my mom that I was going to be taken care of when I got there as far as making sure that I got my education and that I had the chance to really get on the football field to get to the next level - and they kept their word." 
Q: You must have been a pretty good student in high school.
Grant: "I was okay. I had a three-point-something in high school." 
Q: Quite honestly a lot of kids in tough backgrounds do not do well in school...
Grant: "Not at all."
Q: You must be very proud of that.
Grant: "I really am, because I can go back and teach kids about the importance of education first instead of going and talking about sports all the time. And a lot of them don't want to hear about education, especially when they're from those types of environments. But when they see a guy that comes from even tougher environments and still was able to get an education done and also focus on that football field and the basketball court, it's easy to go out there and talk to them and put them with me." 
Q: As you look back more than a decade later, are you glad you went to Tennessee? Did you have a good time there?
Grant: "I had a great time. I wouldn't be here talking to you if I wouldn't have gone to Tennessee. I can't imagine if I went somewhere else, what it would have been like, because anything could have happened. Going to Tennessee got me a national championship, got me an SEC division championship - two of them - got me Defensive Player of the Year one year, got me leading the country in interception. It got me everything that I wanted to reach in college, other than getting my degree. And I think the reason why I didn't get my degree was because I came out as a junior. But everything I wanted to reach in college, I reached it when it came to a sports standpoint." 
Q: When did you start to think you could play in the NFL?
Grant: "My sophomore year. My sophomore year we were so good in college. It was cheating. We had so many good guys like my roommate, Jamal Lewis. He and I came in together."
Q: You roomed with Jamal Lewis?
Grant: "I did. We played on high school ball all-star teams and all that. When we came in the same year, we were roommates at the same time. We were like, 'We're coming out early next year.' So our minds were already set up right after sophomore year because we won the national our sophomore year. We knew we were going to play one more year and them go pro." 
Q: What did it mean to you to get drafted?
Grant: "Oh man, that was huge. That was almost breathtaking. I couldn't believe it. At first I was upset because I was projected to go in the top 10 and I had a couple bad things happen off the field and they dropped me down to second round. But even when I just got that little anger out and just thought about it, I said, 'I'm drafted to the NFL.' That is unheard of in any other neighborhood that I ever stayed in. That is unheard of. We just don't have any guys make it to the NFL. I just sat back and just looked at mom and said, 'We finally made it. Now we're going to make the best of it. Thank you God, we finally made it. And it was even better because I was drafted by Carolina, which was close to home."
Q: You had the hip injury and you missed your entire rookie season. How difficult was that for you?
Grant: "It was hard. It was, oh man, that's probably the most difficult thing I've ever experienced because I was having a great camp. I had just moved into the strong position and when it happened, the doctor came in and said, 'Your career is definitely over with.'"
Q: Not just your season, but your career?
Grant. Oh yeah. He said, 'Your career is definitely over with and we're going to try and get you to walk the same as you did before the injury.' It wasn't even a promise that they were going to get me to walk the same, because nobody had ever come back from that particular injury. Before that happened to me, nobody ever returned from a hip injury that severe. So he was just going by how bad it was and the history of it. It put Bo Jackson out. He couldn't return from it. So when that was said to me, it shut me down immediately. But God has a different plan for me. I still have the plate and screws in my hip to this day, but he had a different plan for me. They thought I was going to start walking in six-to-seven months after the injury. I was in the hospital for about a month. They thought I was going to be using crutches for six months, seven months. I thought it would three or four months. I had to sneak and walk on my own at home two or three months later. When did that I said to myself, 'I might have a chance to return.' But there was still a little doubt in my mind, but I was focused on returning. When I got up and took that step and it was so much earlier than what they said, I said, 'Man, I have to believe in the bigger doc.'"
Q: How did you get hurt?
Grant: "It was a freak accident. I was just backpedaling. It was the year that Barry Sanders said he was going to retire (2000). We were practicing with Detroit. The Lions used to always come to Carolina. And we were in training camp and the guy ran the route out of the backfield and I backpedaled and planted. And when I planted, my leg just hyper-extended and I think I hit a soft spot in the grass and my hip just popped out the back of my backside." 
Q: You came back the following year and began a streak of 144 consecutive starts. Did you ever come close to missing a game during the streak?
Grant: "I had injuries. In fact I still have torn MCL's and all that. I did that two-three years ago that they said I should have had surgery. I had injuries and I pulled hamstrings and quads - I played with them. I played with all of them."
Q: After a while, did the streak become important in itself? You didn't want to miss a game because you have the great streak going?
Grant: "I never thought about it. It's funny because I never thought about it until I got here and saw how big it was - how a lot of people were saying, 'D, that's incredible.' And I started looking at the guys that did it, that are still active now and there was only, four other guys that were still doing it now. And that was Peyton (Manning), Brett (Favre), Ronde (Barber) and (London) Fletcher. So for me to be on that list with those particular guys, I mean Brett, Peyton, Ronde and London Fletcher, I started to say, 'Okay, that's big.' So it was a little disappointing when the situation happened here (not starting the season opener), but it happened for the good because it put us in position to win games. But it was a little disappointing, because I knew I could still start in this league." 
Q: What do you remember about playing in the Super Bowl with Carolina against New England after the 2003 season?
Grant: "That whole week, I took it for granted because I was still young. So I was just enjoying it, enjoying it, enjoying it, wasn't taking any pictures or anything. I was just enjoying it - the interviews, getting paid a little money on the side. When I ran out the tunnel about to get ready for the game, it felt like I was running on air. I saw all these cameras flashing. Beyonce was singing the national anthem, and I just knew everybody in the world was watching me at that point. Not just in the country, everybody in the world was watching me at that point. It felt like I was really running on air in slow motion. That's what I remember." 
Q: How big a disappointment was it to lose that game by three points?
Grant: "Man, it hurt. To lose in the last minute by a field goal - that hurts bad."
Q: After Carolina you played three years in Jacksonville. Did you enjoy your time there?
Grant: "I had some great friendships there with guys. We went to playoffs in Jacksonville. We had a top three defense when I was there. I have guys there that I can really call my brothers from another mother, like Fred Taylor. One of my godchildren wouldn't have been my godchild if I wouldn't have met one of the guys when I went to Jacksonville and that's Mike Peterson – he and his family. Marcus Stroud, guys like them, we really consider each other brothers. We have a real bond and that was something that we built when I was in Jacksonville. So I took some great things from Jacksonville. A genuine person is very hard to come by and a great friend and a genuine friend is even harder to come by. And I consider I have a few of them that I met in Jacksonville. I knew Stroud before I got there, I knew Fred Taylor before I got there from playing against him. But as far as our relationship, it grew. It grew very strong when I went to Jacksonville." 
Q: After playing so close to home for so many years, why did you go to Seattle?
Grant: "I guess it was timing. I wanted to go to New York, but New York came in the picture so - not so late, but they came into the picture when I was already in Seattle on a visit. And Mike Holmgren is one guy I always wanted to play for, and they did it up big for me. Like I can't exclude the fact at the point they made me the highest paid, as far as signing bonus-wise, the highest paid safety in the history of the game. That was even better, and it was just a beautiful place when I got there. They came and picked me up in a private jet and that was my first time being on something like that. They just wined and dined me, and I knew they had a great coach. And the biggest thing out of all of it, I had seen what they were doing. They were one team that was in the playoffs for the past five years and that was winning the division every year. And I said that was big. So I knew they were going to be in the postseason every year because they were doing it five years prior to the time I signed there." 
Q: It didn't work out that way.
Grant: "Well, my first year we went to the playoffs and then everything changed. The first year we went to the second round in the playoffs and then went to Green Bay and lost (42-20). And the second year, everything changed. Mike Holmgren's situation, Jim (Mora, Jr.) becoming the new coach - everything discombobulated as far as those guys bumping heads. New G.M.; I mean the GM we had (Tim Ruskell), he resigned. So we had so much stuff going on my second two years that it messed everything up." 
Q: How do you like it here, both living here and the fact that you play with Phillips and Rolle so much. Many times, you're almost like a linebacker.
Grant: "I love it. I love being here for many reasons. I have a lot of family here, so I get to see them. That's one. Two, this is my first time I can really say that I am on a franchise or a team that is in the public eye all the time. And sometimes you can playing good, but you can be on those teams that don't get followed, don't play the TV games like that, the media is not real big in those cities and you get forgotten. I mean a lot of people forget about you. But those two reasons, me coming here with the D coordinator (Perry Fewell) and the position coaches that came here to play under Tom Coughlin, who has a great winning percentage in this league. And I can't even say how I feel about my guys that I play with, my comrades - I love that. The guys that I line up beside - in front or behind - it's on a whole other level. Like I have a lot of love for those guys, and it was a relationship that was built so fast, but you would have thought we've known each other for years. And I can really consider them as brothers, all of them." 
Q: Not counting this team, because you've only been here a short time, who is the best player you ever played with in your 11-year career?
Grant: "Played with? Oh man, I can't do that. The best player I ever played with - that's hard. That's hard because I've played on teams with Reggie White, God bless the dead, Eric Swann.
I have to say Reggie. He was like one of my mentors. So, God bless the dead, I have to say Reggie, who came to Carolina at the end of his career."
Q: And how about the best player you've ever played against?
Grant: Best player I've played against on the NFL level - that's hard."
Q: Who stands out to you as being real tough that you had to cover or try to tackle?
Grant: "Cover or try and tackle? I'm going to tell you who was bad, that Jimmy Smith at Jacksonville. Jimmy Smith was awesome. He was a guy that ran all his routes the same. All the routes the same, like you couldn't get a key on him. But I couldn't tell you the best player, I've played against so many good ones." 
Q: How about favorite coach you ever played for?
Grant: "Tom Coughlin, that's who I play with now. He wanted me on this team four years ago, and when I came back up, he wanted me on this team again this year. So I have to say Tom." 
Q: This far into your career, did you still play the game with the same enthusiasm you had as a young player? Do you see yourself playing several more years?
Grant: "Oh definitely, definitely. One thing about this league, a lot of things are determined as far as how many more years you want to play due to the fact you can't get the job done any more and injuries. It showed I can still get the job done. Injury-wise, I still haven't missed a game. So I think I will start determining that if I start getting hurt and have to miss a game here, miss a game there and I feel like I'm getting tired of that. I missed a couple of games, my body's not the same, but that's not the case right now. So I think I'll start thinking about that and really determining that when I feel like my play is declining and injuries start taking place."