The re-signing of Jon Halapio last March barely made a ripple before the first wave of free agency.
The former sixth-round draft pick by the Patriots was coming off his first real action in the NFL, starting the final six weeks of 2017 for the Giants at right guard. It was a depth move, people said. When spring practices started, Halapio took some reps with the first team, this time at center. It was a footnote in that day's practice report as people focused on No. 2 overall pick Saquon Barkley.
And so it went for Halapio, who day by day put the clamps down on the starting job at the position new head coach Pat Shurmur played in college. It became official when the Giants traded Brett Jones, Halapio's closest friend and competition on the team, to Minnesota. In the season opener, the Giants lost a tight one to a stout Jacksonville defense. In Week 2, Halapio's season ended.
He suffered fractures to his lower leg and ankle in the third quarter of a Sunday night game in Dallas. It required him to undergo surgery the next day to repair the injuries. The Giants then grinded their way through a painful 1-7 first half before finding, among other things, the right combination on the offensive line without Halapio. Spencer Pulley, a former Charger acquired via waivers days before the start of the season, took over in Week 7 and was the starting center when the Giants found life on offense. All that time Halapio focused on his recovery. He may have been out of the public view, but he never strayed from the Giants' radar.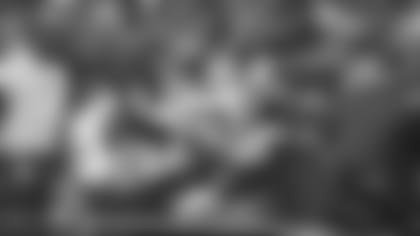 "Here's what I would say – first of all, don't forget Pio, don't forget Jon," general manager Dave Gettleman said in his season-ending press conference. "He went down, unfortunately, in the second game. He was playing the best of anybody. So, don't forget about Pio. I am always going to keep working on those lines, on those groups. You cannot have enough hog mollies, you can't, because people get hurt. You can't have enough. People looked at me in '13 (with the Panthers), we took a defensive tackle in the first round, a defensive tackle in the second round, and I had people say -- and maybe they're right -- 'Gettleman has no idea what he's doing.' I'm always going to do that."
Next to Pulley, fellow newcomer Jamon Brown started at right guard and Chad Wheeler at right tackle. Meanwhile, Nate Solder and rookie second-round pick Will Hernandez played 100 percent of the offensive snaps in 2018.
"I think this team had a lot of grit and fight in them," Halapio said. "A lot of the games came down to a touchdown or a few points, and that just goes to show that we haven't given up at all. So I'm encouraged by the way we fought throughout the whole entire season, especially after the bye week, especially in the run game with the things the O-line and Saquon were doing, and in the passing game. All-around I'm satisfied and I'm just excited to be a part of it.
"It was just exciting to see everybody coming together, understanding what our job was, what we had to do to get Saquon and the run game going, to protect Eli, to get the downfield passes going. It was just exciting to see the O-line take that responsibility head on."
While the offensive line came together down the stretch, the question as to whether or not the Giants think it is sustainable will be answered in the coming weeks. Free agency begins on March 13, and the draft will be held April 25-27.
"I think you've got to always address the offensive line to some degree," Shurmur said at the end of the season. "I think sometimes the answers are on your roster. (Halapio) came in and played really well at center until he got hurt, then we picked up Spencer Pulley, who's done a very, very good job playing center. (John) Greco stepped in and played center, we picked up Jamon Brown. I think you've got to always try to upgrade your offensive line to some degree because when you look around and you start to see teams that are playing bad offense, don't look at the skill players first. If you can't block them, then nothing fancy looks good, nothing normal looks good, nothing that you need to do in football looks good if you can't block them. I think that's where this game starts.
"I worked for Nick Saban, and I watch Alabama. Alabama's got a lot of very talented players, but when push comes to shove, the teams playing Alabama can't block them. You may make a play or score a touchdown, but when you're trying to do it over and over and over, teams can't block those guys. It's important that we're always addressing the fronts. This is a big man's game, and we've got to make sure we're doing what we can to get the O- and the D-line right."