Nate Solder had a five-week head start on his offseason training.
Unfortunately for the Giants, he had the spare time.
The former Patriots tackle was accustomed to long postseason runs, playing in what amounted to an additional full season (16 games) as he made it to six conference championships and four Super Bowls between 2011 and 2017. He joined the Giants in 2018, and his season ended on Dec. 30.
If you have followed Solder's story at all, then you know he only saw the positive in the situation. He talked to the Giants' strength and conditioning staff about recovery and training in these uncharted waters, seeing it as "another opportunity to get that much better and have a better season next year." More importantly, though, it also meant more time with his family.
Solder will reunite with his other family, his teammates, sometime in mid-April for the offseason workout program at the Quest Diagnostics Training Center. He will embark on his ninth NFL season, one that he hopes does not end before the calendar turns to January. In order for that to happen, the two-time Super Bowl champion knows the Giants, who lost eight games by seven points or fewer, need to win the close ones.
"That's the difference between a championship team and not," said Solder, whose first postseason run with the Patriots ended in a 21-17 loss to the Giants in Super Bowl XLVI. "You find a way to win, and whatever circumstances it is, sometimes it's different. The best teams I've ever been on always seem to be on the other side of those close wins versus close losses."
The key is to improve from Week 1 to Week 17, and while they still have a long way to go, there is no denying the Giants did that in 2018 under a new regime. After a 1-7 start, they went 4-4 in the second half, losing their final two games by one point apiece to playoff teams.
"When you're bringing in and installing a new offense, you're looking at four to six weeks before everybody's really on the same page," general manager Dave Gettleman said in his season-ending press conference. "And it's really the outlier. It's six. It's going to be the outside of six. We were having O-line issues, weren't we in that first half? We made changes and I think that's part of it, that you've got a comfort factor in terms of you're on the same page, the offense is on the same page, and you've also got a comfort factor in that the O-line, putting Chad (Wheeler) out there, claiming Jamon (Brown). Jamon came in out of the bye, that's when we got him.
"So doing those kinds of things, that settled everything down, the combination of those two, and I think that's the reason that the offense started to click. I almost fell down when they told me we scored more points than anybody else in the division, which kind of blew my mind."
The Giants averaged 27.4 points per game in the second half of the season, which even included a shutout loss to Tennessee in Week 15. They scored at least 30 points in four of those games.
"Part of that was we solidified the offensive line, which allowed Eli (Manning) to do more of what Eli can do better, and helped our runner (Saquon Barkley)," head coach and play-caller Pat Shurmur said at the end of the season. "I think we would all agree in the second half of the year we played much better offense. So when you talk about a coordinated effort, I talked all along about the things I really appreciate about Eli in terms of playing the quarterback position. They're like everybody else, they make mistakes. … When you're making the decisions and you've got the ball in your hand every play, there's mistakes that are made, but there's also some great things that you're doing. We'll go back and look at it all, but I think he was better able to showcase what he could do once we solidified the offensive line."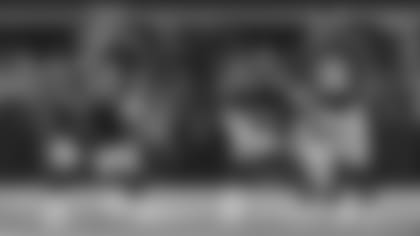 While it took time to settle down three-fifths of the group, Solder and rookie second-round pick Will Hernandez were constants on the left side of the offensive line. They didn't miss a single offensive snap.
"The best groups that I've ever been on have had that sort of consistency," Solder said. "And if one guy goes down, you have the same guy that replaces him and you feel that same camaraderie. We've got a great group. Our meeting rooms were awesome. The working and the practicing and the playing, I was very thankful for the guys and their commitment to getting better and playing well."
Solder added: "Will is amazing. I think he is incredibly talented, and I think that his best years are ahead of him. He did some good things this year, and he's going to continue to work and improve. I really believe in him a lot."
So what does it all mean for 2019? The Giants have plenty of questions that will start to be answered as the league approaches the March 13 start of free agency and the draft at the end of April. Whether or not the names change to their right, Solder and Hernandez are sturdy building blocks that aren't leaving anytime soon.
"It always comes down to execution," Solder said. "But how we did that (in the second half) is the question. So I think it's the intangible and the tangible. I think that we all conceptualized what they're asking us to do better, we refined our techniques better, and I think that there was a sort of a jelling within the team or understanding, trusting, believing in each other. But it's not nearly as far as it needs to go and we're going to keep pushing at it and I think it's a good starting point."