EAST RUTHERFORD, NJ - One week ago, the Giants prepared to play the NFL's best passer, then watched Peyton Manning hand the ball off 40 times. Now they are preparing for Sunday's game against the Tennessee Titans, who feature the league's finest running back in Chris Johnson. Will they be crossed up again?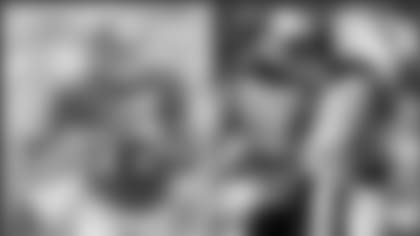 "I don't know if Chris Johnson can throw the football," defensive coordinator Perry Fewell said.
If not, it's just about the only thing he can't do on the football field. Johnson and quarterback Vince Young are the two Titans offensive players the Giants must shut down if they are to return to the winning column after last week's loss in Indianapolis. Both players escape typecasting. Johnson is a speedy back who will run between the tackles when called upon. And Young is a strong-armed quarterback who is just as dangerous running the ball.
The Giants learned that when the teams last met four years ago in Nashville. Young threw for 249 yards and two touchdowns and was Tennessee's leading rusher with 69 yards and another score as he engineered a comeback victory after trailing 21-0 in the fourth quarter.
So what must the Giants do to shut down Young in this game? Keith Bulluck had an interesting take on that question.
"It starts with Chris Johnson, you know what I mean." Bulluck said. He should know. Bulluck played the previous 10 seasons for the Titans, including the previous two with Johnson. He was Young's teammate for four seasons, but from Bulluck's vantage point, both near and far, Johnson is the engine that powers the Titans.
"At the end of the day, Vince Young is the quarterback, he is the leader, but it starts with Chris Johnson," Bulluck said. "Their offense, they're trying to get Chris Johnson going as soon as they can. If they can give him the ball and if he can get 30-plus touches, that's what they want. So it definitely starts with Chris Johnson.
"He's a complete back. He's every coach's dream. He works. A lot of young guys come into this league and they don't understand the work aspect. They do all the work until they get here. What you have to do is continue working to get better, and I think the best thing about him is his approach to the game. In the two years that I was there, he never missed a practice. He's always out there practicing, trying to get better. Whatever he did wrong the week before, I know that he is working hard that week to make sure it doesn't happen the following week."
Against the Giants, Johnson will certainly look to make amends for his most recent outing. In a loss last week to Pittsburgh, Johnson rushed for only 34 yards on 16 carries, ending his streak of consecutive 100-yard games at 12, the second-longest in history to Barry Sanders' 16.
Last year, Johnson set an NFL record with 2,509 yards from scrimmage, including 2,006 rushing. He was the sixth player in league history to exceed 2,000 rushing yards in a season. Johnson also caught 50 passes for 503 yards to become the first player in history with 2,000 rushing yards and 500 receiving yards in the same season.
"He is unique, let's put it that way," Coach Tom Coughlin said. "He is obviously extremely fast. He has two weeks with a 76-yarder and an 85-yarder. The 85 was called back (by a penalty), but nevertheless."
"That just confirms that you don't want to get the ball in his hands, and we don't want to let one guy beat us," linebacker Jonathan Goff said.
Johnson has the speed to outrun most defenders, but that is hardly his only asset.
"He's a speed back, but he runs with power in between the tackles, too," defensive end Justin Tuck said. "I've seen a lot of runs where he's cutting back and putting his head down and fighting for three yards. It's just so funny the fact that he does that and the next play he makes that same cut and instead of lowering his head, he makes a juke and he is off to the races. So we've got a huge challenge in trying to stop him, and with Vince and that option, they have two viable threats. So we're going to have our hands full, but it's a great challenge and we're looking forward to it."
Like Johnson, Young will be looking to rebound from a subpar performance when he faces the Giants. Last week, Young threw two interceptions, fumbled twice and passed for only 66 yards against Pittsburgh on a day the Titans had seven turnovers and rushed for 46 yards. Coach Jeff Fisher pulled Young from the game at the start of the in the fourth quarter and inserted Kerry Collins, who passed for 149 yards and led a touchdown drive but also threw an interception and fumbled twice.
"He's a gifted athlete, and I think he's made a lot of strides as far as distributing the ball and getting the ball down the field," defensive end Mathias Kiwanuka said of Young. "Even though he might not have had the best couple of games, he's definitely a very good and proven player."
With Johnson and Young as the Titans' primary weapons, the Giants' defense is facing a radically different challenge than it did last week. Manning is a prolific passer and much of the game plan was predicated on trying to slow him down. But against Tennessee, they expect Johnson to get the ball early and often.
"It's the polar opposite," Fewell said. "Chris is obviously an excellent running back and so we've got to do a great job in stopping the running game."
That would include Young's scrambling. Unlike Manning, who prefers to stay behind his linemen, Young is not hesitant to tuck the ball under his arm and take off. He has rushed for 1,297 yards, averaged 5.2 yards a carry and run for 12 touchdowns in his four-plus seasons with Tennessee. Last week, the Giants tried to flush Manning out of the pocket. On Sunday they'll try to keep Young confined within it.
"We'd love to keep Vince in the pocket, no doubt about it," Fewell said. "In some of the tapes we've been reviewing, sometimes he comes out of the pocket, he almost pulls a hamstring he's running so fast. We definitely need to build a wall around him, cup him, and try to keep him in the pocket."
"He starts to get a little antsy when a guy continually rushes on him and keeps him in the pocket," Tuck said. "I think he's a great quarterback on the run. I think he's built for that. That's why they boot him a lot and that's why they roll him out a lot. So I think this week we've got to do a good job of being conscious of what we are and not rush lanes and making sure that he has no escape route and make him throw in the pocket."
Two great players, two big challenges for the Giants defense. How the unit responds will go a long way in determining whether the Giants come away with a victory.
*Safety Michael Johnson (back) joined linebacker Phillip Dillard (hamstring) and tackle Will Beatty (foot surgery) as players who have been declared out of the Tennessee game.
Center Shaun O'Hara, who did not practice this week because of his ankle/Achilles injury, is doubtful.
*Tuck did not practice today because of a sore shoulder and was added to the injury list as questionable. Linebacker Chase Blackburn (knee) was limited and is also questionable.
Tight end Kevin Boss (concussion), wide receiver Mario Manningham (illness) and cornerback Aaron Ross (foot) all practiced fully and are probable.
Tuck said he will "absolutely" play on Sunday. "What's the cereal with Tony the Tiger? I'm not good, I'm great," he said.
"I woke up stiff, and coach said, 'We know what you can do and you know the offense, so sit out.' That's it."
Tuck played almost the entire 2009 season with a shoulder injury that required surgery, but he said the current issue is not the same.
"Last year, I was injured," Tuck said. "This year, it's just hurting so I'm good."
Coughlin said O'Hara could conceivably play, even though he missed the practice week.
"We'd consider it," Coughlin said. "No question. That's why I say it's day to day. You never know."
If O'Hara is inactive, four-year veteran Adam Koets will get his first career start at center.
"I'm getting ready to go, I'm excited for it," Koets said. "Being able to play under Shaun and being here this long, I know that he's a great guy to learn from. He knows what he's doing and he's always there to help out. If you have any questions or anything in regards to specifics about what's going on, he's there to help. I'm definitely using that."
*As the inaugural season in the news stadium continues, the Giants are committed to improving their fans' game day parking experience. The team is offering the following information and suggestions in advance of the game Sunday vs. Tennessee:
The parking plan for Giants games in the Meadowlands Stadium was designed to park ticket holders in the parking lot and at the level of parking (Blue permit/Red permit) closest to their entry point to the Meadowlands Sports Complex. Fans are encouraged to arrive early; the parking lots open five hours prior to the 1 p.m. kickoff. In addition, fans are also asked to be courteous to their fellow fans and follow the 1 CAR = 1 SPACE tailgating rule and all posted parking lot guidelines.
The Giants encourage fans to utilize mass transit options, including bus service from Penn Station in New York City and the train service from Secaucus.
For Giants fans coming to the game on Sunday, September 26, please be sure to stop by the West Plaza and get an autographed photo of your favorite Giant, Steven Baker, Sean Landeta, Joe Morris, OJ Anderson and Rodney Hampton. While you're there help support NewYork-Presbyterian Hospital and the New York Organ Donor Network as they work toward a goal of 100,000 new registered donors. Learn how to become an organ donor and be a Giant in someone's life.
10 AM – 11:30 AM
Stephen Baker
Sean Landeta
Joe Morris
11:30 AM – 1 PM
OJ Anderson
Rodney Hampton