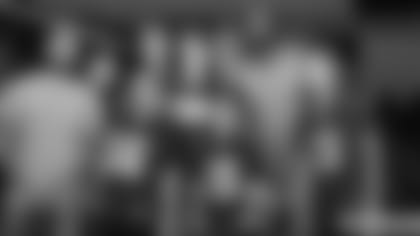 DRC HOSTS MONDAY NIGHT BOWLING AUTISM BENEFIT
BY MATT COHEN
On the field, 2016 was a winning season for the New York Giants. Big Blue finished 11-5 and made its first postseason appearance since winning Super Bowl XLVI.
Off the field, it was an equally successful season. Not a week went by where players weren't active in the community at various fundraisers, charity events and speaking engagements.
An annual player favorite is the Monday Night Bowling benefit. For seven consecutive years, the Giants have partnered on the event with Intensive Therapeutics, a 501 (c) (3) non-profit that provides group and individual occupational therapy services to children with autism and children with hemiplegia, from stroke and brain surgery.
This year, Giants cornerback Dominique Rodgers-Cromartie served as host for the event at AMF Wallington Lanes in Wallington, New Jersey.
"It's very special," DRC said. "Growing up in the area that I did, it's hard to see things like this so I always told myself if I get in a position to give back, that's what I'm going to do. I definitely enjoy this."
The benefit was well attended by many Giants players. Aside from DRC - Devon Kennard, Jonathan Casillas, Mark Herzlich, Landon Collins, Jerell Adams and Tavarres King all laced up their bowling shoes to lend their support towards a great cause.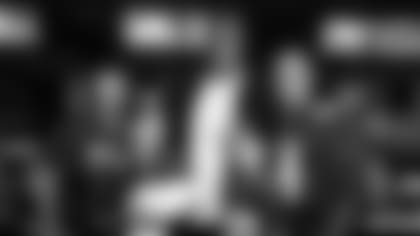 "The New York Giants support for our organization has been off the charts," said Scott Matthews, Executive Director of Intensive Therapeutics. "Their team is supportive of our team. We have wonderful programs for kids with special needs, kids with cerebral palsy, kids with autism and kids with traumatic brain injury. Our focus is to provide them with a high level of therapy so they can get better and perform better in life."
The three-hour event also included a silent and live auction. More than $20,000 was raised to go towards a new playground at Intensive Therapeutics' West Caldwell site.
"All the kids are Giants fans," Matthews said. "They're seeing their heroes; they're seeing their stars. We have a motto of 'kids get better with practice; football players get better with practice.' To see the hard work that the Giants do on the field motivates these kids to work as hard as they can to get better at life."