Greetings from Mexico! I believe that Giants have just one solid starter at CB (Prince Amukamara). Do you think that the team will re-sign a veteran like Terrell Thomas or Aaron Ross? Or will they bring someone else to compete with Corey Webster and Jayron Hosley?** -Julian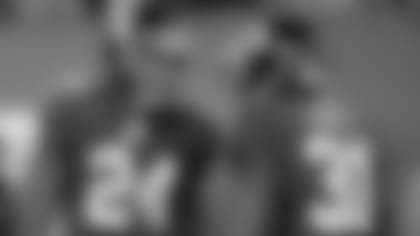 Read More from Eisen's Mailbag Julian:
Amukamara is clearly the Giants' top cornerback right now. But the free agency signing period has not begun and there's a good chance the Giants will look to add a top corner when it does. It's such a vital position. Webster will not return (his contract was voided last month). The futures of Thomas and Ross are up in the air. Don't forget about Trumaine McBride, who played well at the end of last season.
Do you think the BIG man Jonathan Hankins is ready to step in full time this year? I think he is going to be a monster.
-Jason
Dear Jason:
A monster?! I'll settle for him becoming a top-flight defensive tackle. Hankins will certainly get an opportunity to prove he deserves a larger role in 2014, particularly if Linval Joseph leaves during free agency. If Joseph is no longer here, Hankins will be the favorite to become the new starter. If Joseph remains a Giant and Cullen Jenkins remains the other starter, Hankins would likely be in line to be No. 3, which would mean a sharp increase in playing time. But again, he has to earn it.
Any word on signing Peyton Hillis and Jon Beason back?
-McAnthony
Dear McAnthony:
Nothing official. The Giants would apparently like Beason to return, but they can't break the bank to make it happen. They have too many needs to fill. Regarding Hillis, I frankly don't know what his plans are. If he still wants to play, who the Giants acquire this offseason will help determine whether his next opportunity is here.