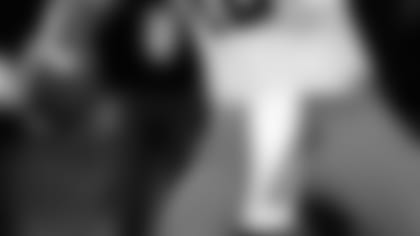 ](http://www.giants.com/media-vault/photo-gallery/4th-Rd-QB-Ryan-Nassib/0d939a45-ef24-4eed-af20-9165a2525044)
PHOTOS: QB RYAN NASSIB EAST RUTHERFORD, N.J. –** Eli Manning doesn't know Ryan Nassib, but he understands the challenges the youngster is about to face.
Nassib is the Giants' newest quarterback, selected on the fourth round of the NFL Draft after the team traded up six spots to get him. He was the 110th overall selection in the draft. Nine years ago, Manning was the first player chosen in the draft (by the San Diego Chargers, who soon dealt him to the Giants). Although Nassib will join the Giants with much less scrutiny and fewer expectations than Manning, their adjustment from college football to the NFL will be similar.
"There's a lot going on now," Manning said today. "Learning the new offense, defenses are more complex, each week you put in new plays preparing for different styles of defense. It's kind of like learning a new language and putting it all together. That's probably the hardest thing for anybody coming in, trying to learn everything and then go out there and be able to produce on the field."
Manning was asked the most significant adjustment he faced jumping from Ole Miss to the Giants in 2004.
"It's not learning the stuff – you're going to learn it," he said. "It's knowing how to execute it on the field. When things break down or when your first read's not there and you have to go to your second read, you have to make good decisions and play at a high level each and every play."
Nassib threw for 9,190 yards and 70 touchdowns at Syracuse. He started 38 consecutive games and was named first-team All-Big East as a senior, when he completed 294 of 471 passes for 3,749 yards and 26 touchdowns.
"I don't know a whole lot about him," said Manning, who gets few opportunities to watch college football. "I saw a few Syracuse games last year; I saw them when they played USC in MetLife Stadium. But besides that, I don't know much."
After hearing that the Giants had drafted a quarterback for the first time since Rhett Bomar in 2009, Manning phoned Nassib.
"I just wanted to welcome him and tell him if you need anything in the time being, to let me know," Manning said. "I look forward to getting in meetings and working together and getting to know you a little bit."
Manning and David Carr – who is a year-and-a-half older than Manning – have been the Giants' quarterbacks four of the previous five seasons. The veterans will certainly honor the longtime tradition of "asking" the rookie to do certain favors for them.
"There will be a time for that," Manning said. "When it's time to work and when we're in the meeting room and out on the practice field we'll be trying to get better. I'll be trying to improve myself and getting all the quarterbacks playing at a high level and when you feel everybody's playing well and your practice is smooth, whether it's your first-team offense or second team or down the line, you want guys to execute at a high level, from the quarterback to the linemen to the receivers. It's about getting better.
"But there will be some down time when we'll figure out ways to enjoy a rookie quarterback."
With Manning, Carr and four-year man Curtis Painter, the Giants did not have a tremendous need for another quarterback. But like most teams, they'd like to develop a young player in their system. They thought so highly of Nassib, and had such a good grade on him, that they traded with the Arizona Cardinals to secure him.
"He was just too good of a value," director of college scouting Marc Ross said. "When I look at quarterbacks, I don't look at arm strength and all that. That stuff is secondary to me. I look at guys who are leaders and winners and raise the level of their team and when they're on the field they have a presence about them and some moxie to them. Those are the attributes to me that stood out with him. I saw him play twice this year - when USC played here and then up in the snow in the bowl game up in Yankee Stadium (when Syracuse routed West Virginia in the Pinstripe Bowl). Then at the Senior Bowl. This guy just has a presence about him around his team, and then at the Senior Bowl around guys he didn't know. Those are the winning attributes for me that I look for in quarterbacks."
Whether Nassib ever gets to showcase them in a Giants regular-season game is debatable. Manning is at the top of his game at age 32 and has started 146 consecutive games (including 11 in the playoffs). The Giants hope and expect him to be the quarterback for many more seasons. General manager Jerry Reese said of Nassib, "if he doesn't ever play, that would be great." But he could become an important figure for the Giants if he develops and delivers a high draft choice in a trade down the road.
Nassib must first become a legitimate pro quarterback. Since 2008, the Giants have carried only two quarterbacks on their regular-season roster. If they follow that plan this season, would they choose the untested Nassib as Manning's only backup? If they waive the rookie, Nassib wouldn't make it to the Giants' practice squad, because he would certainly be claimed by another team. If the Giants keep three quarterbacks, they would be sacrificing a precious roster spot for a player who won't step on the field.
"We will see how that works out at camp," coach Tom Coughlin said. "This is a great opportunity for Ryan, because he is going to be in the classroom with Eli Manning. That is going to be a tremendous learning experience. There is no way you can put a value on that for him. Now on top of that, he is a really sharp kid. He will learn; he will grow. He will learn by watching Eli. And when he gets opportunities in camp he will take full advantage of that and we will go from there."
What does Manning think of all that?
"Whatever the coaches feel is best for the team, we'll proceed that way," Manning said. "It's not something I'm going to lose sleep over."