The offensive line has been the biggest difference since the Giants' first game against the Redskins.
John Schmeelk - Fact: In terms of a specific position group performing better, this is absolutely "fact." It starts with their run-blocking, which has been much improved. It has allowed Saquon Barkley to be much more decisive running the football, and with fewer defenders in the backfield, the number of negative runs are down from the first few weeks of the season. The success running the ball, playing with a lead, and adjustments by the coaching staff has given them a much better chance to win in pass protection as well. The offensive line is performing better, but the coaching staff has also put them in fewer straight drop back situations than in the first half of the season. There is much more play action and designed movement by Eli Manning since the bye week.
Dan Salomone - Fact. What quote do we keep coming back to? The Giants will go as far as the offensive line takes them. Well, they have gone for three wins in four games since the first Redskins meeting when Eli Manning was sacked seven times to bring his first-half total to a whopping 31 times sacked. The offense never found its footing in that game as the Giants had 10 more passing attempts (47) than rushing yards (37).
Lance Medow - Fact: In the first meeting against the Redskins in Week 8, Eli Manning was sacked a season-high seven times and the Giants ran the ball 14 times for a season-low 37 yards. Since then, Manning hasn't been sacked more than four times in a game and the team has collected at least 97 rushing yards in each of its last four games, including at least 126 in each of the last three contests. The run game and pass protection have certainly improved since the bye and while there are many factors to consider, it can't be overlooked that the dynamics of the offensive line have changed. In Week 8, the Giants starting offensive line from left to right was: Nate Solder, Will Hernandez, Spencer Pulley, John Greco, Chad Wheeler. It's important to note that was Pulley's first start at center and the Giants have now inserted Jamon Brown at right guard and his presence has provided an immediate lift.
5 players to watch vs. Redskins
Keep an eye on these five players as the Giants travel to FedExField to take on the Redskins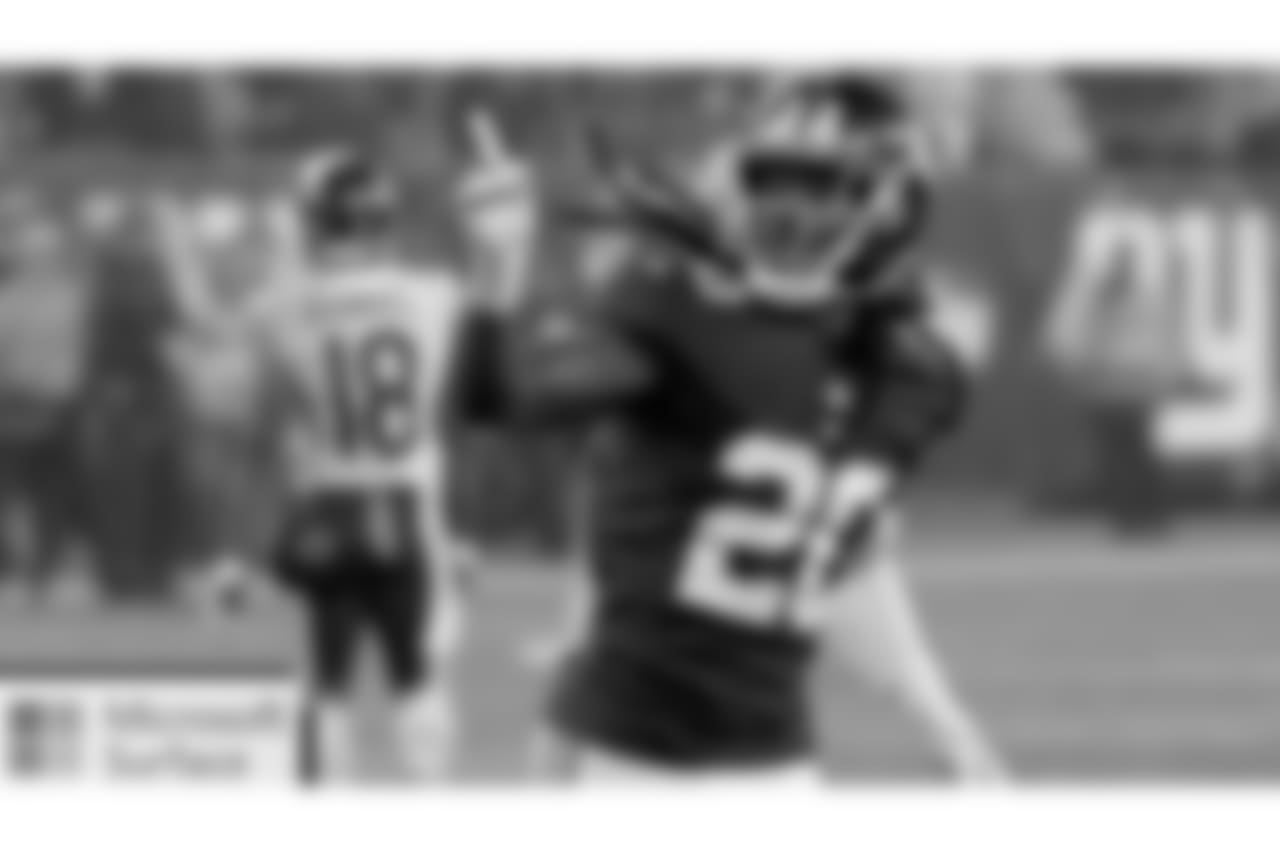 Copyright 2018 The Associated Press. All rights reserved.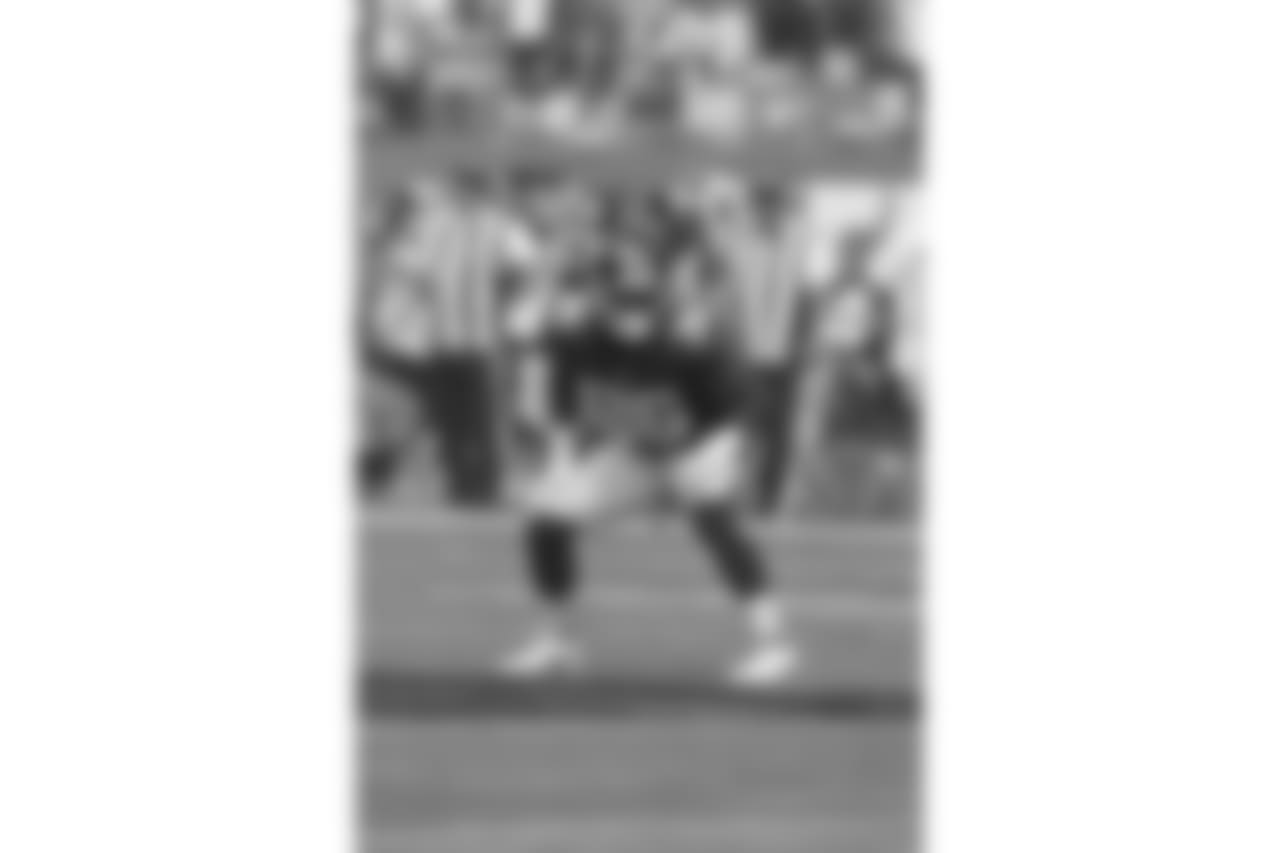 Paul Abell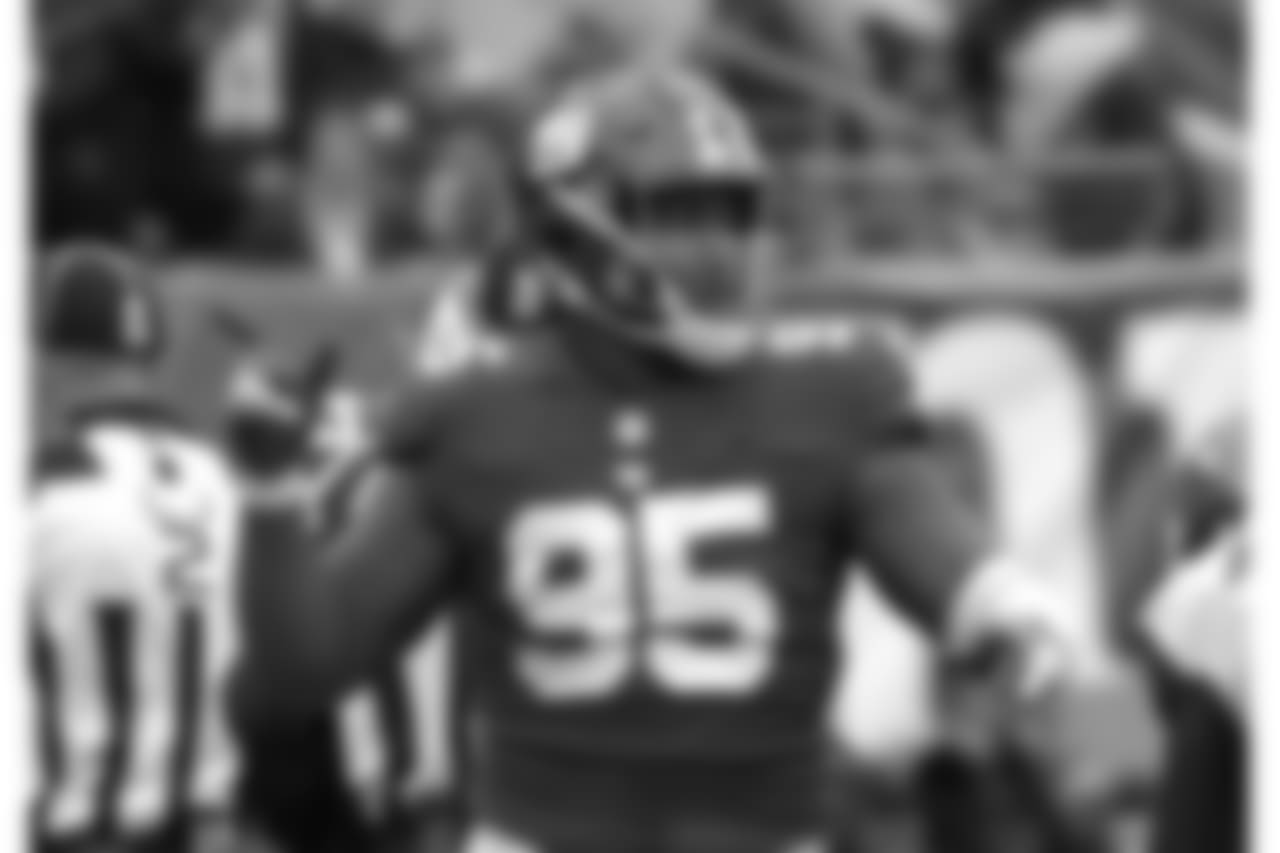 Bill Kostroun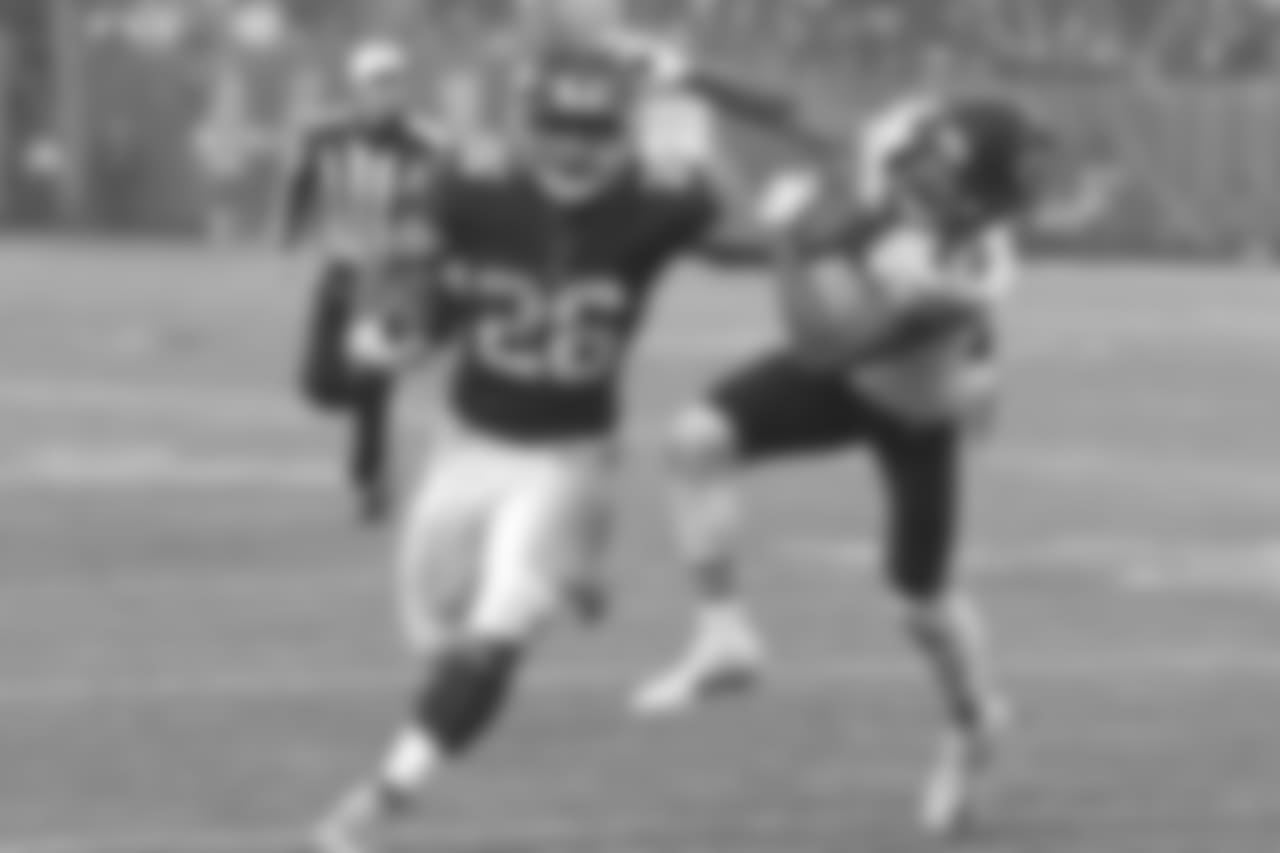 Bill Kostroun/Copyright 2018 The Associated Press. All rights reserved.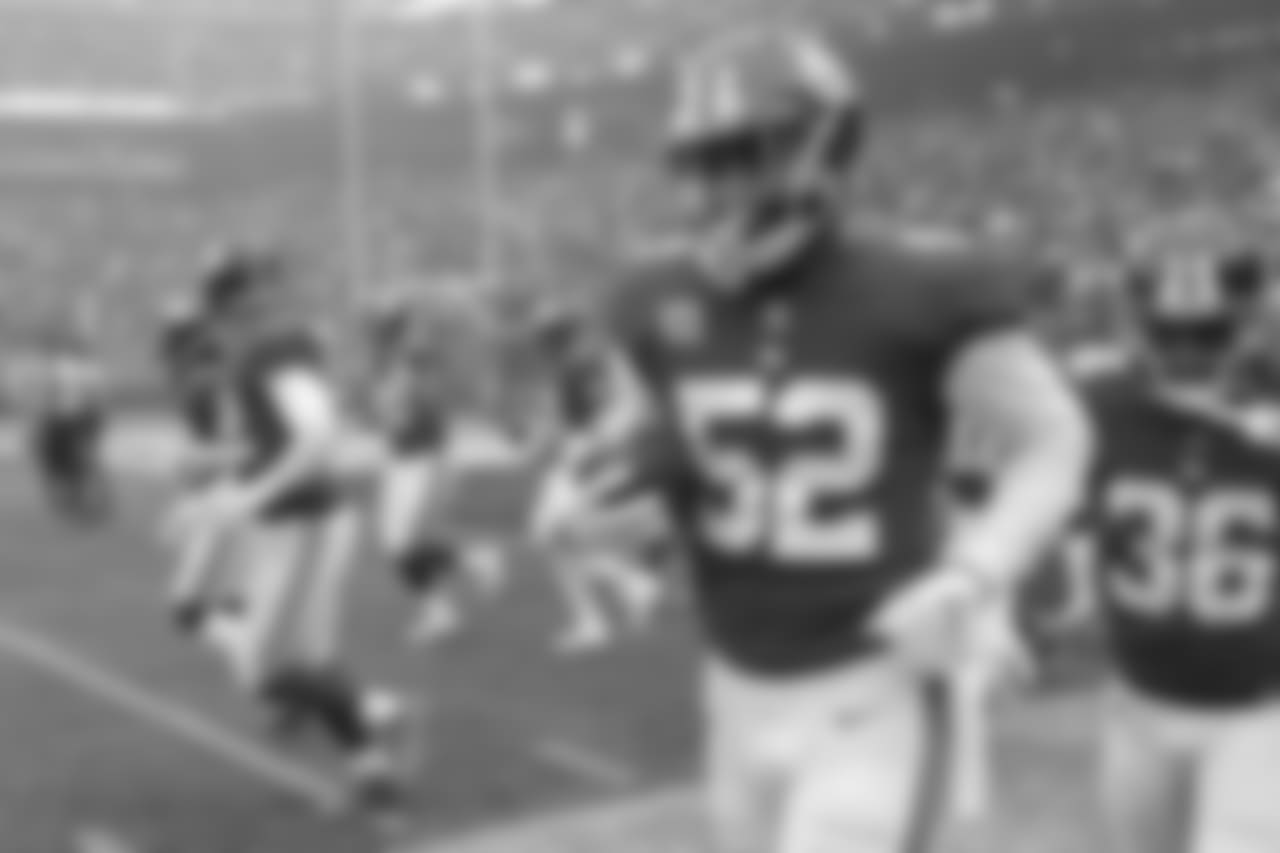 Bill Kostroun/Copyright 2018 The Associated Press. All rights reserved.
This Ad will close in
3
seconds
---
The team with the fewest sacks allowed will win on Sunday.
John Schmeelk - Fiction: Sacks are important but they are not the be-all and end-all. I think there is a real chance that the Redskins have more sacks than the Giants when the final whistle blows, but that doesn't mean they are going to win the game. I would bet the Redskins will design a game plan based around the run game and Mark Sanchez getting rid of the ball quickly, which could limit Giants opportunities to get sacks.
Dan Salomone - Fact. I agree with Schmeelk in that the total is not the be-all and end-all. Just look at the Buccaneers game. Eli Manning was sacked four times and had one of his best statistical games with just one incompletion and a passer rating of 155.8. But this Washington defense is a little different. My response also has to do more with the Giants. They need to take advantage of the Redskins' injuries on the offensive line and get to Mark Sanchez, who signed with the Redskins less than three weeks ago and has not started a game in almost three years.
Lance Medow - Fiction: This played out to be true in the first meeting this season, but let's not forget there was a huge disparity in the stats. The Redskins had seven sacks, while the Giants recorded none. That's a plus-seven advantage for Washington. What happens Sunday if one team collects four sacks and the other three? Does that automatically mean the team with four wins? I wouldn't go so far. It's not just the sack total but how much damage those sacks do, as well as how many more one team has than the other.
B.J. Hill is the most surprising new Giant this season.
John Schmeelk - Fiction: I'm going to go with B.W. Webb. He has been a journeyman his entire NFL career, but has been a competent starter with the Giants. He can play inside and outside, and there hasn't been much of a drop-off, if at all, replacing Eli Apple at cornerback. When he was signed last spring, I don't think anyone thought the Giants were signing a starter. As it turns out, they were.
Dan Salomone - Fact. Hill has been praised since he arrived for being mature beyond his years, so his success is not surprising. What is surprising is the way in which he has been successful. Hill had 9.0 sacks in four years at N.C. State and never more than 3.5 in a season. Right now, he has a team-high 5.0 in 12 NFL games. General manager Dave Gettleman knows the value of interior pressure, and Hill is getting it done.
Lance Medow - Fiction: B.J. Hill has shown more than just flashes in his first year in the league and leads the team with five sacks, but I don't know if I'd classify his production as the most surprising since the Giants used one of their two third-round picks on him for a reason. Instead, I think the most surprising new Giant this season has been corner Grant Haley. The undrafted rookie out of Penn State just missed out on making the 53-man roster right out of camp but was eventually promoted from the practice squad in mid-October and has taken on a bigger role since Eli Apple was traded to the Saints. Haley has been moved around within the defense but has thrived and shown more than just flashes. When an undrafted rookie becomes a solid contributor on a team, I'd say that classifies as a pleasant surprise.
Dynamic running backs have become more important to NFL offenses than wide receivers.
John Schmeelk - Fiction: Saquon Barkley is an unbelievable player, but I'm still not onboard the running back value bandwagon for a simple reason: they are dependent on the ability of their offensive line to block. We've seen the difference with Barkley this season. He has been far better in the second half of the season in part because of a style adjustment, but more importantly it is improved run-blocking that has turned the Giants' rushing attack into a consistent force to build an offense around. Wide receivers are dependent on a quarterback getting them the football, but they can still beat the defenders covering them without relying on help from anyone else. Barkley's elite receiving ability evens this up a little bit, but I'm still not sure the overall value, especially when longevity is taken into consideration, is there.
Dan Salomone - Fact. Look at the top offenses right now. The Rams have Todd Gurley. The Saints' resurgence can be tied to the arrival of Alvin Kamara. The Steelers replaced one dynamic running back with another in James Conner. The Giants are not at the top offensively right now, but they are climbing. And think about where they would be without Saquon Barkley. I never jumped off the bandwagon when running backs were not being taken anywhere in the first round, let alone the top five. So I guess that means I'm still on it as we've seen head coaches with backgrounds on offense feature the position more and more.
Lance Medow - Fact: If you look across the NFL landscape right now and take a glance at the teams in the playoff picture, one of the common themes is most have dynamic running backs who are extremely versatile and can cause headaches for opposing defenses. In the NFC, that group includes Dallas' Ezekiel Elliott, Tarik Cohen of the Bears, New Orleans' Alvin Kamara and Todd Gurley of the Rams. In the AFC, the Chargers' Melvin Gordon and James Conner of the Steelers belong in the conversation as well. When you have a running back that is just as dangerous as a receiver as he is a runner, it can do wonders for your offense.