*Justin Pugh will be the first drafted rookie to start a game for the Giants this season.  *
MICHAEL EISEN
: Fiction - I think it will be quarterback Ryan Nassib. Oh, just kidding. I'm going to take a shot and say it will be defensive tackle Johnathan Hankins, the second-round draft choice from Ohio State. I look for him to work his way into the DT rotation during the preseason and earn a start at some point early in the season.
JOHN SCHMEELK: Fact -Pugh will have an excellent opportunity to earn the starting right tackle job in training camp if he shows he can handle the job. Johnathan Hankins might also be a quasi-starter as a run stuffing DT, but I'll still go with Pugh since Perry Fewell will have such a heavy rotation in the defensive line.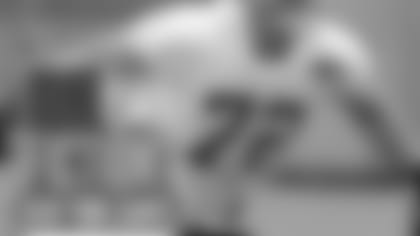 DAN SALOMONE: Fiction -
The correct answer is "I just don't know yet without seeing them in pads," but that's frowned upon in Fact or Fiction. Unfortunately, injuries can dictate these things as much as play, but I just have a feeling David Diehl isn't going anywhere early on. Don't get me wrong – they brought in Pugh to start, but it might take a few weeks into the season for it to happen. Meanwhile, I could see Johnathan Hankins getting an early start based on a certain week's defensive game plan.
The player with the third-most receptions on the team will be a tight end.
MICHAEL EISEN: Fiction
- If we're assuming that Nicks and Cruz will be 1-2 or 2-1, I think the third-most prolific receiver on the team will be either Louis Murphy or Rueben Randle. Brandon Myers will catch his share of passes, but I don't see him cracking the top three.
JOHN SCHMEELK: Fact -Brandon Myers will turn into one of Eli Manning's most reliable targets and should fall in just behind Victor Cruz and Hakeem Nicks with over sixty catches.
DAN SALOMONE: Fact - If everyone is healthy, I think that's the ideal distribution for the Giants. You have Hakeem Nicks and Victor Cruz at the top, followed by Brandon Myers, and then Rueben Randle not far behind the tight end. I wouldn't be surprised, though, if Randle caught more balls but Myers grabbed more touchdowns.
It is worth David Wilson sacrificing carries to remain a factor in kickoff returns.
*
*MICHAEL EISEN: Fact -This is assuming Andre Brown remains a productive second option. Wilson's kickoff returns give the Giants a significant field position advantage which perhaps can't be duplicated by anyone else on the roster. That is worth cutting back – slightly – Wilson's rushing attempts. But only if Brown can adequately pick up the slack.
JOHN SCHMEELK: Fact - Wilson is so good on kickoff's I would live with him carrying it three times less per game to get him back there on kickoffs a couple times in the fourth quarter. A big special teams play can change field position and change momentum very quickly.
DAN SALOMONE: Fact -I don't think the sacrifice would be too great because Wilson can run for days. But if there had to be a tradeoff, I think you have to do it. The Giants wanted a spark from the return game for so long that I don't think they'll turn around and sideline the player that finally provided it.
The leading tackler on the Giants will be from the secondary. *
*
MICHAEL EISEN: Fact - Antrel Rolle has led the Giants in solo tackles each of the last two seasons. So I'm picking him to make it three years in a row.
JOHN SCHMEELK: Fiction -I will roll the dice and say Jacquian Williams will stay healthy and lead the team in tackles this season as the team's only every down linebacker.
DAN SALOMONE: Fact -Last year was the first time a linebacker led the Giants in total combined tackles since Antonio Pierce in 2008. In between, it was Terrell Thomas for two seasons and Antrel Rolle in 2011. As long as Rolle is there, I'll give the edge to him, especially with an unclear lineup at linebacker.