MIAMI - Blood is thicker than crawfish etouffee.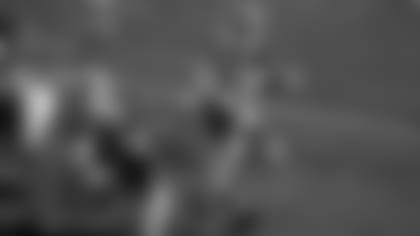 Eli Manning is a proud native of New Orleans and the youngest son of perhaps the most popular professional athlete in that city's history, but he won't be rooting for the Saints in Super Bowl XLIV on Sunday.


Eli Manning is a proud native of New Orleans and the youngest son of perhaps the most popular professional athlete in that city's history, but he won't be rooting for the Saints in Super Bowl XLIV on Sunday. Like his father, former New Orleans quarterback Archie Manning, Eli is pulling for his brother, Peyton, the four-time NFL MVP and the premier passer for the rival Indianapolis Colts.
"No questions about it," Manning told a small group of reporters today. "If you think about it, I've been cheering for the Colts and Peyton for the last 12 years. It goes back to high school when he first got to the Colts. Having been in the NFL for six years myself and played against the Saints a few times, you quickly lose your home team loyalty when you start playing for another NFC team.
"I keep up with the Saints a little bit. A lot of my friends are big Saints fans. But for this game, it's a no-brainer: I will be rooting for Peyton and the Colts."
Archie Manning played for the Saints in the dark days of the 1970s and 80s, when they routinely were one of the NFL's worst teams. Eli, who was born in early 1981 and attended many games when his dad was a Saints announcer, said he has no special feelings about New Orleans playing in the Super Bowl for the first time.
"It doesn't spark a lot of emotion, I don't think," Manning said. "I think it comes back to the fact that for the last 10-12 years, I've been rooting for Peyton and the Colts. I've been following them more than I was the Saints through college and everything.
"Obviously, it's great for the city of New Orleans. I'm excited for that aspect. New Orleans is going through a lot – (Hurricane) Katrina and losing a year at the dome and opening up the dome a few years ago and then coming back and making their first Super Bowl. From that sense, I guess I'm more excited for New Orleans."
Manning does have enjoyable and vivid memories of attending Saints games in the Louisiana Superdome with his older brothers, Cooper and Peyton.
"Peyton, Cooper and I would go to every home game," Manning said. "My dad was announcing games. That was big-time for me, to go with my big brothers to the games. They always gave me the worst seats – I had to go all the way in. They each got to rotate and bring a friend every game. I never got to bring a friend. My dad would just drop us off – I was probably seven to eight, nine years old all through the years and going to the games – I just remember we'd get their really early, because my dad was doing the game. And we'd stay after and hang around and go to the locker room. My dad would drop us off and say, 'Don't forget about Eli, make sure he gets a hot dog. Don't just leave him somewhere.' It was more babysitting.
"Those were fun times. (New Orleans had) the Dome Patrol. The Saints had great defenses. That was the first time the crowd got a penalty for being too loud, getting flags for the yelling and screaming, as loud as it was in there. A lot of fond memories."
The Saints endured some of their worst seasons before Manning was born. But he is well-versed in the franchise's most bleak history and how it impacted his family. One popular tale is that New Orleans was so bad in 1980 – they finished 1-15 – that Cooper asked Olivia Manning if the family could move.
"I've heard some stories," Eli said. "They were at Saints games and my mom was there with Cooper and Peyton and she looked down and they were wearing the Aint's – the bag over the head. They didn't really know what they were doing, they just thought it was funny to put a bag over your head. They went through some tough times with the Saints. But they still have a lot of fond memories and great stories."
Manning spoke before being tested at the Gatorade Performance Lab in the Super Bowl XLIV Media Center. The Gatorade Sports Science Institute (GSSI) is conducting performance tests on a number of NFL players. The tests will measure various fitness levels and the athletes will use Gatorade's G Series products. They will also receive customized reports from the GSSI.
Manning covered a broad range of subjects in his talk with reporters who cover the Giants:
*On how Peyton is handling his second Super Bowl:
"He's doing well," Manning said. "Hopefully, that can be an advantage for the Colts. They've been in this situation. They're staying in the exact same hotel that they were a few years ago (when they defeated Chicago in Super Bowl XLI). It's back in Miami. They've got the routine down on what to expect. A lot of this will be new for the Saints and some of their guys. You hope it's an advantage and guys are as excited as they were a few years ago (and) they're not relaxed about it.
"Peyton seems pretty loose and going through his business and confident and ready to play."
*On the marquee quarterback matchup between Peyton and Drew Brees:
"Both of them are playing very well," Manning said. "Peyton is playing extremely well and Drew has been outstanding all season and through the playoffs. They're both just in a groove offensively. And both defenses have been playing very well. They're kind of different styles. The Saints are more junky and causing turnovers and the Colts are kind of a bend, don't break. They can also get turnovers but in a different, more simplistic way that they play defense. It will be interesting to see what happens. It can go either way. I think some points will be scored. I don't think it will be a low, low scoring game, but I think defenses will make some plays in there also."
*On Jeremy Shockey playing for the Saints in the Super Bowl after missing the Giants' victory two years ago because he was sidelined with a fractured leg:
"I'm excited for Jeremy," Manning said. "The year we made the Super Bowl, he was a big part of us winning a lot of those games early in the season. Obviously, he got hurt and didn't get to experience the Super Bowl and play in it, so I'm excited he gets to. He's a good player and a tremendous competitor and I'm excited he's getting the opportunity to play in the game."
*On what he's looking for in a new quarterbacks coach (after Chris Palmer's retirement):
"You just need somebody who will have good drills," Manning said, "(will) work well during the offseason when we come back in March and just getting your mechanics and footwork back and tuned up, watching all the film, continue to grow (in the) decisions in our offense and what we need to do with certain looks, whether it's for protections or certain plays and just give me ideas and tips. Also, you want a guy that has your back, whether it's in a game, someone who can tell you something you need to hear, just talk to you and keep everything going. I'm going to go back to New York and talk with Tom (Coughlin) next week – not just about that, just about everything and try to figure out where we're going in that direction.
"I was sad to see Chris go. We had a great relationship and really got along well. I thought the three years that we worked together I became a better quarterback. I'm excited about continuing to grow with whomever, whether someone comes aboard or he promotes from within."
*On what happened to the Giants in 2009, when the team started 5-0 and finished 8-8:
"I don't think there's an exact answer," Manning said. "We just didn't play very well. The end of the season was probably the worst. We were playing our absolute worst football. We lost some tight games early on and some close ones where we were right in the mix that you wish you had back. But that's part of football. You have to win those tight games, you have to win those close ones in the fourth quarter. And that's what we weren't able to do."
*On whether he wants to work on anything in particular this offseason:
"I'll start working on that in these next weeks, when I start watching the film and looking at things," Manning said. "But I think just grow – getting us into better plays, getting more completions. We have young, talented receivers. We have to eliminate little mistakes, whether it's simplify within the offense and hopefully the receivers grow and improve. Mistakes will kill you. You want to go through a game where everybody is doing the right thing and everybody is on schedule. Obviously, there are going to be some mistakes that happen. If somebody physically beats you and they make plays, that's one thing. But if you hurt yourself, you don't want to have those anymore."
*On his foot (Manning hurt his plantar fascia on Oct. 4 in Kansas City, but never missed a game):
"The foot feels good," he said. "The rest has felt good this last month or so. It shouldn't be a problem. I've been working out and training a little bit. I took time off. I'm trying to let it heal up and not put too much strain on it.
"They want me to rest it and get an MRI on it later, so I'll probably do that this week, just to see how it's healing up and make sure everything is the way it's supposed to be."
*Another humorous story from 1980:
"My mom was pregnant (with Eli) and Georgia was playing in the Sugar Bowl," Manning said. "They (Cooper and Peyton) wanted to name me Herschel Walker Manning."
*Noting the last time the Colts won the Super Bowl, the Giants won the following season:
"Hopefully, that's a routine," Manning said. "But that's easier said than done. We have a lot of work to do."
"I think the Colts will win. 31-24."
If you'd like to submit a question or comment to Michael, click here.