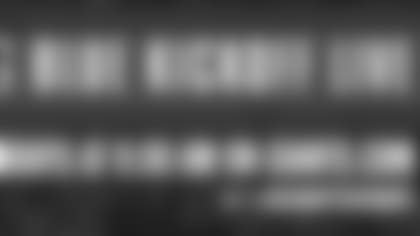 Free agent lineman to freelance writer.**
New Giants guard Geoff Schwartz, in a special to Bleacher Report, wrote about his experience in free agency. His wedding, which was the weekend before he signed, only added to the frenzy. Below is an excerpt from the article. You can read the firsthand account in its entirety on Bleacher Report. 
[A few days before that, my agent, Deryk Gilmore of Priority Sports, had called me and asked one question: "Are you going on a honeymoon?" I informed him that I wasn't because I knew free agency was going to begin Tuesday. He breathed a sigh of relief, said "OK," and let me know he thought it might be a wild next week. I calmly said, "Alright," hanging up the phone and trying not to get overexcited.]
Pair of Giants elected to NFLPA Executive Committee.** While the NFLPA Board of Directors elected Eric Winston as President of the NFL Players Association on Wednesday, current Giants Zak DeOssie and Mark Herzlich were also elected to the NFLPA Executive Committee by the Board of Representatives during the annual meetings in Orlando.
3. NFL Health & Safety Update.Topics in the NFL's weekly release included a study that says there is no link between high school football and brain decline; the House Energy and Commerce Subcommittee on Commerce, Manufacturing and Trade meeting with representatives from the NFL, NHL, youth sports leagues, and athletes and doctors to discuss efforts to improve sports safety; NFL teams host moms for football safety clinics; and the NFL Physicians Society establishes award for academic excellence.
4. Bracketology: Eli vs. Brady III. NFL.com joined in the bracket madness to determine "Who is the greatest NFL quarterback of all-time?" Eli Manning is a No. 8 seed in the "Right Now Bracket" taking on No. 1 Tom Brady in the first round. Meanwhile, Phil Simms is a No. 7 seed in the "MTV Bracket" taking on No. 2 Dan Marino. Go vote on NFL.com.
5. Tyree appreciates the love.When you're done filling out your NFL.com bracket, make sure to come back to ours on Giants.com, which is currently in the first round of deciding the greatest play in franchise history. Manning's pass to David Tyree in Super Bowl XLII is the play
EISEN'S MAILBAG: Do you have a question for Giants.com's Michael Eisen? CLICK HERE