EAST RUTHERFORD, N.J. – The Giants' roster that faces the Minnesota Vikings on Sunday will include some significant changes from the team that defeated Washington two days ago.
The Giants today added wide receiver Golden Tate and linebacker Josiah Tauaefa and released wideouts Bennie Fowler and TJ Jones. Tate has been added to the 53-man roster after serving a four-game suspension and Tauaefa was on the team's practice squad.
Since improving to 2-2 on Sunday, the Giants have added three players. Yesterday, in an exchange of rookie defenders, they were awarded end Chris Peace off waivers from the Los Angeles Chargers and placed linebacker Ryan Connelly on injured reserve.
Tate, a 10-year veteran, was one of the Giants' most important offseason acquisitions as a free agent. His career regular-season totals include 611 receptions, 7,214 yards and 38 touchdowns for Seattle, Detroit and Philadelphia. Tate caught at least 90 passes in every season from 2014-2017 with the Lions. In 10 career games against the Vikings, he has 50 receptions, his second-highest total against any opponent (Green Bay, 52).
Tauaefa, 6-1 and 235 pounds, is a rookie free agent who spent the season's first month on the Giants' practice squad. He led the team in the preseason with 16 tackles (10 solo), including one sack. He also recovered a fumble. In three seasons as UTSA, Tauaefa had 257 tackles (121 solo) and 11.5 sacks.
Peace, 6-2 and 238 pounds, was signed by the Chargers as a rookie free agent on April 27. He played briefly in their season-opening victory against Indianapolis.
Fowler was third on the team with 12 receptions and Jones had three catches and eight of the team's 10 punt returns this season. The former signed with the Giants on Oct. 16, 2018 and caught 16 passes and scored one touchdown in 10 games last season. Jones first joined the Giants on July 27 and was released on Aug. 31 and re-signed on Sept. 11. He had three catches for 38 yards and a touchdown against Buffalo in Week 2.
Connelly had played in all four games this season with starts in the least three and had 20 tackles (10 solo), two interceptions and one sack.
*The Giants also added wide receiver Da'Mari Scott and linebacker Devante Downs to their practice squad.
Scott, 6-0 and 205 pounds, was with the Giants from July 24 to August 21 this season. In 2018, he played in three games for Buffalo and did practice squad stints with the Bills and Cleveland Browns.
Downs, 6-2 and 252 pounds, was waived by the Vikings on Sept. 24. He totaled 22 special teams snaps in Minnesota's Week 2 and 3 games at Green Bay and vs. Minnesota. Downs was a 2018 seventh-round draft choice by the Vikings, from California. He played in 11 games as a rookie and had three special teams tackles.
Giants vs. Vikings Broadcast Info: TV channel, Radio Station and Live Stream.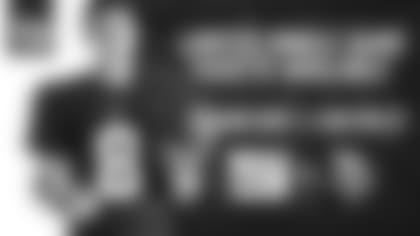 Limited tickets on sale for Giants vs. Vikings
See the Giants take on the Vikings on Sunday, October. 6 at 1:00 PM ET