The New York Giants and Ford are proud to celebrate Latino Heritage Month, which officially kicked off Thursday, Sept. 15. Throughout the month, the team is collaborating with members of the Latino community to cultivate relationships with the fanbase and establish new ones.
On Sept. 6, offensive linemen Jon Feliciano and Max Garcia teamed up with Latino youth football athletes hailing from organizations around Paterson, N.J.: East Side High School, John F. Kennedy High School and Paterson Youth Football League. The athletes celebrated the power of football by participating in a park cleanup at Clemente Park in Paterson alongside Giants staff and Ford employees.
Roberto Clemente, for whom the park was named, is the first Latino-American to be inducted into the Baseball Hall of Fame. A Puerto Rico native, Clemente was instrumental in carving a place for Latinos in sports. He led the Pittsburgh Pirates to a World Series in 1960 and again in 1971. Off the field, Clemente was committed to empowering the youth, especially those coming from low-income households. Clemente's humanitarian principles drove his life, and he died a hero in 1972 when delivering necessities to Nicaraguan earthquake survivors.
The Roberto Clemente Park Cleanup embodied the late Clemente's philanthropy through and through. Paterson is home to a large Hispanic population, and as the third-largest city in New Jersey, it prides itself as one of the fastest-growing destinations for Dominican Americans. The New York Giants have a particularly special connection to the city, as Giants Legends Victor Cruz and Keith Hamilton are Paterson natives.
Cruz's Paterson Catholic High School coach and Giants 2020 High School Coach of the Year, Assemblyman Benjie Wimberly, took part in the event as the city's Director of Recreation. Mayor Andre Sayegh, who is an outspoken advocate for inclusivity and was instrumental in installing ADA-compliant equipment at Roberto Clemente Park in November 2021, also represented city leadership.
After the cleanup, the Giants Foundation recognized football's profound impact in the community with a $5,000 check to the Paterson Youth Football League. Ford matched the donation for a total of $10,000. The award enables youth football to retain its footholds in the community and continue supporting Latino youth.
For more information about the Giants' Latino Heritage Month activations, Giants fans can visit Giants.com/LosGigantes and explore to the newly launched "La Esquina Gigante" podcast, presented by Ford, available on podcast platforms and YouTube.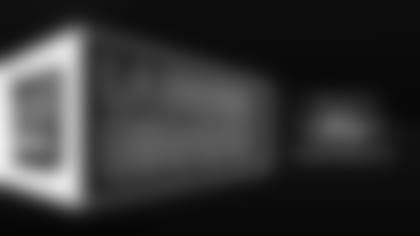 La Esquina Gigante
Suscríbete a "La Esquina Gigante" en tu plataforma de podcast favorita o disfrútalo cada semana en Giants.com, la aplicación de los Giants y YouTube.
Apple | Spotify | iHeartRadio | Google