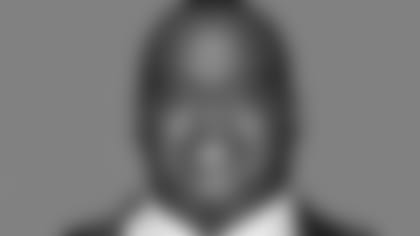 EAST RUTHERFORD, N.J. –** The Giants today announced three personnel moves on their coaching staff.
Lunda Wells, entering his second season with the team, is the new assistant offensive line coach. He spent last season as an offensive assistant. Wells replaces Matt Rhule, who left the Giants after one year to become the head coach at Temple University.
Replacing Wells as the team's offensive assistant is Ryan Roeder, a former quarterback at the University at Albany who spent the last three seasons as the tight ends coach at Princeton University.
The Giants also hired Robbie Leonard as the team's new defensive assistant. He replaces Al Holcomb, who left to be the Carolina Panthers' linebackers coach.
Wells spent his first season with the Giants as an offensive assistant. He joined the team in 2012 after spending four seasons on the staff at LSU, where he started as a volunteer. He was later responsible for preparing breakdowns of tape and helping with special teams preparations. The Tigers' special teams coach is Thomas McGaughey, who was an assistant with the Giants from 2007-10. Wells is a native of Baker, La., just outside Baton Rouge. He was a Class 5A first-team all-state offensive line selection at Baker High School. Wells was recruited by powerhouses like Alabama and Nebraska. He enrolled at Southern University, redshirted a season to improve his grades and became a four-year starter on the offensive line. At Southern, Wells earned a Southwestern Athletic Conference championship ring, a bachelor's degree and, in 2007, a master's degree. Wells had had two brief stints in Arena Football. During the offseason, he coached at Scotlandville High School. Roeder was a first-team All-Northeast Conference quarterback at Albany, which he led to the 2002 NEC and ECAC championships. He completed 131 of 213 passes for 1,366 yards and eight touchdowns as a senior. Roeder also rushed for 259 yards and eight TDs, and he recorded the fifth-best mark in school history with 1,625 total yards. He ranks second in total offense (4,039), third in passing yards (3,546) and is tied for fourth in passing touchdowns (24) in the school's record books.
Roeder began his coaching career in 2004 as the assistant offensive line coach at Holy Cross. He then returned to Albany, first to coach the running backs and then the wide receivers. From 2006-2008, Roeder worked with the wide receivers, tight ends and assisted the offensive line coach at Temple University. He spent the 2009 season as the wide receivers coach at Rhode Island before moving to Princeton.
Leonard comes to the Giants from North Carolina State, where he was a defensive assistant. Leonard was a three-year letterwinner as a linebacker for the Wolfpack. He was second on the roster in total tackles with 100 while forcing three fumbles in 2008.
A native of Moon Township, Pa., Leonard originally walked on to the team in 2006, playing all 12 games on special teams before making eight appearances as a free safety in 2007. Leonard moved from safety to linebacker during spring drills in 2008. He graduated in 2008 with a degree in sports management.