Introducing "Los Giants" And "Made In NY" Limited-edition Collection
Agni Atelier isn't a brand that will just slap a graphic on anything. Neither are the Giants.
Although licensing is typically reserved for retail Goliaths, the NFL created the Local Designer Collaboration Program to give the Davids of the industry an opportunity to create products featuring the marks and logos of its clubs. Or in the Giants' case, it's the Ariels and Jorges.
In celebration of Latino Heritage Month, the Giants partnered with Ariel Gonzalez and Jorge Peña, longtime friends and co-founders of Agni Atelier. The New York-based luxury streetwear company designed a limited-edition collection that features "Los Giants" and "Made in NY" branding. The clothing line, which is available for purchase now on agniatelier.com, includes hoodies, t-shirts, crewnecks, and socks alongside the familiar "ny" and "GIANTS" logos.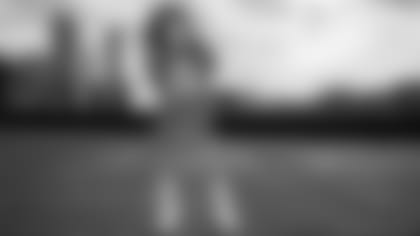 "I'm from Brooklyn, he's from Harlem, we're Dominican, we love this city," said Gonzalez, creative director of Agni Atelier. "We're all about the city. You think about the Giants, you think about New York. We take pride in knowing that most of our product gets made here in New York's Garment District. Even on our hang tags, it says, 'Made in New York.' It's in our blood, so we're proud to take this brand to another level and partner with the New York Giants."
Since their launch, Agni Atelier has been worn on red carpets and in music videos and magazines. Supporters of the brand include music artists like Future, J Balvin, Daddy Yankee, and Lil Baby, to name a few.
They named their brand after Agni, the god of fire, so it was only right for them to launch the "fuego" collection. It immediately became one of their top sellers.
"We love the word 'fuego', we're Latinos," said Peña, marketing director of Agni. "You could be from any part of the world, you know what fuego means. It's about quality over quantity. Our parents instilled that in us, and we brought that attention to detail to our brand and now we're bringing it to our collaboration with the Giants."
Sports is the next frontier.
After the Giants met with numerous designers, Gonzalez and Peña set themselves apart with their knowledge of creating high-end quality products. They also have a strong commitment to the community, where Latinos represent a large portion of the Giants' fan base.
"When the NFL opened up the Local Designer Collaboration Program, we knew we wanted to use this opportunity to highlight Latin excellence in the design community in celebration of Latino Heritage Month," Giants Vice President of Digital Marketing Nilay Shah said. "Throughout the creative process, Ariel and Jorge were not only passionate about creating high-end products but also about making a difference in the community."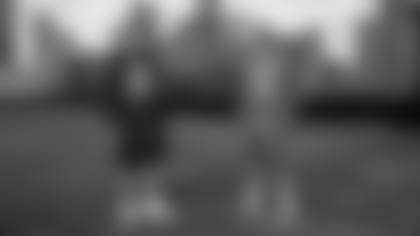 Gonzalez and Peña are working with the Giants to engage and support students from The Island School PS/MS 188 on the Lower East Side of Manhattan with resources to learn about fashion, entrepreneurship and the sports industry.
"My whole family is in education," Gonzalez said. "I'm the only one that went the entertainment and fashion route; however, my aunt is a principal, my mom's a teacher, my cousin's a teacher, everyone. Jorge and I always love giving back to the community. What we want to do is open these doors for the kids and let them see that someone who looks and talks like them can build a brand. We want to give them opportunities we didn't have."
Gonzalez and Peña have known each other since they were teenagers. They attended the High School of Art and Design, a leading institute in developing gifted artists in Midtown Manhattan. They enrolled with dreams of making it in the comic book world.
"We've had these skills since we were kids," Peña said. "I learned how to draw around the age of four years old. My mother noticed my talents and kept pushing me to get better. Art became an outlet for me. I was always in the park drawing and just fell in love with creating. It also kept me out of trouble."
"We're New Yorkers, we're competitive by nature," Gonzalez said. "We became best friends when we realized we had similar backgrounds. Our parents came from the Dominican Republic in hopes of a better life. They instilled hard work and determination in us, and we bring that work ethic to everything we do inside and outside of the business."
While Peña wanted to be the next Stan Lee, Gonzalez was inspired by fashion designer Marc Ecko. Their school cut the cartooning program, and Gonzalez was automatically enrolled in fashion classes.
Next, Gonzalez took a job at a clothing store at a time when hip-hop and fashion were merging. Gonzalez helped artists like Nas, Busta Rhymes and Jadakiss – "you name it, they came into our store." After a while, word made its way up to the company's owner, who asked why Gonzalez was still working on the floor because he should be in the office.
"At the age of 19, I became the assistant buyer for the company, so I was like the youngest buyer in New York," Gonzalez recalled. "I was sitting in meetings with the biggest names in the business. Everybody else had white hair. They're looking at me like, 'Who is this kid?' And then everything started taking off from there."
After a few years, Gonzalez wanted to do something different and became a celebrity stylist. He then met Seth Gerszberg, Marc Ecko's business partner, through his friend Edgar Andino, leading him to work for the source of his inspiration. He became Ecko's creative director, and the doors opened wide. He made contacts, gained access, learned how to design and produce a collection, while envisioning one day building a new brand with Peña.
Meanwhile, Peña had taken a different path since their days at the High School of Art and Design. He became one of the top product specialists and then sales director at a big-name automotive dealership.
"Jorge could sell anything to anyone," Gonzalez said. "You know the old saying: He could sell water to a whale."
"I learned how to accommodate clients, having to solve problems for both customers and the dealership. At same time creating different advertising plans that assisted the dealership in raising the volume in sales," Peña said. "I spent the last 15 years in sales, I was able to intertwine my creativity, skills and passion to grow the business."
Then the time came to start their own business. They found success with their hoodies, but they were looking to take the next step. The opportunity presented itself out of an inopportune circumstance when Peña was let go by his company during the early stages of the pandemic.
"Unfortunately, I got let go, but it opened up a huge door for us," said Peña. "Ariel and I were really able to step on the gas and focus 24/7 on the brand."
"It was the best thing that could've happen," Gonzalez said.
They now had time for the full-scale rollout of the Agni Atelier brand. After all their hard work running up and down the Garment District, people started to talk. And the Giants noticed the heat.
"This collaboration is more than a fulfillment of a dream; it's a vision turning into reality," Gonzalez said. "I remember watching the Giants win Super Bowls with my mom. I remember always wanting to build my own brand like my idols, and everything has manifested itself."
"Whatever we've set our sights on, we've accomplished," Peña said. "We're proof that anyone from any background can make anything happen. We hope our story inspires others to push through with their dreams, you just have to visualize them and put in the hard work to make it a reality."