EAST RUTHERFORD, NJ - It's very early, but the Giants have thus far had more success as guests than hosts in their new home.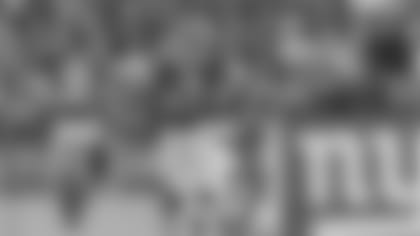 Their home debut in the New Meadowlands Stadium was not one to savor as the Giants fell to the Pittsburgh Steelers, 24-17, on Saturday night.
The Giants fell to 1-1 this preseason. They defeated the Jets as the visiting team last Monday, 31-16.
Third-string quarterback Rhett Bomar played the entire game because of injuries to Eli Manning and Jim Sorgi. Bomar completed 13 of 26 passes for 167 yards, no touchdowns and an interception. He was sacked twice.
"Bomar went in there and he got hit a number of times, unfortunately – I'm sure he'll be sore tomorrow," Coach Tom Coughlin said. "But he showed some toughness, he showed some ability in there. He did a good job with maneuvering the offensive plays around."
Bomar's initial review of his performance was positive.
"I thought it went well," Bomar said. "There were ups and downs. There were a few throws that I would like to have back, no doubt. It was a great learning experience to get out there. I got comfortable as the game went on. I felt that I was comfortable with our checks, with the blitzes, and the stuff that you have to do as a quarterback at the line. I thought I was making my calls and some of the alerts we had."
This was Bomar's first extended action since Nov. 22, 2008, when he played the final game of his collegiate career for Sam Houston State.
"It was great," Bomar said. "It was fun to be out there, be out there with the pressure and things flying at you. It was great to be a competitor and I feel like I am a competitor so I am going to go out there and play. It was fun."
Bomar's tenure as the starter will be brief. Tom Coughlin said after the game that Manning had his stitches removed yesterday and the quarterback should return to practice this week. The Giants next play Saturday night in Baltimore.
They will first digest and review the Steelers game, which had its positive moments, but not nearly enough to please Coughlin.
"Disappointed we didn't win, obviously," Coughlin said. "I think we played hard, we gave up some rushing yards, particularly in the second half in the middle there. That's a concern."
The Steelers rushed for 161 yards, but needed 41 attempts to get them, a 3.9-yard average.
"There were some decent plays made (defensively)," Coughlin said. "A turnover was made (Corey Webster's interception). I think we did a pretty good job in the first half. We were very much in the game. Just as I said, one of the goals was to run the ball and stop the run. We didn't run it tremendously, but we did have some yardage. But I was disappointed we didn't stop their run with more efficiency.
"We were a little bit heavy legged in the beginning," defensive end Justin Tuck said. "We felt a little more fresh after a while. We kind of hit more of the game plan today. We started opening up a little bit more and it gave us a lot of freedom out there to be able to get some penetration. And lucky for us we made some great plays. We got some tackles for losses. And we will be able to build on this."
For the 2-0 Steelers, Byron Leftwich threw a 68-yard touchdown pass to Mike Wallace, Isaac Redman (12 yards) and Dwayne Wright (one yard) ran for scores and Jeff Reed kicked a field goal.
Ahmad Bradshaw (nine-yard run), Andre Brown (one yard) and Lawrence Tynes (42-yard field goal) scored the Giants' points.
Tynes' field goal with 5:49 remaining moved the Giants, who had trailed by 17 points, within a touchdown and in position to complete an impressive comeback. The Giants forced the Steelers to go three-and-out, then did the same when Bomar's scramble was four yards short of a first down. The Steelers then ran out the final 3:04.
Brown's one-yard run with 12:23 remaining in the fourth quarter pulled the Giants to within 24-14 and concluded an eight-play, 82-yard drive.
On second down, Brown burrowed through the middle for the touchdown. Steelers coach Mike Tomlin wasn't convinced Brown scored before losing the ball and challenged the ruling. But referee Scott Green upheld the call on the field.
"I knew I crossed the plane of the goal line," Brown said.
Earlier in the series, Bomar threw 10 yards to Victor Cruz and 11 yards to Sinorice Moss and scrambled for a 10-yard gain. He also absorbed a late hit from Ziggy Hood that resulted in a 15-yard roughing the passer penalty that moved the Giants to Pittsburgh's 36-yard line.
Pittsburgh executed touchdown drives of 78 and 82 yards in the third quarter to increase its lead to 24-7.
The Steelers took the second-half kickoff and drove 78 yards in nine plays.
Dennis Dixon's 11-yard pass to Arnaz Battle enabled Pittsburgh to convert a third-and-four. On the next play, Dixon's pass to Emmanuel Sanders gained 24 yards. He later threw 11 yards to Sanders and eight yards to Justin Vincent, putting the Steelers at the Giants' 16-yard line. Redman did the rest of the work, running four yards off left guard and 12 yards off left tackle for the touchdown that pushed Pittsburgh's lead to 17-7 with 9:54 remaining in the quarter.
After the Giants went three-and-out, the Steelers embarked on another long march as Dixon and Vincent picked up the bulk of the yardage. Vincent ran for 28 yards and Dixon passed for 23 and added a 22-yard run to the nine. Wright gained the rest on runs of seven and two yards, the latter off the left side for the score and a 17-point lead with 3:52 remaining.
A long pass play late in the second quarter regained the lead for Pittsburgh.
Leftwich, who replaced Ben Roethlisberger earlier in the quarter, fired a 68-yard touchdown pass to Wallace to put the Steelers back on top, 10-7. Wallace got behind cornerback Bruce Johnson in the center of the field, caught Leftwich's perfectly-thrown pass at the 15 and jumped into the end zone.
Pittsburgh drove 83 yards in four plays following a Giants punt. On the play immediately preceding the touchdown, Wallace caught a 12-yard pass from Leftwich.
The Steelers had an opportunity to pad their lead, but couldn't score on three plays from the Giants' one-yard line in the final 23 seconds of the half.
Pittsburgh gained possession after a Bomar pass tipped off Mario Manningham's hands and was intercepted by Crezdon Burnett, who returned it 25 yards to the Giants' 44-yard line with 53 seconds remaining.
Mewelde Moore immediately ran 17 yards around left end and the Steelers used their first timeout. Leftwich then scrambled 11 yards up the middle to the 16-yard line and called timeout No. 2. When play resumed, Leftwich threw a strike to Antwaan Randle El, who was downed at the one.
Leftwich tried to score on a quarterback sneak, but was stopped short of the goal line. Tomlin used his third and last timeout with 14 seconds left. Leftwich then threw a fade pass to the left side for Randle El, but it fell incomplete. On third-and-goal from the one, Moore ran up the middle. But, like Leftwich, he was stonewalled shy of the end zone. The Steelers tried to hurry up, but time expired before they could snap the ball.
Bradshaw's nine-yard touchdown run gave the Giants a 7-3 lead with 7:15 remaining in the second quarter. On first-and-goal, Bradshaw took a handoff running left, turned the corner and crossed the goal line before cornerback Bryant McFadden could bring him down.
"We had a zone play going," Bradshaw said. "They stuffed it up the middle pretty good. I believe they had a blitz on. Everybody blocked it up good. And I jumped it to the outside and I was able to sprint to the corner."
The score capped a seven-play, 75-yard drive highlighted by Steve Smith's terrific 45-yard reception on the first play of the series. Smith sprinted down the left side of the field, where cornerback David Pittman seemed to have better position to catch the ball. But Smith reached up and grabbed Bomar's pass while staying inbounds for the long gain.
Bradshaw then ran the ball three consecutive times for a total of 12 yards. After an incompletion, Bomar connected with Derek Hagan for a nine-yard gain on third-and-nine. Bradshaw ran it in on the next play.
The Steelers scored the game's first points on Reed's 26-yard field goal with 10:43 remaining in the second quarter. Pittsburgh drove 68 yards in 12 plays before the field goal, including consecutive Roethlisberger completions of 13 yards to Heath Miller and 17 yards to Randle El (on third-and-14). The second of those passes gave the Steelers a first down at the Giants' nine-yard line. But the defense stiffened, aided by a two-yard sack that was split by Mathias Kiwanuka and Justin Tuck, and after a third-down pass fell incomplete, Reed put Pittsburgh on the scoreboard.
*The Giants had two 45-yard plays: the pass to Smith and Aaron Ross' punt return.
"It felt really good to finally get my hands on the ball again," Ross said. "I have to get my vision back so that I can take it all the way to the house. Overall, it was great blocking. I was able to hit the hole and just kept running."
*Linebacker Keith Bulluck made his Giants debut and safety Kenny Phillips saw his first game action since last Sept. 20 in Dallas. It was the first time either played since their respective knee surgeries, Bulluck in December to repair a torn ACL, Phillips last September to address an arthritic condition in his knee. Each was limited to six plays.
"It felt great just being back out there," Bulluck said. "I felt great. I guess you could say I am officially a New York Giant."
Bulluck was credited with a tackle after Redman's four-yard run on his first play.
"I should've made it three yards earlier," he said. "Coming in midway through the game, you're not up to game speed yet. There is way more for me to go. I really feel like I just got my feet wet."
"It felt good, it really felt normal," Phillips said. "It's like riding a bicycle, you really never forget how to do it. I didn't get a chance to make too many plays, but in the little time I was out there, everything felt great."
*Wide receiver Hakeem Nicks and Pittsburgh cornerback Ike Taylor were ejected on the game's fourth play for throwing punches. They came to blows after a four-yard run by D.J. Ware.
"I've never been ejected from a game in my life until tonight," Nicks said. "I was blocking downfield and trying to finish my block, and the next thing I knew, he was throwing punches, so I tried to defend myself. I'm disappointed because I let my coaches and teammates down. These preseason games are important, because we've got to get our work in as an offense."
*Running back Brandon Jacobs was a late scratch because of a stiff neck. "It's a sore neck," general manager Jerry Reese said. "It's alright. It's all he has. He's good."
Ware, not Ahmad Bradshaw, started in his place…Sha'reff Rashad started at safety for Antrel Rolle. A source said Bradshaw and Rolle did not start because they were late for meetings. They were on the field for the first play of the second offensive and defensive series, respectively.
"I was in the hotel and I read my schedule wrong, so I was late for a special teams meeting," Rolle said. "I've been around long enough to understand there are consequences, so I took it like a man. There is no issue. We'll move on."
Ironically, Ware and Rashad, the two players who made unexpected starts, both left the game after suffering concussions. Ware was hurt in the second quarter after he was hit covering a punt.
*Rookie receiver Victor Cruz, who scored three touchdowns vs. the Jets, caught two passes for 30 yards, including a 20-yarder on the drive that ended with Tynes' field goal.
*Sixth-round draft choice Adrian Tracy led the Giants with nine solo tackles.
"Tracy, I thought toward the end of the game started to play a little bit better." Coughlin said.
*Giants players not in uniform included quarterbacks Eli Manning (forehead laceration) and Jim Sorgi (shoulder), guards Chris Snee (knee) and Rich Seubert (hand), safety Michael Johnson (back), wide receiver Ramses Barden (back), linebacker Chase Blackburn (knee) and fullback Jerome Johnson (shoulder). Offensive lineman Shawn Andrews, who signed yesterday, watched the game from the sidelines.
*William Beatty again started at left tackle, with David Diehl moving inside to guard. Guy Whimper started at right guard.
*Manning, who needed 12 stitches to close the cut that opened when he was hit last Monday vs. the Jets, missed a game for the first time since Sept. 1, 2005, a preseason game against New England. He has started 87 consecutive regular season games.
*Giants great Michael Strahan watched the game from the Giants' sideline for the second week in a row.
*The Giants' captains were Kareem McKenzie, Chris Canty, Gerris Wilkinson and Tynes.
--- ](http://www.nyg2010.com/)**