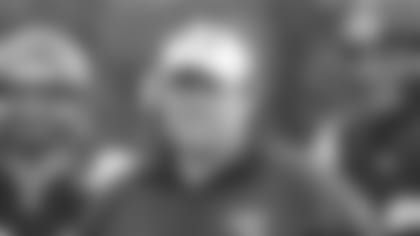 East Rutherford, NJ – The New York Giants have selected Mr. Nick Ianello of Rye Neck High School (Mamaroneck, NY) as "The Lou Rettino High School Football Coach of the Week" for the week of October 14, 2013. The Panthers pulled off a huge win in overtime this past weekend, defeating the Woodlands Falcons 41-40.
In recognition of Coach Ianello's success and commitment, he will receive a certificate of recognition signed by NFL Commissioner Roger Goodell and Giants Head Coach Tom Coughlin and a $1,000 check will be granted to the Panthers football program. Coach Ianello will be acknowledged by a stadium announcement when the Giants host the Minnesota Vikings on October 21st and an announcement will also be posted on the Giants website, www.giants.com.
The Lou Rettino High School Football Coach of the Week Award is part of the Giants' continuing effort to promote youth football. The Giants elected to name the award in memory of former Union High School (NJ) coach, Lou Rettino, for his fine commitment to the game of football, his community and the betterment of his athletes' lives.
Each week during the 2013 high school football season, the Giants will select one area high school head coach as the Coach of the Week winner. The selection is based on the coach's continuing commitment towards promoting youth football, developing motivated student-athletes and his overall community involvement. At the conclusion of the 2013 season, the Giants will choose a Coach of the Year. That coach will receive $2,000 for their school's football program. They will also be invited to attend a dinner hosted by the Giants.
Coach Ianello has been coaching football at the high school level for 36 years. He's been coaching football at Rye Neck High School for 11 years and currently holds a 57-36 record with 8 playoff berths, 3 sectional final appearances, 4 league titles and 2 Section 1 Class C/D Coach of the Year honors.
Coach Ianello attended Rye Neck High School from 1973-1977 where he played on the football team all 4 years. He is blessed to have the support and patience of his wife, Julie Anne and his two daughters, Julia and Jamie.