East Rutherford, NJ – The New York Giants and Gatorade have selected Mr. Adam Baeira of Ramsey High School (Ramsey, NJ) as the Lou Rettino High School Coach of the Week for Week 9 of the 2021 season. The Ramsey Rams finished the 2021 regular season with a perfect 9-0 record. It was the school's first undefeated regular season since 1982. The Rams went 6-1 in Coach Baeira's first season as head coach at Ramsey in 2020, winning the Super Football Conference American Red Division.
The Lou Rettino High School Football Coach of the Week Award is part of the Giants' continuing effort to support local youth football programs. The Giants elected to name the award in memory of former Union High School (NJ) coach, Lou Rettino, for his fine commitment to the game of football, his community and the betterment of his athletes' lives. Each week during the high school football season, the Giants selected one area high school head coach as the Coach of the Week winner. The selection is based on the coach's continuing commitment towards promoting youth football, developing motivated student-athletes and his overall community involvement.   
In recognition of Coach Baeira's selection as Coach of the Week, a $2,000 check will be granted to the school's football program from The Giants Foundation and Gatorade. He will also receive a certificate of recognition signed by Giants head coach Joe Judge.
Adam Baeira has spent his early coaching years as an assistant to some of the legendary coaches in New Jersey history. He was an assistant on Coach Greg Toal's staff at Don Bosco Prep from 2006-2009, winning four state championships with a 47-1 combined record. Following one season at Becton Regional as an assistant, he joined Hasbrouck Heights in 2011 to serve as offensive coordinator for Nick Delcalzo. In Baeira's nine seasons, the Aviators went 81-18, winning 6 League Championships, 2 NJIC Conference Championships and three consecutive State Sectional Titles (2016, 2017 & 2018). In his first two seasons as the head football coach, Ramsey has a combined record of 15-1 with two League Championships. Baeira is an alum of Fair Lawn High School, and Montclair State University.
Baeira commented, "I am extremely grateful to be Ramsey High School's head football coach. We have fantastic kids here with a great work ethic and a passion to win. I have a terrific coaching staff who is committed towards the success of our kids both on and off the field. Our administration and staff have been supportive of our program from day one and I couldn't thank them enough. Last but not least, our parents and community members have been behind us all season and I appreciate their loyalty and enthusiasm. I consider myself very fortunate."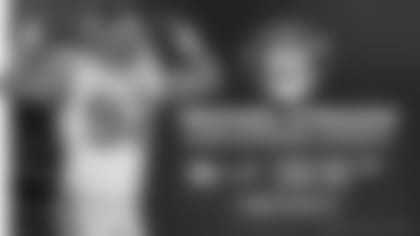 Tickets for Michael Strahan Ceremony
Limited tickets are available for Michael Strahan's jersey retirement game on November 28th