East Rutherford, NJ – The New York Giants have selected Mr. Steve Filippone of Daniel Hand High School (Madison, CT) as "The Lou Rettino High School Football Coach of the Week" presented by Chase for the week of October 12, 2015. Coach Filippone and the Tigers have remained undefeated so far this football season with a 5-0 record after defeating the Hamden Green Dragons this past weekend 34-7.
In recognition of Coach Filippone's success and commitment, he will receive a certificate of recognition signed by NFL Commissioner Roger Goodell and Giants Head Coach Tom Coughlin and a $1,000 check, to be matched by Chase, will be granted to the Tigers football program. Coach Filippone will be acknowledged by a stadium announcement when the Giants host the Dallas Cowboys on October 25th and an announcement will also be posted on the Giants website, www.giants.com.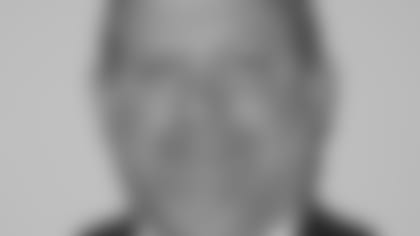 The Lou Rettino High School Football Coach of the Week Award is part of the Giants' continuing effort to promote youth football. The Giants elected to name the award in memory of former Union High School (NJ) coach, Lou Rettino, for his fine commitment to the game of football, his community and the betterment of his athletes' lives.
Each week during the 2015 high school football season, the Giants will select one area high school head coach as the Coach of the Week winner. The selection is based on the coach's continuing commitment towards promoting youth football, developing motivated student-athletes and his overall community involvement. At the conclusion of the 2015 season, the Giants will choose a Coach of the Year. That coach will receive $2,000, to be matched by Chase, for their school's football program. They will also be invited to attend a dinner hosted by the Giants and Chase.
Last year, Chase committed over $17 million in charitable donations in the tri-state area. Investing in the communities it serves is central to how Chase does business, and the firm is committed to supporting programs like youth football that provide young people with access to a positive extracurricular activity.
Coach Filippone began his coaching career in 1978 at New Canaan High School as the offensive line coach. He took an assistant position in 1979 at Daniel Hand High School and has been there ever since, eventually becoming the head coach in 1989. His current coaching record is 237-74, putting him 2nd out of active coaches in CT. Coach Filippone and the Tigers were State Champions in 1989, 1997, 2003, 2004, 2005, 2011 and 2012 and were the Number 1 Team in CT (consensus) in 1997, 2004 and 2013. Under his leadership, the Tigers went undefeated in the regular season in 1997, 2004, 2007 and 2013 and went to League or Conference Championships 15 times. In addition to coaching football, Coach Filippone was the head coach for the baseball team from 1980-1989.
Coach Filippone has been named the State or Area Coach of the Year 10 times, received the Larry McHugh Award for Distinguished Service to Football and has been inducted into the Connecticut High School Coaches Association Hall of Fame in 2010 and the Brick Township High School Hall of Fame in 2013.
Coach Filippone is currently a Chairman of the Connecticut High School Hall of Fame Football All-Star Game, an Executive Board member of the Connecticut High School Coaches Association, a member of the American Football Coaches Association High School Steering Committee and the Executive Director of the Connecticut High School Football Coaches Association. He was also a Chairman of the CHSCA Football Committee from 2005-2014 and the President of the Connecticut High School Coaches Association in 2011.
Coach Filippone graduated from Brick Township High School (Brick Township, NJ) in 1974 and attended Southern Connecticut State University where he was a 3 year letter winner as an offensive guard for the football team. He graduated with a BS in Special Education in 1978 and completed his Masters in School Counseling in 1986. He was a Special Education teacher at Daniel Hand High School from 1979 until he retired in 2013. Coach Filippone and his wife Paula have been married for 33 years and have two sons, Tommy (30) and Kevin (27).