EAST RUTHERFORD, N.J. –** The Giants' current predicament is eerily similar to what they endured at the end of the 2012 season. The question is whether they again respond with a big game against the same opponent.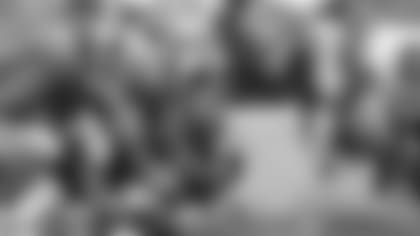 Know Your Opponent: Eagles Roster In the last two weeks, the Giants were shutout at an NFC South opponent, Carolina (38-0), then went right back on the road and lost a lopsided game to an AFC team, Kansas City (31-7).
The offense struggled in each of those games, getting no more than 11 first downs (10 vs. the Panthers, 11 against the Chiefs), falling short of 100 rushing yards (60 and 98) and 300 total yards (150 and 298), and owning the ball for a little more than a third of the game (time of possession 23:13 and 24:04).
The last time the Giants posted such low numbers in those categories in consecutive games was last Dec. 16 and 23, when they were shutout at an NFC South opponent, Atlanta (34-0), then traveled the next week and lost a lopsided game against an AFC opponent, Baltimore (33-14).
In those two games, the Giants finished with 10 and then 11 first downs (sound familiar?), 97 and then 67 rushing yards, 256 and then 186 total yards and their time of possession was 21:03 and 20:39.
The offense broke out in a season-ending 42-7 rout of the Philadelphia Eagles in MetLife Stadium, rolling up 397 yards, including 185 on the ground, finishing with a season-high 32 first downs and holding the ball for 31:33.
So it is oddly symmetrical that the current Giants will try to break out of their offensive recession and help the team win its first game of the season on Sunday, when they host…the Philadelphia Eagles.
When they Eagles arrived at MetLife last year, they were playing out the string, having lost 10 of their previous 11 games in Andy Reid's final season as head coach. Reid defeated the Giants on Sunday as the coach of the Chiefs.
Philadelphia is now coached by Chip Kelly. After an opening-night victory over Washington, they will arrive Sunday with a three-game losing streak.
Despite their 4-12 record last year, the Eagles' defense was ranked 15th in the NFL (as was the offense). This season, the offense is ranked second in the NFL with 458.8 yards a game. But the defense is 32nd and last, allowing 446.8 yards a game, and is 31st in scoring defense (34.5 points a game). The Giants are 32nd in scoring defense. But it seems the offense has an opportunity for a breakout game against the Eagles, just as it did last year.
Now they have to take advantage of it.