EAST RUTHERFORD, N.J. –** The most disappointing season of David Baas' career ended today when the Giants' center was placed on injured reserve after hurting his knee Monday night in a victory over the Minnesota Vikings.
NFC East Roundup
How is the division shaping up with seven weeks in the books...

[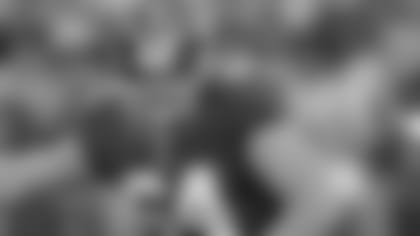 Know your opponent: Eagles roster](http://www.giants.com/photos/photos/Know-Your-Opponent-Philadelphia-Eagles/02f8dfe2-d0e1-4b53-9db4-460c8410d520) "It's very frustrating, to say the least," Baas said. "You work so hard. We said we can't catch a break."
Baas had just returned to action after missing the previous three games with a neck injury.
"I was jacked up," Baas said. "I almost had to calm myself down, because I was over there taking a couple of snaps with Eli (Manning) and I sent one sailing over his head. That's all I wanted. That's what you work for, especially on a Monday night game where you're so excited to get back and help your team win and you have that confidence that you were going to win. You just go out there and play your heart out and things happen."
[
LATEST GIANTS INJURY REPORT](http://www.giants.com/news-and-blogs/Watch-Videos/article-1/Latest-Giants-Injury-Report-1023/011c8fd6-6fee-428b-88fd-7558a71a174d)
Baas was hurt on the last offensive snap of the game's opening series, a 17-play drive that consumed 9:36 and ended with a Josh Brown field goal. He hasn't seen the tape, but was told what happened.
"The doctors showed me that a linebacker whipped into my leg or something like that," Baas said. "I didn't even know that it was almost a touchdown catch (by Hakeem Nicks). I had no idea, because I got hit and obviously went down to the ground and then got back up and limped off.
"You kind of know right away when you get that feeling. I was hoping it wasn't anything worse, but it's definitely bad enough to where it's come to this."
Baas is the second starting offensive lineman to go on injured reserve this season. Longtime right guard Chris Snee was placed on I.R. with a hip injury on Oct. 4.
The Giants did not immediately fill Baas' roster spot.
"Obviously, you can't really predict with guys being thrown under your legs and things happen like that, but you've got to stay positive," Baas said. "You've got to move on. You've got to get healthy again. That's all I've ever known is if something happens, you just work hard at getting back to the best you can, get closest to 100 percent as possible, and that's what I've got to do again. It's just an obstacle in the road, but we can get by it. It's tough to deal with it, but that's part of life and it's part of this game."
Third-year pro Jim Cordle, who was praised by the coaches for his three starts in Baas' absence and who took over Monday night, will against be the starting center. The Giants play Sunday in Philadelphia.
Baas, a nine-year veteran and third-year Giant, started all 16 games in 2012. But after the season he had multiple surgeries to correct several medical issues. Baas worked hard to make it back for the opening of training camp. But in the second preseason game, against Indianapolis, he hurt his knee, an injury that forced him to miss the last two games in August and the regular-season opener in Dallas. He returned to start against Denver and Carolina before the neck injury forced him off the field for three weeks.
"This is similar (to the preseason injury)," said Baas, who expects to have the problem surgically-repaired. "It's worse, though. I'm just thankful my ACL is intact because I would have been really ticked off. It's tough. As corny as it sounds, you get knocked down, but you've got to get back up every time."
This will be the first time in his career that Baas will play fewer than 11 games in a season. He has played in 16 games five times.
Baas said he is already looking forward to the 2014 season.
"That's what you live for," Baas said. "Obviously, there's things that happen and you're a man about it and you realize that's a part of the business, but you don't think about (not playing) right now. That may come down the road and I'm smart enough to be prepared for that, but as of right now, I'm just worried about getting healthy and getting to a point where I can play and play at a very high level again."
*The Giants re-signed linebacker Darin Drakeford to their practice squad. He was on the squad from Oct. 8-15. Drakeford takes the place of linebacker Emmanuel Acho, who was signed earlier this week to the Eagles' active roster.