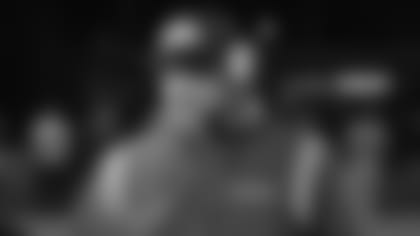 Photo Credit: Brett Dzadik
East Rutherford, NJ –
The New York Giants have selected Mr. Bill Wilde of New Milford High School (New Milford, NJ) as "The Lou Rettino High School Football Coach of the Week" for the week of October 28, 2013. The Knights shocked the Cresskill Cougars this weekend with a 31-13 conference win at home.
In recognition of Coach Wilde's success and commitment, he will receive a certificate of recognition signed by NFL Commissioner Roger Goodell and Giants Head Coach Tom Coughlin and a $1,000 check will be granted to the Knights football program.  Coach Wilde will be acknowledged by a stadium announcement when the Giants host the Oakland Raiders on November 10th and an announcement will also be posted on the Giants website, www.giants.com.
The Lou Rettino High School Football Coach of the Week Award is part of the Giants' continuing effort to promote youth football. The Giants elected to name the award in memory of former Union High School (NJ) coach, Lou Rettino, for his fine commitment to the game of football, his community and the betterment of his athletes' lives.  
Each week during the 2013 high school football season, the Giants will select one area high school head coach as the Coach of the Week winner.  The selection is based on the coach's continuing commitment towards promoting youth football, developing motivated student-athletes and his overall community involvement.  At the conclusion of the 2013 season, the Giants will choose a Coach of the Year.  That coach will receive $2,000 for their school's football program.  They will also be invited to attend a dinner hosted by the Giants.
Coach Wilde was an Assistant Coach at Hackensack High School where he led his team to winning 5 state championships. Currently, he is in his ninth season as Head Coach at New Milford High School where his team has made it to 2 state finals.
Coach Wilde played football at Rutherford High School and was a three-year starter at Quarterback for Elizabeth City State University in North Carolina. After graduating from college, he had tryouts with both the New York Giants and the Minnesota Vikings.
Coach Wilde lives in Nutley, NJ with his wife Mary and daughter Courtney. He is currently the NMPD School Resource Police Officer at New Milford High School.