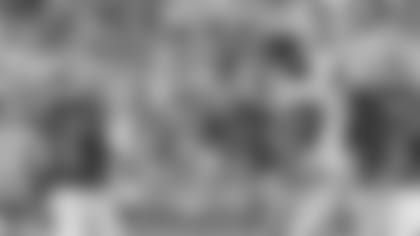 The Giants considered LSU's Rueben Randle one of the best receivers in this year's NFL Draft, so good they considered taking him in the first round. When they decided to choose Virginia Tech running back David Wilson, they figured that ended their opportunity to add Randle.
"I really didn't think there was a chance we were going to get him," Marc Ross, the Giants' director of college scouting, said. "He was one of those where, at the end of the night, you said, 'He's going to be one of the first few guys taken at the top of the (second) round.'
But Randle wasn't selected with any of the first 30 picks in the round. So when the Giants were on the clock at No. 31, they quickly turned in a card with Randle's name and added a receiver they rated highly and another weapon for Eli Manning.
"It's very surprising that he was still there," Ross said. "You keep holding your breath, holding your breath. (You think), 'Somebody will take him.' Then you start seeing some of these other receivers go and you say, 'He's got a chance.' He was there."
The Giants had not doubt he would be their choice.
"He was definitely the highest guy we had on the board," Ross said. "By far."
"(Randle is a) big receiver, outstanding athlete, very smooth, quote unquote pro-ready, 97 receptions in the course of his career for almost 17 yards per," coach Tom Coughlin said. "Size, speed. People said, 'Can he get deep? He can get behind?' Yes, he can. He doesn't have that Olympic type speed, but he has the size and the speed and the power. He's a smooth athlete. Very, very athletic guy. We rated him very highly and when it came time for us to make our pick he was without a doubt the guy that had the highest grade."
Randle didn't expect to wait so long to hear his name called, but is happy to join the Super Bowl champions.
"I guess it was pretty surprising," he said. "I knew that the Giants had a lot of interest in me. I got a few phone calls from the guys. A couple of people from LSU were giving me signs that they were interested, so I knew once they came up, they would draft me."
Randle will have an opportunity to step right into the lineup, because Mario Manningham, the Giants' third-leading receiver in 2011, joined the San Francisco 49ers as a free agent.
"I think you're trying to always replenish," Coughlin said. "We're very much aware of the players that are gone, so you have thoughts of making sure that you're highly competitive. Your team is going to benefit by having enough players available so that everything you do is highly competitive. And I think we've done some things along those lines to help ourselves."Randle, 6-2 and 208 pounds, entered the draft after his junior season. In three years at LSU he played in 40 games with 25 starts and caught 97 passes for 1,634 yards (16.9-yard average), and 13 touchdowns. In 2011, he helped the Tigers advance to the BCS national championship game with 53 receptions for 917 yards and eight scores.
But Ross said those numbers comprise only a small chapter in Randle's story. He excelled despite a passing attack that was not exactly the strength of an outstanding LSU team.
"The way LSU plays, they run the ball, they play defense," Ross said." And those two quarterbacks (Jarrett Lee and Jordan Jefferson), to be quite honest, are not very good. So he didn't get a lot of chances. When the ball came to him, he was productive. But he just didn't get a ton of chances in the games to catch. But when they went his way, he made plays."
Randle is looking forward to catching passes from Manning, a two-time Super Bowl winner who threw for just shy of 5,000 yards last season.
"It's going to be great," he said. "We had struggles at LSU. They weren't bad quarterbacks, but we struggled there. But Eli is an elite quarterback in the league and it's going to be great for me to come in and play with him."
Despite those struggles, Randle showed the Giants more than enough to convince them he can be a productive NFL player.
"You see his skill set, you see his physical tools," Ross said. "And then you go from there. You see the practices, you see the (scouting) combine stuff."
"He's NFL-ready – he runs the entire route tree," general manager Jerry Reese said. "In this day and age in college football, it's all about the spread offense, and guys don't run the full tree. This kid runs the full tree. He kind of looks like a big, pro wide receiver out there with how he runs routes. I think he's going to be a quick fit into the offense with how he plays; he's big, he can post guys up. People mentioned Hakeem Nicks when we talked about him in our room. He's not blazing fast; I don't think Hakeem is blazing fast either. He's game fast and he's bigger than Hakeem – very good hands, ball skills. A talented football player."
Randle may be NFL ready but he's not walking into the room with a swagger.
"I'm sure there are a lot of things that I have to work on," Randle said. "I'm not sure I'm going to be quite as ready yet. I have to get adjusted to the timing and the speed of the game, so I'm just going to come in there and work hard and hopefully I'll get my opportunity."
The Giants chose offensive players with their first two draft choices since 2004, when they selected quarterback Philip Rivers and guard Chris Snee. Rivers, of course, was sent to San Diego in the trade that delivered Eli Manning to the Giants.
Randle is the first player from LSU drafted by the Giants since safety Chad Jones in 2010. Jones was seriously hurt in an auto accident two months after the draft and has yet to play for the team.
Randle is a Louisiana native who was one of the most sought after players in the country in 2008, when he played for state powerhouse Bastrop High School. He primarily played wide receiver as a sophomore and junior and the rams went 15-0 each season. Randle was Bastrop's quarterback as a senior and led the team to an 11-2 mark.
When he enrolled at LSU, Randle again played receiver. In 209, he caught 11 passes in 13 games. The following season he had 33 receptions and last year had 53 catches, including nine for 134 yards vs. Arkansas and a 106-yard, two-touchdown game against Auburn.
"I think his game will transfer well up here because of the way he plays," Ross said. "He plays like an NFL receiver – big, strong, physical, catch the ball – as opposed to a raw guy who needs a lot of development on routes and techniques or drops a lot of balls – needs to work on his hands. This guy pretty much has a skill set that fits in, will transfer pretty quickly."
Had the fates been kinder, Randle could have been the 32nd pick in the draft. He wasn't selected until No. 63. Either way, he's happy to be here.
"I heard it was an opportunity there (in the first round), but I guess they didn't take it," he said. "I fell into their hand here at the end of the second round, and I'm happy with that.