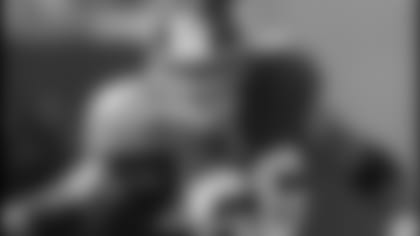 EAST RUTHERFORD, N.J. – The Giants have gathered this week for the beginning of their offseason conditioning program with the bitter taste of the 2012 season still in their mouths.
After leading the NFC East for most of the season, the Giants dropped December games in Atlanta and Baltimore to lose control of their postseason fate. Despite a season-ending victory over Philadelphia and a 9-7 record, the Giants missed the playoffs one season after winning the Super Bowl.
Now the Giants have the somewhat contradictory objectives of wanting to forget about what happened at the end of the season and using it for motivation as they prepare for 2013.
"Any time you don't make the playoffs and end the season – the last part of the season not playing our best football – it is frustrating," Eli Manning said. "It definitely makes the offseason a little bit longer. But I think guys are obviously excited to get back to work, knowing that we have work to do. We have some new faces, some new guys. And there is a process of getting better. And it is about everybody following those steps that Coach (Tom) Coughlin and our specific position coaches have laid out for us, and doing the work."
"To look back on last season – two years ago to be in the Super Bowl and last year to not be in the playoffs, this is where you need all the guys together," said tackle David Diehl, an 11-year veteran who is the longest-tenured Giant. "That's what pushed you even harder to look at the things that weren't your strong points and to figure out whatever it takes this offseason to get things corrected and get our team back on track. That's what motivates you."
It's a little early to talk about the season's final game, but the Giants are well aware that Super Bowl XLVIII will be played in MetLife Stadium. They'd love to cap a comeback season by becoming the first team to play in a Super Bowl on their home field.
"Everybody on this team's goal should be playing in the Super Bowl this year," wide receiver Hakeem Nicks said. "That should be our team goal – as long as we keep that where we need to keep it and know what we are supposed to do and just take it one week at a time."
"For all of the guys in this locker room," Diehl said, "the guys who played in the Super Bowl and have last season to happen the way it did, the only thing that we're thinking about is working as hard as we can and do whatever we can do play in the Super Bowl in our own stadium, something that's never been done. This is the time where all that starts."
*After one 2-14 season spent with the Jacksonville Jaguars, Aaron Ross is thrilled to be back with the Giants, with whom he spent five seasons after being selected on the first round of the 2007 NFL Draft.
"All of the fellows just accepted me with open arms – so did the coaches," Ross said. "It just seemed like it didn't miss a beat. It was an easy transition. It has been fun every day coming in and seeing the guys and talking to them."
Ross said he closely followed the Giants during his season in Florida. In the back of his mind he always wanted to return to his first professional home.
"I was hoping that I would have a chance to, but I didn't know it was going to be so quick," he said. "I always had the Giants as a team in my heart. This is what I basically considered home; I won two rings here, was drafted here in the first round and spent five years here and I grew close relations with the guys and the coaches. So I always wanted to come back after my three-year stint (contract) in Jacksonville.
"I definitely don't have any regrets. Jacksonville – their front office is first class. Their fans were very accepting of me and my wife (Sanya Richards). They allowed me to go to London and see her (compete in the Olympics last summer). I had an opportunity to come back here and it was exciting. I couldn't say no to that."
Ross rejoins a deep group of cornerbacks that includes Corey Webster, Prince Amukamara, Terrell Thomas and Jayron Hosley. All five players were picked in the first three rounds of their respective drafts.
"We need everybody," Ross said. "The division that we are in now with RG3 (Robert Griffin III) and his receiving corps (in Washington), with (Michael) Vick and his receiving corps (in Philadelphia) and, of course, the Dallas corps, you need four or five good corners that can play the whole year and guard those top-notch receivers as well as the quarterbacks. So I'm excited about the group. I really am. I feel like we have a great group back there. I'm excited that we have a great DB group back there. With our safeties helping us over the top and playing down in the box as well, I think the sky is the limit for us."
*Few players were as happy to see his teammates as Diehl, who has been rehabilitating his surgically-repaired knee in relative isolation at the Timex Performance Center for most of the offseason.
"It's good to have all the guys back," Diehl said. "I've been here the last 11 weeks. It's good to have guys I can sit here and talk to besides the trainers. It's great to be back at work. We have a lot of work ahead of us to get ourselves back to where we want to be. I know that we're capable of doing it."