EAST RUTHERFORD, N.J. –** The Giants' defense will face challenges both traditional and cutting edge when the Oakland Raiders visit MetLife Stadium on Sunday. How well the unit responds will be a key determinant in whether the 2-6 Giants win their third consecutive game.
The Coughlin Corner
The Coughlin Corner, Giants.com's exclusive weekly interview with head coach Tom Coughlin...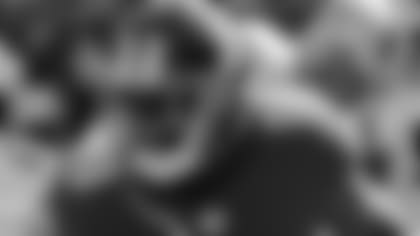 Infographic: Giants vs. Raiders](http://www.giants.com/news-and-blogs/article-1/Infographic--NYG-OAK-stat-comparison/9c4cec58-0cf7-48b2-a1f8-4aa84294d6e7) In one respect, the 3-5 Raiders run an old-school offense. Oakland employs what the NFL calls 21 personnel - two backs and one tight end – more than any team in the league. In an era when many teams have no fullbacks on their roster, the Raiders have two, Marcel Reece and Jamize Olawale. The NFL has become a pass-happy league, but the Raiders prefer to travel on the ground. They are fourth in the league in rushing yards per game (147.8) and per carry (5.0). Oakland will challenge a Giants run defense that is ninth in yards allowed per game (102.3) and fifth in yards per carry (3.6).
"I think we're kind of built for that a little bit more than anything else, honestly," defensive end Justin Tuck said. "I think we match up with it pretty well. But we have to go out there and execute, because they do a lot of things in the run game to throw you off. They can give you all different looks in that 21 personnel. They can be a power team, they can get on the edges. We have to continue to do what we've done and play pretty well against the run."
"I wish we played them when I was a linebacker, because that was kind of my thing," end Mathias Kiwanuka said. "I used to love to play against 21 personnel teams. But that's uncharacteristic of this league right now. Historically it's not, but the way the league is right now, that's not what most people are doing, so it's a little bit of an adjustment. Our linebacker corps is much improved and we know that they can handle anything that an offense throws at them. Even if we stay in there in nickel, our nickel personnel are doing a fantastic job supporting us in the run, so we're not concerned about it. That's a point of emphasis. We have to make sure we're prepared for that personnel, which we are."
Kiwanuka said the front seven traditionally bears the greatest responsibility for stopping teams who line up as the Raiders do and run as often.
"When teams get into 21," Kiwanuka said, "they're looking to run the ball, they're looking to pound it, they need a lead blocker in there for a reason or they're going to do a screen or something like that. It primarily falls on the shoulders of the D-line and linebackers."
But the Raiders do much more than hand the ball to their running backs and let them plow ahead. Their leading rusher is neither Darren McFadden (who has run for 352 yards and four scores, despite a hamstring injury that wil keep him out of Sunday's game), nor his backup, Rashad Jennings (who rushed for 102 yards last week in a loss to Philadelphia). Instead, it is quarterback Terrelle Pryor, who has 485 yards, a 7.7-yard average and a 93-yard touchdown run this season.
Pryor is the Raiders' personification of the contemporary NFL. He is a big, agile and fast quarterback who can hurt opposing defenses as much, if not more, with his legs than his arm, like Michael Vick, Robert Griffin III and Cam Newton.
"He's a 4.4 guy (in the 40-yard dash) built like a power forward on a basketball team and he can go," defensive coordinator Perry Fewell said. "I'm impressed with him on tape. We're going to have our A game going in to contain this guy, because he can hurt you. (He ran for) 94 yards against Philly and he can pull the ball down on a running play or a pass play and go at any time. That's what makes him really tough in that you never know when that's going to happen with him, because it's not just quarterback scrambles. I think sometimes they're designed runs that they have that it's a tailback run action and he just keeps the ball."
"He is faster (than some other running quarterbacks)," coach Tom Coughlin said. "He's bigger. He's just as big, anyway. He's a gifted runner and he will run under whatever circumstance. If he doesn't like what he sees in the secondary, he pulls it down and runs and he does have designed running plays for him to keep the ball as well."
Pryor can also pass the ball. He has completed 121 of 198 passes (61.1 percent) for 1,437 yards, five touchdowns and nine interceptions.
"What we see is he's good in the west coast offense and I think that's what he is excelling at right now," Fewell said. "They're not asking him to do a lot more than the west coast reads and so he's able to accomplish that."
Linebacker Jon Beason was a teammate in Carolina of Newton's, who is listed at 6-5 and 245 pounds. Newton threw three touchdown passes and rushed for 45 yards in a victory over the Giants on Sept. 29 in Charlotte.
"They're special talents," Beason said. "Specimens in any sport, it doesn't matter. Basketball, baseball, they would just stick out right away. With Cam, you walk by him and you see him at practice and you say, 'Wow, this is a really tough tackle.' These guys can really fly. That's the scary part. You're talking about 4.4 speed, 4.5 speed, it's just crazy. But it shows how times have changed. You're looking for that athlete now.
"(Newton and Pryor) are very similar but very different at the same time. Cam wants to prove to everyone that he can be a pocket passer and he's established that he can. Terrelle is coming along. I think he's got a big, big arm, maybe a stronger arm than Cam. But as he grows and if they can keep a consistent offense, I think he'll start to do better. The improv part of it, he's exceptional at it. He extends drives, he makes smart decision and like I said, he's a tough tackle."
At 6-4 and 233 pounds, Pryor is larger than many of the defenders trying to bring him down. And he is uncommonly nimble for a man his size.
"It's unusual to face a quarterback that's as good of an athlete as you are," safety Ryan Mundy said. "I think that's the biggest difference. The guy is a great athlete, has great speed, great vision, great running ability and he's developing into a pretty solid passer. We're going to have our hands full on Sunday."
"That's an NFL thing," Kiwanuka said. "When I first got in the league I didn't realize how big Eli (Manning) is, Peyton Manning, Brett Favre is even taller than you'd think he would be. There are a lot of quarterbacks who are of significant size. Ben Roethlisberger, guys who have been around for a while now. Having the guys like Cam Newton, who have that size and the ability to escape and run, that's where the difference is. That's a little different, because not only are they tough to bring down but they're also tough to catch. I think it creates a little bit of a challenge, but we're used to it around here. At this point, that's just part of the game now. Quarterbacks, just like every other position, are getting bigger, faster and stronger."