EAST RUTHERFORD, N.J. –** Uncertain when David Baas or Chris Snee might return, the Giants today fortified their offensive line when they signed Dallas Reynolds, who started 14 games at center last season for the Philadelphia Eagles.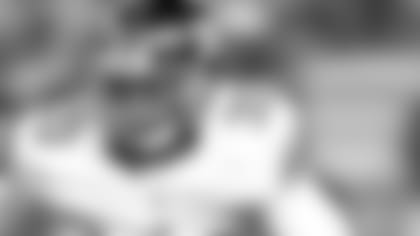 To make room on their roster, the Giants waived running back Da'Rel Scott, their second-leading rusher this season.
Reynolds, 6-4 and 320 pounds, originally joined the Eagles as a rookie free agent on May 1, 2009. He spent the majority of the 2009 season (when he as on the active roster for the season's final game, but did not play) and the entire 2010 and 2011 seasons on Philadelphia's practice squad before making the 53-man roster last year. He played in all 16 games in 2012 and when Jason Kelce suffered two torn knee ligaments in Week 2, Reynolds stepped in as the starting center.
Reynolds earned first-team All-Mountain West honors in 2008 at BYU, where he started 51 career games. He played center as a senior and left tackle as a junior.
The Giants have been short healthy players on the offensive line. Baas (neck) and Snee (hip) missed the Giants' loss Sunday in Kansas City, and it is unknown when either might return to the field. David Diehl has not played this season after undergoing thumb surgery on Aug. 21, but he returned to practice last week and was in uniform on Sunday, an indication he might play against the Eagles.
Scott made his first career start against the Chiefs. He finished the game with 26 rushing yards on five carries and caught one pass for zero yards. In four games, Scott's 56 rushing yards on 10 carries were second on the team to David Wilson's 130 yards. Scott also had 10 receptions for 98 yards, including his first career touchdown on a 23-yard pass from Eli Manning vs. Denver on Sept. 15.
Scott joined the Giants as a seventh-round draft choice from Maryland in 2011. He played in 11 games as a rookie and four games in 2012 before going on injured reserve with a knee injury.
Scott's departure leaves the Giants with three running backs on their roster: Wilson, Brandon Jacobs and rookie Michael Cox. Another back, Andre Brown, is on injured reserve with a designation for return. He will be eligible to play for the first time on Nov. 10 against the Oakland Raiders.
*The Giants also made a move on their practice squad, signing wide receiver Marcus Harris and terminating the contract of offensive lineman Steven Baker – a reversal of transactions made a week ago today.