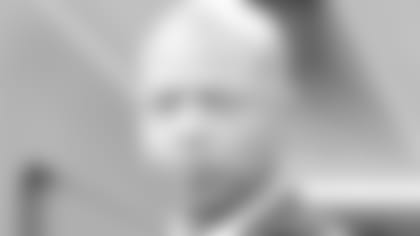 EAST RUTHERFORD, N.J. – The most frequently-discussed topic at Jerry Reese's annual pre-draft news conference was a player who has been on the team the previous three seasons.
Victor Cruz, the Pro Bowl receiver and restricted free agent, has not signed a contract for the 2013 season and has not attended the opening week of the Giants' offseason condition program. So the media assembled in the auditorium at the Timex Performance Center was more interested in asking about all things Cruz than about the NFL Draft, which will begin a week from today.
Reese characteristically revealed little about either.
"He is a free agent," Reese said. "He doesn't have a contract, so he isn't here. That is really pretty cut and dried."
Asked how he would characterize his talks with Cruz, Reese said, "I would characterize it as we have talked, but I have nothing to report.
"Victor is not here. He is a free agent. He is exercising all of his options. And we will see where it goes."
Cruz has received a first-round tender from the Giants. If Cruz signs it, he'll have a one-year contract worth $2.879 million for 2013. Cruz is seeking more than that in a long-term deal.
As a restricted free agent, Cruz is eligible to receive offers from other teams. Should he get one, the Giants could match it or take that team's first-round choice in the draft next week. The deadline for such offers is tomorrow.
Asked if a resolution might be expedited after the deadline Reese said, "We'll see. Time will tell."
Reese was clearly reluctant to discuss Cruz's contract situation.
"The Victor Cruz thing will play out," Reese said. "And wherever it goes, it will go there. You guys are really interested in the whole Victor (thing) – I get that, but there is not a lot for me talk about right now about Victor Cruz. I'm sorry, I wish I could talk to you more about it but it is really inappropriate to be talking about it."
*Eli Manning was another prominent Giants figure who received his share of Cruz-related questions today. Last week, Cruz, along with Hakeem Nicks and Louis Murphy, joined Manning for workouts at Duke University.
"I have a feeling I'll see Victor here when the contract is done," Manning said. "That's my gut feeling. I could be wrong, but if he's back earlier, then that would be a bonus."
Asked if that meant "a long-term contract" for Cruz, Manning said, "I would think so. I think that's the goal.
"I hope he wants to be here, but obviously they got the contract to work out and they got things to figure out. I can't concern myself with that. When that gets worked out he'll come back and come back to work."
*Reese said he views Mathias Kiwanuka as someone who can continue to play both linebacker and defensive end, but believes he will get more time at the latter position than the former.
"I see him as still kind of a joker-type player for us," Reese said. "But from my view I think he will probably play more on the defensive line more than he played at linebacker in the past; just from my view. But that is Coach (Tom) Coughlin's call."