EAST RUTHERFORD, N.J. – Herb Johnson, who was believed to be the oldest living former Giants player, passed away last Saturday in an assisted living center on Long Island after a long illness. He was 92.
Johnson played for the Giants in 1954, his only NFL season. He spent the previous year with the Saskatchewan Roughriders of the Canadian Football League. Johnson also attended West Point and the University of Washington, worked at Grumman Aerospace Corporation, owned his own computer parts business for 25 years and later sold and taught real estate.
"My dad was a very colorful character in a lot of respects," said Brian Johnson, 65, the third of Herb and Joan Johnson's seven children.
The 1954 Giants media guide included a five-line bio of Johnson, between the longer writeups on Frank Gifford and Tom Landry, a pair of Hall of Famers. He played in 11 games that season for the 7-5 Giants. Johnson had 42 rushing attempts for 168 yards and one touchdown and caught 12 passes for 89 yards. He also led the team in both punt returns (16 for 164 yards and one touchdown) and kickoff returns (10 for 251 yards).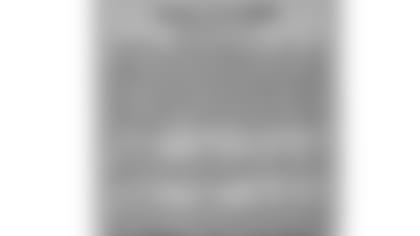 Johnson was recruited to the Giants by the legendary Vince Lombardi, who led the Green Bay Packers to five championships in the 1960s. Then running the Giants' offense under Jim Lee Howell, Lombardi had coached Johnson at Army and again wanted him in his backfield.
"My dad was working as an Air Force mechanic and he was really good at what he did," Brian Johnson said. "He had an opportunity to take the entrance exam to West Point. He took it, got up there and saw how well the football players were eating and he went out for the team. Vince was an assistant coach then and really took a liking to my dad."
Despite his promising beginning and connection to Lombardi, Johnson did not return to the Giants for a second season.
"My mom gave him an ultimatum – football or kids," Brian said. "Seven kids later, I guess he made the choice. And they didn't pay them a lot back then. At the time, when he wasn't playing football, he was already working for Grumman Aeronautics. The Giants were patient with him. But that's where he really learned his trade as a mechanical engineer."
Herbert Loren Johnson was born on July 10, 1928. He was raised in Oregon and was a football and track star at Roosevelt High School in Portland. In 1948, he could have tried to qualify for the U.S. Olympic team as a pole-vaulter for the summer games in London, but instead chose to accept an appointment to West Point. It was there that he met Joan, a native of Jackson Heights, Queens, who attended a dance on campus.
"He was very smitten with her," Brian said.
The Cadets won 28 consecutive games before being upset by Navy in the 1950 season finale.
After his junior year, Johnson had a choice of returning for a final season and becoming an officer for four years or receive an honorable discharge. He chose the latter and earned his degree in engineering from the University of Washington. Johnson then starred for the Seattle Ramblers of the now-defunct Greater Northwest Football Association. In 1953, he played for the Roughriders and set five records, including one for the league's longest punt return (109 yards), that stood for 22 years.
After Saskatchewan's season ended, the Johnsons traveled to New York and attended a Giants game in the Polo Grounds. Brian said, "one of the ushers caught up to them and said, 'One of the assistant coaches wants to talk to you.' Sure enough, it was Vince, who talked him into trying out for the team. That's how he wound up there."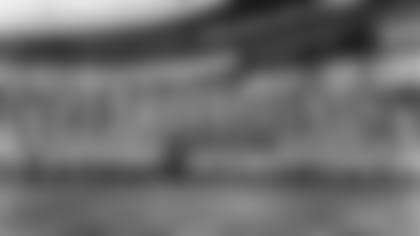 The Johnson family settled in Lynbrook, Long Island. After his brief NFL career, Herb worked fulltime for Grumman, where he continued to develop his network of military contacts, which he used when he opened his own business. After running the company for 25 years and living in Lynbrook for 40, they moved to Southold, on the eastern tip of Long Island.
"My dad opened a real estate company and starting teaching real estate and then started teaching appraisals," Brian said. "He always wanted to impart stuff on people to make them better, which was pretty cool of him."
Herb Johnson was also a family man who spent his off hours supporting his children.
"He was very involved in all the different sports – Little League football and baseball and he was a Cub Scout master. … I played tight end at Lynbrook High School. When I was a junior, I went out and caught a pass and I got hit and went down and popped my shoulder out. I'm laying on the ground in pain. The coach is saying, 'You have to take him to the hospital.' My dad comes out of the stands and says, 'Wait a minute.' He yanks my arm – aaahhh – and I'm like, 'This feels pretty good.' He said, 'Yeah, get back in the game.' He was an old-style football player, an iron man. He was a unique character."
All seven Johnson children graduated from Lynbrook High. Five of them still live on Long Island, a sixth is in Connecticut and Brian is in South Florida. Joan passed away 17 years ago after contracting bone cancer. She and Herb were married for 54 years.
"We've been taking care of him and he's been entertaining us this whole time," Brian said.
The family will host a private funeral next week. In lieu of flowers, the family is asking mourners and friends to donate to the NFL Players Association, which they said supported Herb Johnson throughout his illness.
"My dad was a really happy old man," Brian said. "He was super pleasant with everybody. He had a sense of humor. He'd play practical jokes on the nurses in his assisted living facility. He was a happy soul. And he watched football all the way through. His short-term memory definitely went, so sometimes he wasn't sure what teams were playing. But he'd say, 'Why did he go that way, he should have gone the other way.' He was a very unique guy."