Hospital for Special Surgery (HSS) honored Giants co-owner Steve Tisch at its 36th Tribute Dinner on Monday evening at the American Museum of Natural History in Manhattan.
Tisch, the team's chairman and executive vice president, is known worldwide for his philanthropy, generously contributing his time and resources to a variety of organizations in the arts, health and education. HSS, the official hospital of the New York Giants, wanted to recognize all he has done for the hospital.
"We are delighted to commemorate the extraordinary successes of Steve Tisch, who has excelled in various disciplines of business, media and entertainment," said Louis A. Shapiro, president and CEO at HSS. "Through his entrepreneurial spirit, artful storytelling and purposeful philanthropy, Steve inspires others to meet the greatest challenges with courage and perseverance."
Hosted by Al Roker, co-host of NBC's Today Show, the gala also featured Giants running back and 2018 AP NFL Offensive Rookie of the Year Saquon Barkley as a special guest. Those in attendance included leaders from the worlds of business, health, finance, media, sports, the arts and government. Jonathan T. Deland, MD, a foot and ankle surgeon at HSS and the Susan W. Rose and Jonathan T. Deland Chair for Research in Foot and Ankle Surgery, was presented with the Lifetime Achievement Award.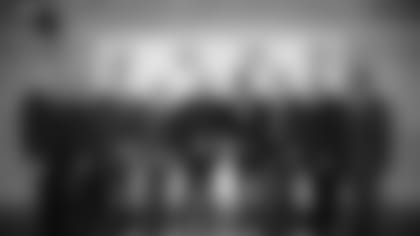 Tisch is an Academy-award winning producer and partner at Escape Artists Productions. He is the only person to have won both an Oscar and a Super Bowl ring, winning the Academy Award for Best Picture for Forrest Gump in 1994, and receiving two rings as chairman of the Giants for their victories in Super Bowls XLII and XLVI.
Recognizing the value of storytelling and its ability to increase dialogue and understanding, Tisch made a transformative gift to Tel Aviv University, elevating its Department of Film and Television into a full school, now named The Steve TischSchool of Film and Television. The school has won top prizes at film festivals around the world and is Israel's leading institution of film and television studies. It has been ranked by The Hollywood Reporter among the top 15 international film schools for three years in a row. Tisch was awarded an honorary doctorate degree from Tel Aviv University in 2016.
Tisch made a leadership gift to the David Geffen School of Medicine for the UCLA Steve Tisch BrainSPORT Program, the single largest donation from an individual to a medical center for a concussion-related initiative. The gift created the first U.S. fellowship to train pediatric neurologists who specialize in sports concussions, and established the world's most sophisticated research, prevention, diagnosis and treatment program for concussions and brain injuries with a particular emphasis on young athletes.
Tisch is currently on the Board of Trustees of the Los Angeles County Museum of Art, is a founding Trustee of The Geffen Theatre in Los Angeles, is on the Board of Advisors of the TischSchool of the Arts at New York University, and The Preston Robert Tisch Brain Tumor Center at Duke University and previously served on the board of the Sundance Institute.
Preston Robert Tisch, Steve's father, purchased 50 percent of the Giants in 1991. In 2005, Steve was named Executive Vice President, and with the passing of his father, he assumed the additional title of chairman.
Hospital for Special Surgery (HSS) honored Giants co-owner Steve Tisch at its 36th Tribute Dinner on Monday evening at the American Museum of Natural History in Manhattan.