Three hours before the start of the NFL Draft Thursday, Dave Gettleman sat in his office, fielding questions from teams around the league eager to learn … if they had his correct phone number.
"Every year, you get these calls," the Giants' general manager said, shaking his head. "My number hasn't changed in more than 20 years."
Contact information aside, this was a unique draft for Gettleman. For the first time in his seven drafts as a G.M., and perhaps for the first time since he began his NFL career as a Buffalo Bills scouting intern in 1986, Gettleman had two first-round choices. What did he wish to secure with those two selections?
"I hope to come out of here with two starters," Gettleman said. "Two guys who you could go right in there and compete with everybody and come out as winners. That's what you want."
Gettleman and the Giants got that and more. They added two likely immediate starters in Clemson defensive tackle Dexter Lawrence, chosen 17th overall, and Georgia cornerback Deandre Baker, who was selected at No. 30 after Gettleman acquired the pick in a trade with the Seattle Seahawks.
But it was the third player who was actually the biggest newsmaker, despite the fact that he will be a reserve in 2019 and perhaps beyond. Duke quarterback Daniel Jones was selected at No. 6 and instantly became Eli Manning's designated successor.
"It's a wonderful thing when need and value match," Gettleman said. "We are thrilled to get Daniel. He was up there with everybody else on our board in terms of value and he was just perfect for us. I really believe in this kid. I really believe he is going to be a really nice, quality quarterback for us, for our franchise."
In the final hour before the draft's 8 p.m. start, scouts, coaches and personnel executives made their way into the draft room on the second floor of the Quest Diagnostics Training Center. Chris Pettit, the team's director of college scouting, set up the speakerphone that connected the room to the team's three representatives at NFL Draft Headquarters in Nashville: assistant to the coaching staff Michael Mestieri, head equipment manager Jackie Miles, and assistant video director Carmen Pizzano.
Gettleman made a few entrances and exits before his permanent landing at about 7:50. He then spoke to the approximately 50 staffers gathered in the room.
"I want to thank everyone for their hard work – you did a great job," Gettleman said. "Scouts, at number six, we might not have to talk, but if we have to, we will talk. Don't wander (after the Giants make their selection at No. 6). We have 17 and stuff could happen."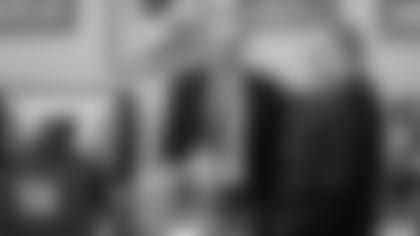 After the Arizona Cardinals surprised no one by choosing Oklahoma quarterback Kyler Murray with the first pick, Gettleman and head coach Pat Shurmur, seated next to each other in front of the big draft board, discussed strategy.
Despite the big crowd, the room was mostly quiet as the teams drafting ahead of the Giants used most of their allotted 10 minutes to select a player.
The Tampa Bay Buccaneers owned the fifth choice, directly in front of the Giants. With about five minutes left on the clock, Gettleman, Shurmur, team president John Mara, senior vice president of player evaluation Chris Mara, assistant general manager Kevin Abrams and Pettit briefly huddled. When the Bucs chose LSU linebacker Devin White, Gettleman and Co. knew that Jones, the player they had targeted, was theirs. But they didn't immediately turn in his name, just in case they received a trade offer they couldn't refuse (and to comply with the league's request to wait at least until the five-minute mark to turn in a pick for broadcasting purposes). A trade did not materialize, so Jones became a) the first quarterback drafted by the Giants in the first round since Philip Rivers in 2004. Rivers, of course, was traded within the hour for Manning; b) the first Duke quarterback selected by the Giants since Dave Brown, who was taken in the first round of the 1992 supplemental draft, and c) the third QB chosen by the Giants in as many years, following Davis Webb and Kyle Lauletta. Webb was cut last year, and Lauletta is currently on the roster.
When the selection became official, everyone in the draft room began applauding, just as they did last year when the Giants chose running back Saquon Barkley, who went on to become the NFL Offensive Rookie of the Year. Before Jones' selection was announced on television, Shurmur spoke to their prized acquisition.
"We certainly developed a relationship through this process, so he is excited to be here," Shurmur said. "I think he has a good feel for what we want to do on offense He told me he is looking forward to getting in here and get working and then I started passing the phone around."
In addition to Shurmur and offensive coordinator Mike Shula, co-owners John Mara and Steve Tisch had conversations with Jones.
Shurmur and Gettleman also spoke to Manning, who is entering his 16th season as the Giants' starting quarterback.
"Daniel is coming in here to learn," Gettleman said. "Learn how to be a pro, learn how to be a professional quarterback. He's the right kid for us. He's a very mature kid. I have no doubt he is going to come in and do everything he can to prepare himself to follow Eli."
"I told this to Eli a couple times already, it's not his job to teach the next quarterback that comes in here," Shurmur said. "It's his job to be the very best player he can be and then the quarterback that we bring in, it's his job to be smart enough to learn from Eli.
"It's important that Eli does everything he can to win football games, and I think what's important is Eli is not here to coach Daniel Jones. Eli is here to win football games. It's up to Daniel Jones to be as good as he can be and the smart thing for him to do is to watch everything Eli does and then I think we will get where we need to be. … I told Eli when we visited, 'It's your job to win games and keep this guy off the field.'"
After drafting Jones, plenty of players with similarly high grades remained on the Giants' board. After noting in his opening remarks that "stuff could happen," Gettleman instructed members of the pro personnel department to begin contacting teams to investigate the possibility of moving up from No. 17. But those teams were either not interested, or they made offers Gettleman couldn't agree to.
At 9:45, Gettleman said, "Okay, guys, let's talk." What followed was detailed discussion about three players, including Lawrence. The scouts who had studied the players and the assistants who would be coaching them all offered their opinions. Each player was viewed as a potential immediate starter. Soon after listening to the relevant opinions, Gettleman looked at the board and asked, "Who gives us the most impact?" as if hoping the board would somehow offer a response. But the decision was Gettleman's, and he chose Lawrence, a 350-pound run-stuffing specialist who can also provide an inside pass rush.
"He's wider than me," Gettleman said.
"Let's not get crazy now," John Mara responded.
But that size – Lawrence's, not Gettleman's – excites Shurmur.
"We need big guys like you," Shurmur told the young defender. "You're going to come in here and compete. You're a New York Football Giant and we're thrilled."
Defensive coordinator James Bettcher told his protégé, "You're going to come in here and help us win games and help us be the best run defense in the league."
After acquiring Lawrence, the Giants' next scheduled pick was the fifth in the second round, No. 37 overall. But the Giants still had players on their board worthy of a first-round selection. They were particularly intrigued by Baker, the 2018 Jim Thorpe Award winner as the nation's best defensive back.
The personnel staff returned to the phones, hoping to find a trading partner. Again, the initial offers were unsatisfactory. "Let's just be patient," Gettleman said.
Thanks to a pair of previous deals, the Seattle Seahawks owned both the 29th and 30th overall picks and became a potential trade partner. But they wanted more than the Giants were willing to part with. That prompted Gettleman to say, "I think we should just sit," followed moments later by, "I think we should wait."
Perhaps Baker would be available at 37. If not, just seven picks separated the second Seahawks' selection and the Giants' next choice. The Giants knew they would get an outstanding player if Baker was no longer available.
But Shurmur talked about the team's need for a skilled cover corner. Bettcher said he was impressed when he watched tape of Baker. And Gettleman knew the Giants needed to bulk up that position. When the Seahawks offered the 30th overall pick in exchange for No. 37, No. 132 (late in the fourth round) and No. 142 (in the fifth round), Gettleman pondered the deal before saying, "make the trade."
Baker was the first cornerback selected by any team.
"We feel (he) is the best cover corner in the draft," Gettleman said.
Bettcher told Baker, "We're going to put you on the corner and lock down some people."
Gettleman arrived at work on Thursday hoping to acquire two starters. Thanks to some moxie and maneuvering, he did one better. For the first time in 84 NFL drafts, the Giants selected three players in the first round.
"We feel like we got three guys," Gettleman said, "who are going to impact this franchise for a long time."