EAST RUTHERFORD, NJ - With one week remaining in the regular season, here's a look backward and forward at some Giants statistical issues.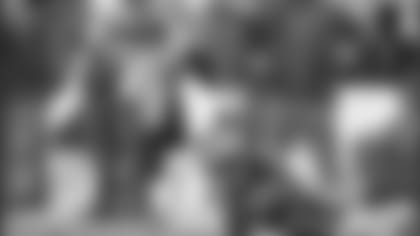 *The only truly significant question is whether or not the Giants make the playoffs. They are 9-6, the same record as the Green Bay Packers, who currently hold the sixth and final NFC postseason berth by virtue of their victory Sunday over the Giants. But the Giants will join the postseason field if they defeat Washington Sunday in FedEx Field and the Packers lose a home game to NFC North champion Chicago. Because of New Orleans' victory last night in Atlanta, that is the only scenario (barring ties) that will put the Giants in the playoffs.
*On Sunday, Eli Manning threw an 85-yard touchdown pass to Mario Manningham soon after Green Bay's Aaron Rodgers threw an 80-yarder to Jordy Nelson. According to the Elias Sports Bureau, that was the first game in Giants history in which each team threw a touchdown pass that was at least 80 yards long.
It had not been done in any NFL game since Oct. 19, 1981, in the Detroit Lions' 48-17 rout of Chicago on a Monday night. Vince Evans threw an 85-yard scoring pass to Marcus Anderson for the first Bears touchdown. Eric Hipple countered with a 94-yarder to Leonard Thompson for the Lions' final score.
*The Giants trailed after one quarter Sunday, 14-0, their largest deficit after the first 15 minutes since Dec. 23, 2007, when they climbed out of a 14-0 hole in Buffalo and defeated the Bills, 38-21.
*Ahmad Bradshaw has rushed for 1,213 yards and Brandon Jacobs has added 774 yards. If Jacobs runs for at least 26 yards against the Redskins, the Giants will have two 800-yard runners in the same season for the second time in their history. The first, of course, was 2008, when Jacobs (1,089) and Derrick Ward (1,025) became only the fourth set of NFL running backs to each rush for 1,000 yards for the same team in the same season.
*Bradshaw needs 87 yards to become the third Giant in history with at least 1,300 rushing yards in a season. Tiki Barber crossed that threshold four times and Joe Morris did it twice.
*Bradshaw, Jacobs, Ward and Tiki Barber have all rushed for more than 1,000 yards since 2002. The Giants are the only NFC team and one of just four in the NFL to have at least four different players rush for 1,000 yards since that season. Tennessee has had five different players run for at least 1,000 yards and Buffalo and Denver have four apiece.
*Eli Manning has already joined Y.A Tittle as the only Giants to throw at least 30 touchdown passes in a season. With 3,759 passing yards – the fifth-highest total in the league - he needs 241 to become the only Giants quarterback to throw for at least 4,000 yards twice. Manning passed for a career-high 4,021 yards in 2009. The team record is 4,073 by Kerry Collins in 2002. Phil Simms threw for 4,044 yards in 1984.
*Manning has a career-high 322 completions this season, five more than he had in 2009. He needs to complete 14 passes in Washington to set a franchise record (currently 335 by Collins in 2002).
Manning's 510 passes attempts are one more than his 2009 total. His career high of 557 was set in 2005.
*Hakeem Nicks has 79 receptions for 1,052 yards and 11 touchdowns. He needs one catch to become just the third Giant with at least 80 in a season (Steve Smith had 107 last year and Amani Toomer caught 82 passes in 2002). With 48 receiving yards in Washington, Nicks will become the seventh player in Giants history with 1,100 receiving yards in a season. He needs one touchdown catch to reach 12 and tie Del Shofner (1962) and Plaxico Burress (2007) for the second-highest total in franchise history and two to equal Homer Jones' record of 13, set in 1967.
*No matter how this year ends, Tom Coughlin will study the Giants' turnover and takeaway numbers and try to figure out how the team has drifted so far from its recent record-setting performance.
On the plus side, the Giants are second in the NFL with 35 takeaways, one less than New England. That includes 20 fumble recoveries, four more than any other team in the league. But those takeaways have been more than offset by their league-high 41 giveaways, which are six more than any other team (Carolina and Minnesota have 35. The Vikings play tonight).
The Giants lead the league in throwing interceptions (24) and losing fumbles (17).
They could become the first team to lead the NFL in both takeaways and giveaways in the same season since the 2003 Rams. But that St. Louis team had 46 takeaways against 39 offensive turnovers for a differential of plus-seven. The Giants are at minus-six.
Just two years ago, the Giants and Miami Dolphins set an NFL record with only 13 turnovers in a 16-game season. That Giants team lost only three fumbles all year. Last year, the Giants committed 31 turnovers against 24 takeaways, a minus-seven differential.
Coughlin constantly stresses the importance of taking care of the ball on offense and taking it away on defense. But his teams were far better at putting his ideals into practice when he coached in Jacksonville. In his eight years as coach of the Jaguars, his teams had a combined turnover differential of plus-34. His seven Giants teams are plus-three.
The Giants will not challenge the franchise record for turnovers in a season, which is 58, set in 1963. They had 49 giveaways in both 1960 and '64 (14-game seasons). The NFL record is 65 turnovers by the 1961 Denver Broncos.