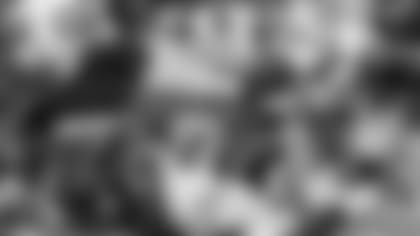 Giants vs. Packers Gameday Photos](http://www.giants.com/photos/photos/Five-players-who-stood-out-vs-Packers/eaf24a19-6b63-4d75-98b7-3e32e9fd9e30) After Green Bay cut its deficit to a touchdown in the fourth quarter and forced the Giants to go three-and-out on the ensuing drive, Jason Pierre-Paul picked off Scott Tolzien, returning it 24 yards for a score. The play swung the momentum back to the Giants, who went up by 14 en route to a 27-13 victory.
WHAT WE LEARNED ABOUT THE OFFENSE
The passing game was clicking until wide receiver Louis Murphy – who has seen limited time on offense this season – stayed outside on a route that should've been taken inside, resulting in an interception late in the first half. The red-zone turnover spoiled a quality start for the offense, and while the Giants wouldn't find the same success, they pieced together enough plays – including Victor Cruz's eight catches for 110 yards -- to never trail the Packers at any point in the game. Meanwhile, the Giants had enough confidence in their offensive line and backfield to go for it twice on fourth-and-short, which Brandon Jacobs converted each time. He found success again on the goal line with his one-yard touchdown run as the Giants controlled the clock for more than 35 minutes.
WHAT WE LEARNED ABOUT THE DEFENSE
The Giants gave up some long plays to third-string quarterback Scott Tolzien, who was making his first start and playing in just his second career game, but buckled down when they needed to. Linebacker Jon Beason evened up the turnover margin in the second half with an interception that the Giants turned into a field goal before Pierre-Paul made the play of the game. The Giants held their opponent to 20 points or fewer for the fourth straight game for their fourth straight win.
WHAT WE LEARNED ABOUT SPECIAL TEAMS
A week after Jerrel Jernigan lost a fumble on the opening kickoff, rookie Michael Cox took over return duties, averaging 17.5 yards on two attempts. Meanwhile, Rueben Randle recorded a 32-yard punt return, the longest of his career. Josh Brown made both of his field goal attempts while punter Steve Weatherford, who had a rough game last week, averaged 53.0 gross yards and stuck one inside the 20-yard line in the fourth quarter. Overall, it was a much-needed clean game from the third phase of the team.
ROOKIE WATCH
Justin Pugh started at right tackle, where he has all season; DT Johnathan Hankins recorded one tackle; RB/KR Michael Cox averaged 17.5 yards as the primary kick returner. S Cooper Taylor contributed on special teams, and QB Ryan Nassib was inactive, as he has been all season.